The 26 Best Italian White Wines
Italian white wine enjoys a great reputation among wine lovers around the world and, as with Italian red wines, it is produced in all regions. White wines are fragrant, typical, savory, and tasty, as well as representative of the varied territory in which the different bunches of grapes are born and grow.
Sicily has a well-diversified territory in terms of soil and microclimate, capable of giving life to truly fine white wines. Here both native and international vines are used that know how to enchant above all for their pleasant freshness and aromas, that recall summer fruit and the typical aromas of the Mediterranean scrub. Let's see what they are.
Best Italian white wines
Etna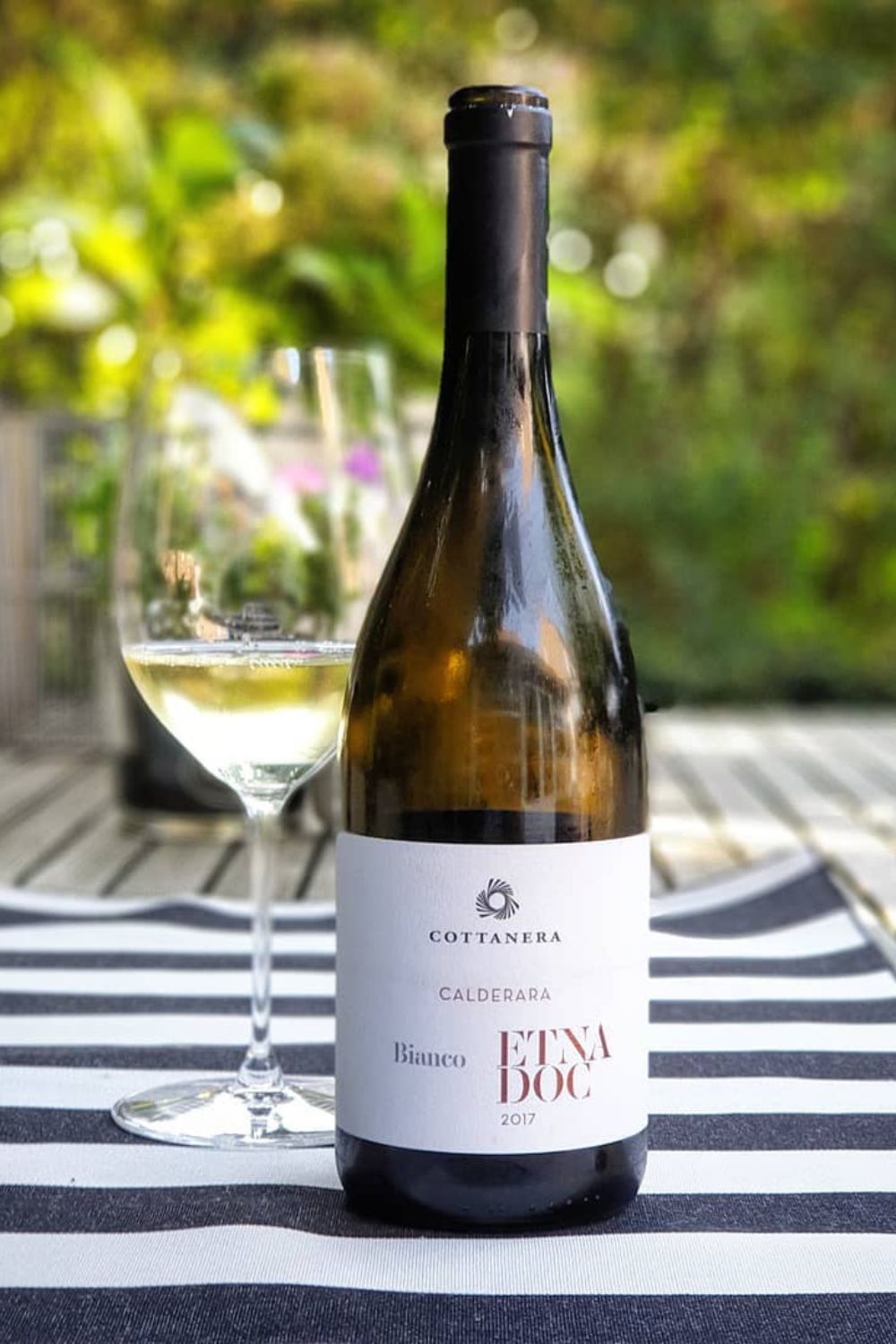 One of the most important Sicilian wines is certainly Etna Bianco. A great wine that perfectly describes the beauty of the landscape on the slopes of the volcano.
It is produced mainly from Catarratto and Carricante grapes: two native vines particularly linked to this territory with its typical volcanic soil.
It is generally endowed with delicate aromas of peaches and apricots, with particular and rich floral notes of orange blossom and jasmine, mineral, and slightly smoky hints.
On the palate, its finest characteristic is undoubtedly its freshness. It is also endowed with a pleasant gustatory balance, capable of marrying the taste of dishes rich in flavor.
Grillo di Sicilia
It is one of the best-known and most appreciated Sicilian white wines. It is obtained from the grapes of the native Grillo vine, typical of the coastal area enclosed between Marsala and Trapani. In reality, Grillo is grown in almost all Sicily but it is in the aforementioned area that it shows its best side, made above all of the fruity and vegetable aromas. This wine releases sensations of exotic fruit, with notes of mango, papaya, passion fruit and lemon, enriched with notes of dandelion and cut grass. The taste shows a lively freshness and a particular saline minerality.
Alcamo
Alcamo is a hilly area between the cities of Palermo and Trapani, overlooking the Mediterranean Sea. From this area come wines based mainly on native grapes, such as Catarratto, Inzolia and Grecanico, to which international grapes often contribute, such as Sauvignon and Chardonnay that have been able to acclimatize well in this area of Sicily. These white wines have an inviting freshness and pleasant sapidity: delicate and fragrant, with notes of melon, yellow peach, lemon and floral hints of acacia flowers and jasmine, they combine with vegetable dishes and fish.
Monreale
From the enchanting territory of Monreale, warm and lashed by sea breezes, excellent whites come to life based on Catarratto and Inzolia grapes. These are intense white wines, rich in aromas and taste, with a characteristic golden color and full and round aromas, reminiscent of ripe summer fruit and dried fruit, acacia honey and the flowers and herbs of the scrub, such as rosemary, bay leaf and marjoram. On the palate, these wines reveal great strength and a strong structure: they are warm, with good persistence, and perfect for accompanying fish dishes.
Menfi
From this fascinating and limited territory, enclosed between the province of Agrigento and Trapani, comes a delicious wine born from the fusion of international and indigenous grapes. In particular, the white of the Feudo dei Fiori area, in the municipality of Menfi, is particularly renowned and appreciated. Vinified with Inzolia grapes and Chardonnay, it is fragrant and very tasty, perfect for enhancing the taste of first courses seasoned with fish-based ingredients, due to its remarkable qualities of freshness and flavor.
Zibibbo
Zibibbo is an aromatic grape variety capable of giving a great intensity of aromas, especially fruity and floral. It recalls the aromas of Sicilian lemons, melon, peaches, and apricots, with more exotic notes of pineapple, the aromaticity of broom and acacia flowers, with delicate sensations of dried fruit. When tasted, it is a wine whose remarkable and delicious acidity stands out, followed by a milder minerality and an excellent taste and olfactory persistence, with fruity and sweet memories.
Veneto is a region that has excellent wine production. Anyone who has crossed the region, in fact, has been able to notice how many hills are covered by vineyards. Veneto white wines are particularly appreciated as they are produced in small towns in the region. Below we report the best white wines of Veneto.
Soave
The small town of Soave gives its name to the wine considered the best in the Veneto region. Alone, it constitutes 40% of the total wine production in the province of Verona. It enjoys an international reputation and an ancient history over time. It is said, in fact, that the first testimonies of vineyards in the Soave area are due to the ancient Romans. The taste of Soave wine is rich, making it one of the most suitable wines to accompany fish dishes.
Prosecco
Prosecco is also among the best DOC white wines of Veneto. However, its production also involves the Friuli Venezia Giulia region. In Veneto, it includes the territory of the provinces of Belluno, Padua, Treviso, Venice, and Vicenza. It has the title of Italian wine most exported abroad for years. It has a very fresh taste and a rather fine scent. More or less intense straw yellow color, brilliant. There are three variants of Prosecco: the classic one and the sparkling one.
Read also: Top Prosecco Brands
Chardonnay
Chardonnay is a very famous wine in Italy. And it is also highly appreciated abroad. This makes it one of the most loved wines by people. It is in fact an elegant wine, delicate in flavor and aroma. It has a straw yellow color with greenish reflections. Its components blend well and create a perfect balance among flavor, acidity, and softness. Due to its delicacy, however, it is not a wine that can be combined with dishes with a strong flavor. On the other hand, it gives its best when paired with delicate or fish-based dishes. Or even just as an aperitif.
Pinot
Pinot is another of the most famous wines of the Veneto Region. It is not only grown in this land, but also in other Italian regions, such as Sicily and Abruzzo. As far as Veneto is concerned, however, this wine is among the best wines of the regional territory. It is always a white wine, which enjoys a great flavor. Its aroma is fruity and contains some hints of banana, but with an excellent balance between acidity and flavor. It is consumed combined with delicate first courses, perhaps based on vegetables, such as soups.
Puglia can boast wine excellences that today play a leading role both in terms of offer and quality. Thanks to a territory characterized by a suitable climate and flat hilly areas, several fine wines have been produced here, awarded and highly appreciated both in Italy and abroad.
Castel del Monte
This white wine comes from the Murge area and is produced from Chardonnay, Pampanuto, and Bombino Bianco vines. It has a more or less intense straw color; a delicate aroma, with a characteristic, fruity scent; a dry, harmonious flavor. The minimum alcohol content is 10.5 °. It is drunk as an aperitif or combined with fish dishes. It is also produced in the "sparkling" type.
Gravina Bianco
It is one of the oldest white wines in Italy and its production dates back to the sixth century BC. Its vines, imported from Magna Graecia, have found their perfect habitat in Puglia. This wine is produced in the entire municipality of Gravina, in the province of Bari. Obtained with Malvasia del Chianti, Greco di Tufo and Bianco d'Alessano grapes, with the possible addition of Bombino Bianco, Trebbiano Toscano and Verdeca grapes. It has a straw yellow color tending to greenish; characteristic, pleasant odor; dry or sweet, fresh, savory, harmonious and delicate flavor.
Locorotondo
It is one of the most classic white wines of Puglia, famous for its freshness and drinkability. The production area of this wine, typical for its characteristic "trulli", is located between the provinces of Bari and Brindisi and covers the entire territory of the municipalities of Locorotondo, Cisternino and part of Fasano. Obtained with Verdeca, Bianco d'Alessano grapes and with the possible addition of those of Fiano, Bombino and Tuscan Malvasia, it has a greenish or pale straw color; delicate, characteristic, pleasant odor; dry and delicate flavor. It has a minimum alcohol content of 11 °. It is also produced in the "sparkling" type.
Moscato Bianco di Trani
It is the indigenous wine par excellence of the Trani area. Produced from an ancient vine, probably of Greek origin, then spread throughout the Mediterranean basin. The result is a "natural sweet" wine with the following characteristics: golden yellow color; intense smell, characteristic aroma; sweet, velvety flavor. The minimum alcohol content is 14.5 °. It is also produced in the "liqueur" type with a minimum alcohol content of 18 ° and a compulsory aging of one year. In 1987 Moscato di Trani obtained the recognition of DOC wine.
Martina Franca
It is another DOC wine whose production takes place in the provinces of Brindisi, Bari, and Taranto. However, it bears the name of the largest production center, Martina Franca precisely. The grapes used are: Verdeca, Bianco d'Alessano, Fiano, Bombino and Malvasia Bianca. Characterized by a greenish or straw yellow color, it has a pleasant smell and is dry and delicate in the mouth. It is suitable for carpaccio and grilled fish, but also for starters of shellfish and seafood, mussel soup with olive oil and garlic, fried fish, risotto and pasta with white fish sauce. It is also produced in the "sparkling" type.
Piedmont is a region particularly famous for the quality of its wines, both white and red. The credit is certainly due to the rich and fertile land, but also to the skill of the winemakers, who have been dedicating themselves to this precious art for centuries. This region, from which the famous Barolo and Barbaresco are born, produces white wines of the highest quality, some of which have an aging potential equal to that of the most famous red wines.
Roero Arneis
It is a white wine grown in the Roero, Langhe and Asti areas. This vine lends itself to the production of still and sparkling wines, with a generally important alcohol content, even if it has great freshness and pleasant drinkability. On the palate you can smell aromas of lime, sage, sometimes of broom, with an aftertaste of bitter almond. The wine is straw-colored. The denominations are: Roero Docg, Langhe Doc Arneis and Terre Alfieri Arneis.
Asti Spumante e Moscato d'Asti
This wine comes from the white Muscat grape. A pleasant aroma combined with a moderate alcohol content make it unique. Its scent is rich and intense with sensations reminiscent of acacia flowers, wisteria and orange, mountain honey with a background of spices that recalls elderflower, yarrow, bergamot. It is clear and straw-colored in color. The nose is aromatic and slightly sweet in the mouth, therefore particularly appreciated at the end of a meal. Minimum alcohol content 11.5%.
Langhe Favorita
The etymology of the name (favorite) indicates how over the centuries this grape had become the favorite of the peasants of Langhe and Roero. The white wines produced in these areas have hints of citrus, acacia flowers and sometimes exotic fruit, while on the palate they are distinguished by a good freshness and flavor. With its delicate scent and dry but harmonious flavor, it is perfect for fish dishes. You can taste it in the Langhe Doc Favorita denomination.
Erbaluce di Caluso
Made in just 33 municipalities in the province of Turin, it is a limpid wine with a straw yellow color, with a fine aroma and a dry but fresh flavor. Erbaluce lends itself very well to the production of still, passito and sparkling wines, thanks to the marked acidity of the grapes. The organoleptic characteristics are wide, ranging from fruity in the dry version, to apricot jam and spices in the passita one, up to citrus and mineral notes in sparkling wines.
Gavi
This vine finds its chosen area in Gavi, but it is also present in the Tortona area. From the Cortese vine can be born both wines to be drunk young, and wines for aging, endowed with personality and structure. It is characterized by mineral, floral and fruity aromas. There are also interesting results in the sparkling version. It is a clear and delicate, pleasant, fresh and harmonious wine. Cortese wine is found in the Gavi Docg, Cortese Alto Monferrato Doc and Colli Tortonesi Cortese Doc denominations.
Colli Tortonesi Timorasso
Timorasso is the white grape variety that dominates the hills near the city of Tortona. With a more or less intense straw color, it has a remarkable structure and an interesting harmony. It is among the few whites suitable for aging, a structured wine with a multifaceted character. In Timorasso you can perceive the typical hints of minerals, flint and hydrocarbons present only in some international whites. In the mouth it is a very intense wine, full-bodied, with a good alcoholic content and marked sapidity. Its denomination is Colli Tortonesi Timorasso Doc.
In this short list of famous Italian white wines, Tuscan wines certainly could not be missing. Considered a land of fine DOC and DOCG wines, Tuscany is famous for its red wines: from Brunello di Montalcino to Nobile di Montepulciano wine; from Chianti to Morellino di Scansano. But in reality this wonderful region also offers equally appreciated white wines, which are worth discovering on the occasion of a visit to Tuscany and its territory.
Vernaccia di San Gimignano
Among all the Tuscan white wines, Vernaccia di San Gimignano occupies a place of honor. With a centennial history, recently rediscovered and enhanced thanks to a special consortium, it comes from the town of San Gimignano, a Unesco World Heritage site from which it takes its name. It is obtained from grapes of the Vernaccia di San Gimignano vine for a minimum of 85%. Excellent both young and after a short period of aging, it is delicate, fruity, mineral. On the palate, on the other hand, it is dry, harmonious and savory. Minimum alcohol content 11°.
Bianco di Pitigliano
Bianco di Pitigliano is a DOC wine from Tuscany that is obtained with Trebbiano Toscano, white Tuscan Malvasia and Greco or Verdello grapes and from the Grechetto, Chardonnay, Sauvignon, Pinot Bianco vines, and possibly from other local white grape varieties. The production of Bianco di Pitigliano is allowed in the territory of the municipalities of Pitigliano and Sorano and in a small part of the province of Grosseto. The color of this white wine is straw yellow. On the nose, it has a delicate and fresh scent. The taste has a harmonious, soft and dry flavor, with a pleasant aftertaste. The minimum alcohol content is 11 °.
Ansonica dell'Isola d'Elba
Characteristic of the Island of Elba, this wine is made from Ansonica grapes for at least 85%, plus white grape varieties. It has an intense smell, a dry to sweet taste, with a Mediterranean touch. The characteristic smell is slightly fruity. The color is straw yellow. However, Ansonica is not the only white wine from this place: there are also white Elba and Elba Moscato. Another version of Ansonica is also grown in the province of Grosseto.
Vin Santo
The Tuscan Vin Santo is a wine produced from grapes left to dry after harvest. This traditional Tuscan wine is produced with Trebbiano and Malvasia grapes. It is often a sweet wine. A glass of Vin Santo is a must to round off a meal and to accompany the "cantucci", typical Tuscan sweets. It is among the best known passito wines and can be found in different variations: Vin Santo di Montepulciano, Chianti, Chianti Classico, Riserva di Cortona and Carmignano.
Moscadello di Montalcino
Made with white Moscato grapes in the same town as the more famous Brunello, this wine is straw yellow in color, has a distinctive smell and a sweet and delicate flavor. It is obtained from Moscato grapes for at least 85%. Other white grapes are allowed for a maximum of 15%. Cultivation and bottling must take place exclusively in the municipality of Montalcino. It is available in the Bianco, Frizzante, Tranquillo and Vendemmia Tardiva varieties. It goes especially well with desserts.