The 10 Best Restaurants in Rome
Dive into Rome's culinary scene! Our guide unveils the top restaurants offering mouthwatering cuisine, unique ambiance, and Roman charm. Join us!
Roman cuisine is a different but equally interesting way to discover the Eternal City. Spaghetti alla Carbonara, coda alla vaccinara (Roman-Style braised oxtails), lamb chops "scottadito" (scottadito means burned fingers), bucatini all'Amatriciana, Roman-style tripe, rigatoni with pajata (pasta dressed with a sauce of tomatoes and veal intestines), Saltimbocca alla Romana (Roman-style veal slices), artichoke alla Giudìa and spaghetti cacio e pepe (cheese and pepper) are among the most famous typical dishes of the Roman tradition, absolutely to eat when in Rome.
Naturally, Rome teems with an array of dining spots from which to choose. To help guide our gastronomic journey, we've handpicked a selection of the capital's best restaurants.
Armando al Pantheon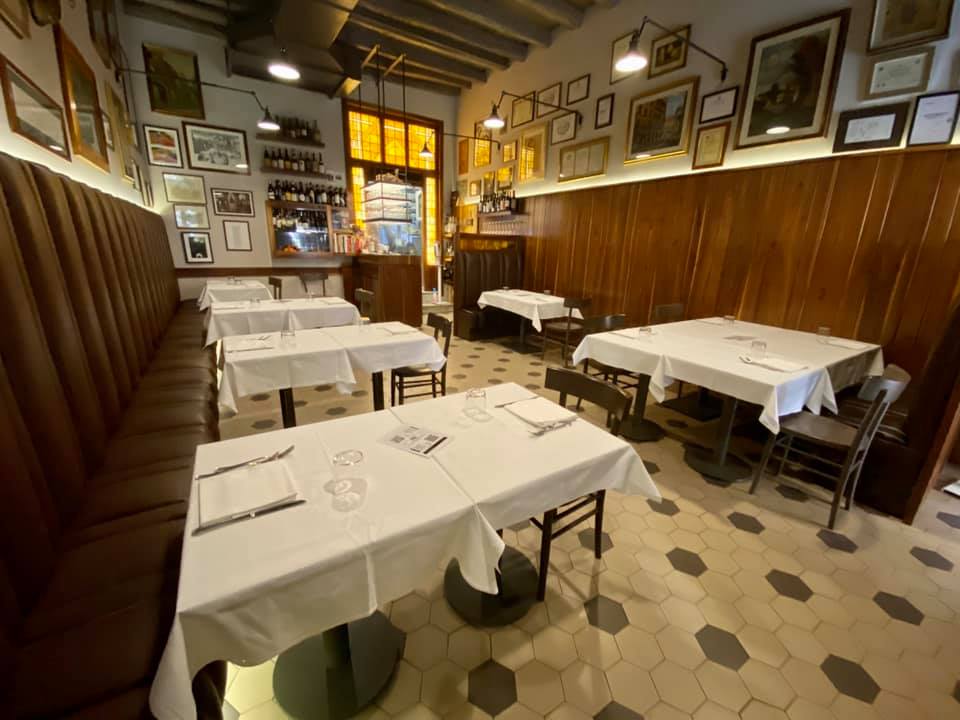 Opened in 1961, Armando al Pantheon restaurant, a stone's throw from the famous monument, has become a point of reference for lovers of typical Roman cuisine. The restaurant is among the best known and most appreciated in Rome, as all the specialist guides reported, and prices are not even high, considering the name and its central location. The furnishings are refined and welcoming.
The very particular cuisine combines typical Roman recipes with a series of dishes created by the chef. The specialties of Roman cuisine are also made using quality raw materials. The restaurant is small, so reservations are recommended.
The list of traditional dishes to taste is very long: spaghetti with garlic, oil and chilli, oxtail, vegetables, Roman-style artichokes, coratella (the innards of small animals like lamb, rabbit and poultry), pajata, lamb, fresh anchovies with vegetables, crouton with broccoli and cheese, sour cherry tart.
Among the specialties: bruschetta with butter and anchovies, saltimbocca alla romana and "Antica Roma" cake. In addition, the restaurant offers the customer a wide choice of wines thanks to a selection of around 400 labels. They are wines from small wine producers, with particular attention to local wines.
Nonna Betta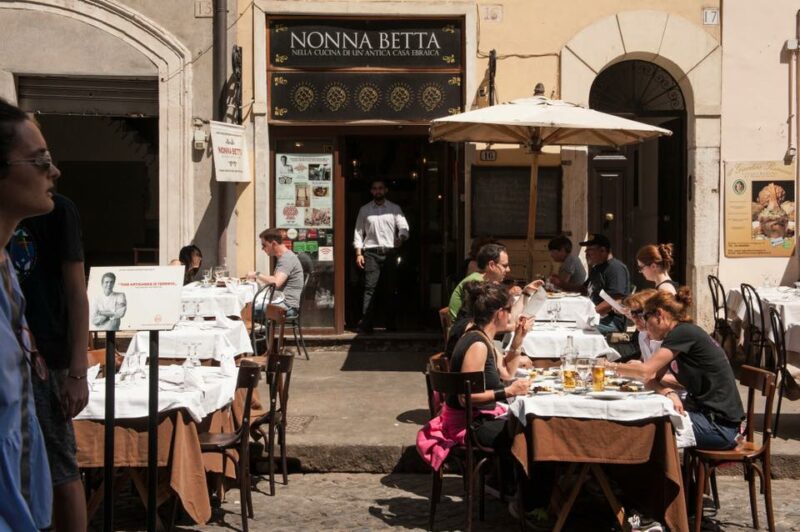 The Nonna Betta restaurant, located in the old Jewish ghetto of the capital, combines Roman and Jewish cuisine. The place is welcoming and elegant; on the walls, there are large reproductions with images of the ghetto before the demolitions of the late nineteenth century. The restaurant offers its customers two separate menus: one with meat dishes and one with fish or cheese dishes.
Among the typical dishes could not miss the artichoke alla Giudìa, cod fillets, courgette flowers, amatriciana alla giudìa, agnolotti with stew sauce, meatballs with celery, rigatoni with pajata, cod with onion and tomato, cheese pasta, pepper with chicory. Also, try the carbonara pasta made with dried beef instead of bacon. Traditional dishes are freshly prepared with seasonal ingredients. The oil is used for cooking only fresh vegetables and cod fillets, never for crustaceans or mollusks. Typical desserts, such as bread and pasta, are homemade.
The restaurant also offers some Middle Eastern specialties such as falafel, couscous with fish, meat, and vegetables, or hummus and babaganoush.
Finally, a few steps from the restaurant are the shop where you can buy a selection of high-quality products from the Judeo-Roman cuisine and the food and wine tradition of almost all Italy regions.
Retrobottega
In the heart of Rome, this restaurant, between Piazza Navona and the Pantheon, is renowned for the new trend of service managed directly by the chefs, where Italian dishes are served with a modern twist.
Among its strong points, the restaurant has great attention to the raw material, a close link with the land and the seasons, and the value for money.
Among the main dishes, we have the beef tartare; spaghetti with garlic, oil, chili and parmesan; anchovies and 'Nduja (salami); tortelli with ossobuco; tagliolini with butter and truffle; cod salad; risotto and cabbage. And as dessert we have: gianduiotto and sesame; pumpkin biscuit and chocolate bread cake.
The actual restaurant is flanked by the shop that sells artisanal, fresh and hand-made pasta (prepared with organic flours and eggs); a wide range of products from the best bakery tradition (bread, biscuits, breadsticks) and a selection of 100% Arabica coffees. As well as many wines with labels from small producers.
Retrobottega is therefore a restaurant where you can have breakfast, have lunch, share an aperitif, taste wines, drink excellent coffee, buy take-away coffee or even a good bottle of wine.
Al Moro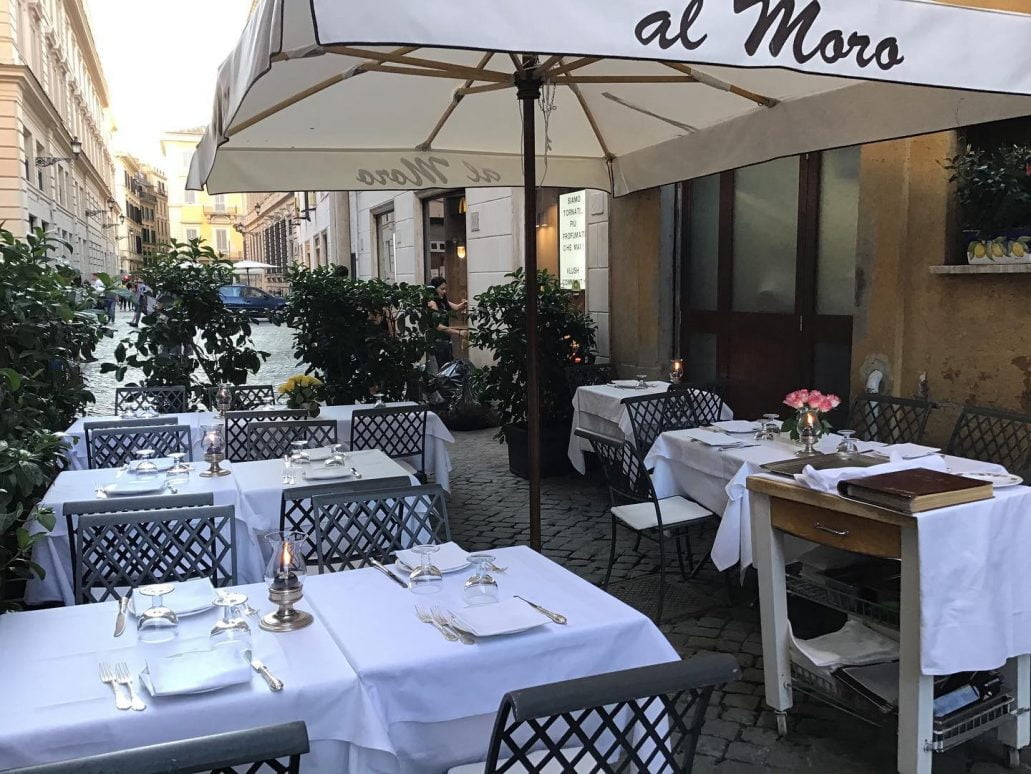 A stone's throw from the Trevi Fountain is the Trattoria al Moro, the ideal place for those who want a dinner based on true Roman cuisine, surrounded by Rome's historic beauties.
The restaurant is characteristic, with outdoor tables, where you can savor dishes made with fresh and local ingredients' genuineness and eat local cheeses and meats, first courses of fresh pasta and artisan desserts. The recipes proposed are inspired by the regional gastronomic tradition, sometimes revisited in a modern key.
The restaurant offers a rich à la carte menu to which is added a wide choice of dishes of the day typical of the Roman tradition that change periodically according to the raw materials of the season, such as: bucatini all'Amatriciana, roast lamb with potatoes , beans, tuna and spring onions, chicken salad with mayonnaise, veal escalope with artichokes, Roman-style tripe, Vaccinara-style beef tail, Roman-style rolls and potatoes, veal with tuna sauce, Roman-style stuffed zucchini.
Last but not least: cakes and pies of daily production, semifreddo and fruit salads with ice cream. Don't miss the chestnut mousse.
Il Sanlorenzo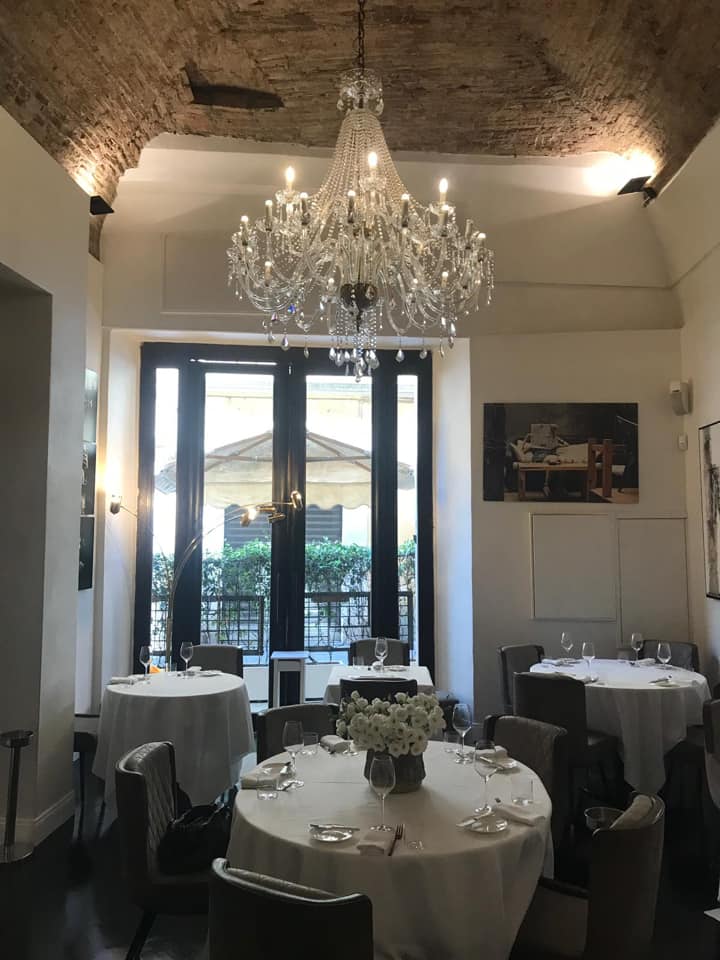 The San Lorenzo restaurant, near Campo dei Fiori, has a bright, comfortable and elegant environment. During the summer months it is also possible to eat outside. On the lower floor, in the foundations of Pompey's theater, there is also a table for 12 people and an exclusive table in the cellar for 4 people.
The restaurant is famous for its fish dishes. The fish cooked and served at the SanLorenzo comes directly from the island of Ponza's fishermen and is therefore very fresh. Bluefin tuna is only served from May to September, so that the tuna can live and reproduce peacefully. Furthermore, every day it is possible to choose the fish directly from the counter, in order to prepare excellent fish at home, just like in a fish shop.
The restaurant menu changes every season, with some constants, such as raw ham, spelled spaghetti with anchovies from Ponza, bread crumbs and peppers cooked on the ashes. The cooks use Gragnano pasta and non-durum wheat flours (even for the bread that is handcrafted).
Among the specialties: lemon sandwiches with Ponza anchovies, Ponza prawns, tuna with herbs and with sweet and sour onions, spelled spaghetti with Ponza anchovies, squid stuffed with smoked friarelli, tagliolini with cuttlefish ink with sea urchins and cuttlefish, cuttlefish noodles. Great wine selection.
Da Danilo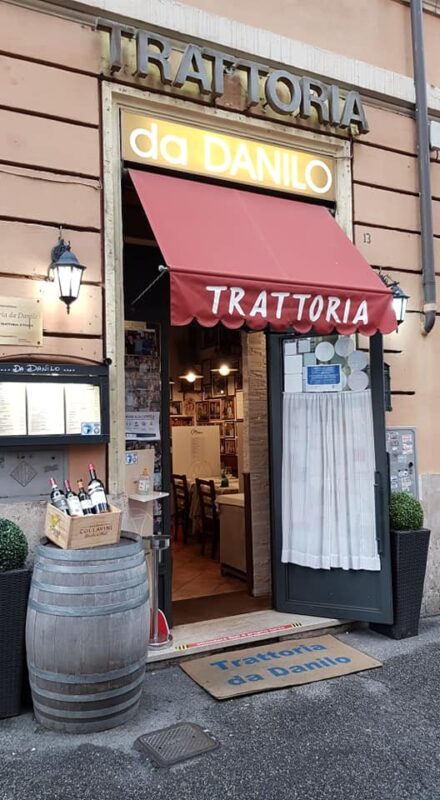 The Trattoria da Danilo, in the Esquilino district, is characterized by a small but welcoming and elegant environment. The restaurant has in fact two rooms: a main room and a private room, which can also be used for special events. Dozens of portraits of celebrities cover the walls of the restaurant.
The dishes offered are those of Tuscan cuisine and Roman cuisine. On the menu we find, among other things: Amatriciana meatballs, mozzarella with artichokes, various cold cuts, carbonara pasta, cacio e pepe pasta, strozzapreti with Colonnata lard and pecorino cheese, Gragnano fusilli with Bronte pistachios and bacon, white lasagna artichokes and porcini, fillet of beef with porcini mushroom, Roman-style tripe, roast lamb with potatoes, Roman-style cod, ricotta ravioli with pumpkin and bacon, oxtail.
Among the desserts: the "Gasperino" (with layers of dark chocolate, ricotta, custard and puff pastry) and Nonna Pina's tarts (with red fruits or nutella and pears).
The wine list has about 200 labels, with almost a third dedicated to the Lazio region. And there is also a small selection of beers.
Tempio Di Iside
The Tempio di Iside is one of the best fish restaurants in Rome. The restaurant, which seats 140 and has elegant white furnishings and exposed brick walls, is located a few hundred meters from the Colosseum. This fish restaurant stands out for the extraordinary quality of the raw materials: the fish is in fact very fresh.
The dishes served are really good and range from the more elaborate to the simpler ones that bring out the true flavor of fresh fish. Here are some of the dishes on the rich menu: fish carpaccio with pink pepper, tuna tartar with basil, oysters, sea urchins, sea truffles, fusilli with prawns and cherry tomatoes, pasta with porcini mushrooms and clams, linguine with crab, red lobster, sea cicada, fried or grilled calamari, codfish raviolis, seafood risotto, paccheri pasta with redfish, pasta with squid and capers, seasonal vegetables. And on request for a minimum of 4 people you can order the king crab.
Raw fish is also a specialty of this restaurant. Excellent wines in combination. Among the desserts have cassata and cannoli.
La Torricella
La Torricella has been a family-run restaurant in Testaccio's popular neighborhood for over thirty years. The restaurant is located in a characteristic mid-19th-century building, and the closest metro stop is Piramide (line B). It has 130 indoor seats and, in the summer also, 80 seats outside the restaurant.
The cuisine has apparently simple dishes, without frills or fashions of the moment, which, however, have the taste of tradition and, above all, of authenticity.
The restaurant offers the inevitable rigatoni all'amatriciana or alla carbonara, spaghetti with clams or "fregnacce" (homemade pasta), always in generous portions. Then stewed pajata, chicory, Chianina steak and, when available, fresh roasted fish (for example the Livorno-style redfish), spaghetti with clams, gnocchi with clams, arraganate anchovies (breaded and fried), artichokes alla Giudìa , spaghetti with monkfish.
Finally, the desserts are of their own production, including crème broulé, tiramisu, and chestnut mousse.
Piatto Romano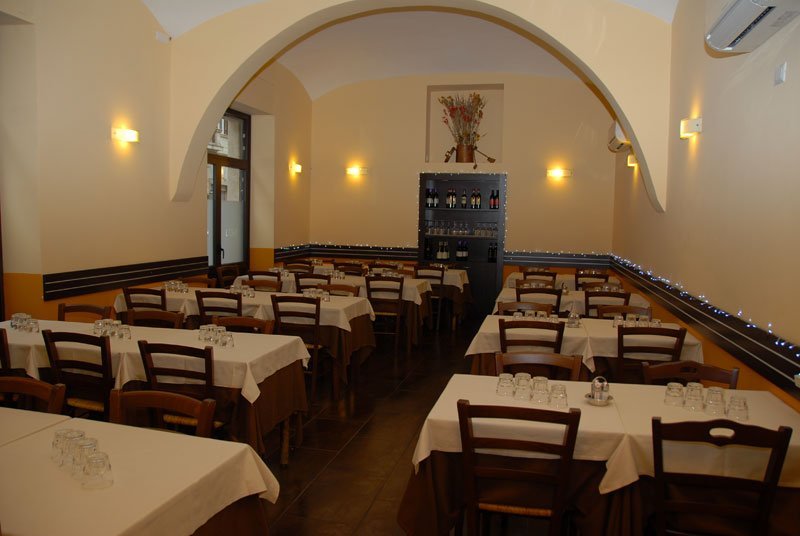 In the heart of Testaccio, one of the oldest and most characteristic districts of Rome, the Piatto Romano restaurant has been showing the passion for catering for over forty years. It is a simple and welcoming place, with 45 seats. On the walls there are temporary exhibitions of paintings and photographs. It is a restaurant that offers simple preparations by focusing on the use of high-quality products.
The pasta is homemade. Here, lovers of Roman cuisine can taste all the best Roman specialties including tripe, fettuccine with chicken, arzilla soup with broccoli, pasta all'arrabbiata and last but not least the Amatriciana pasta. And again: Chianina meatballs, baked cod with potatoes, fried ricotta balls, anchovies arraganate, artichokes alla Giudìa, tonnarelli with cheese and pepper, rigatoni alla carbonara, Roman-style beef roll, oxtail alla vaccinara, tonnarelli with cheese and pepper, lamb chops "scottadito".
Among the desserts, the ricotta and sour cherries cake are worth mentioning: sheep ricotta and sour cherry jam are two characteristic ingredients of the Judaic-Roman tradition. The encounter between the ricotta's sweetness and the jam's slight acidulousness gives life to a unique flavor. A glass of Passito di Pantelleria wine can accompany it. Selected wines with a good quality/price ratio.
Maccheroni
Located in the heart of Rome, between the Pantheon and Piazza Navona, the restaurant has an open kitchen and is on two levels. In the summer, you can also use the outdoor tables. The effect of the fully visible kitchen is very nice.
Maccheroni is a typical Roman restaurant with a large selection of traditional dishes and a pleasant atmosphere. The restaurant offers only fresh, quality products that vary according to the seasons and specialties of Roman cuisines, such as pasta alla Carbonara, ravioli with courgette flowers, macaroni all'Amatriciana, spaghetti with cheese and pepper, spaghetti with garlic, oil and chili, macaroni alla Gricia, Saltimbocca alla Romana (Roman-style veal slices), lamb chops "scottadito".
A good selection of wines, homemade desserts, and fresh pasta accompanies all. In addition to the more classic dishes of the Roman tradition, there are several delicious salads as unique dishes.
---
Think your friends would be interested? Share "Best Restaurants in Rome"!