15 Piedmontese Foods You Must Try
Piedmont is a region full of things to see and above all things to eat. From a gastronomic point of view, this region is one of Italy's richest and most varied: meats, vegetables, cheeses, pasta, truffles, and its wines, among the most important of the Italian wine tradition.
Piedmontese cuisine reflects its particular geography and sees the prized excellences of the territory as protagonists. Piedmont has a very diversified territory, formed by a plain, by the hills, from which some extraordinary typical products come (among all the white truffle of Alba) and, finally, from the mountains and lakes.
This extraordinary geographical differentiation has also reflected on the regional gastronomic offer, equally rich and heterogeneous: it ranges from meats to lake fish, from hand-rolled pasta to cheeses, from vegetables to cooked braised meats, up to desserts and wines.
Top 15 foods to try in Piedmont
Bagna Cauda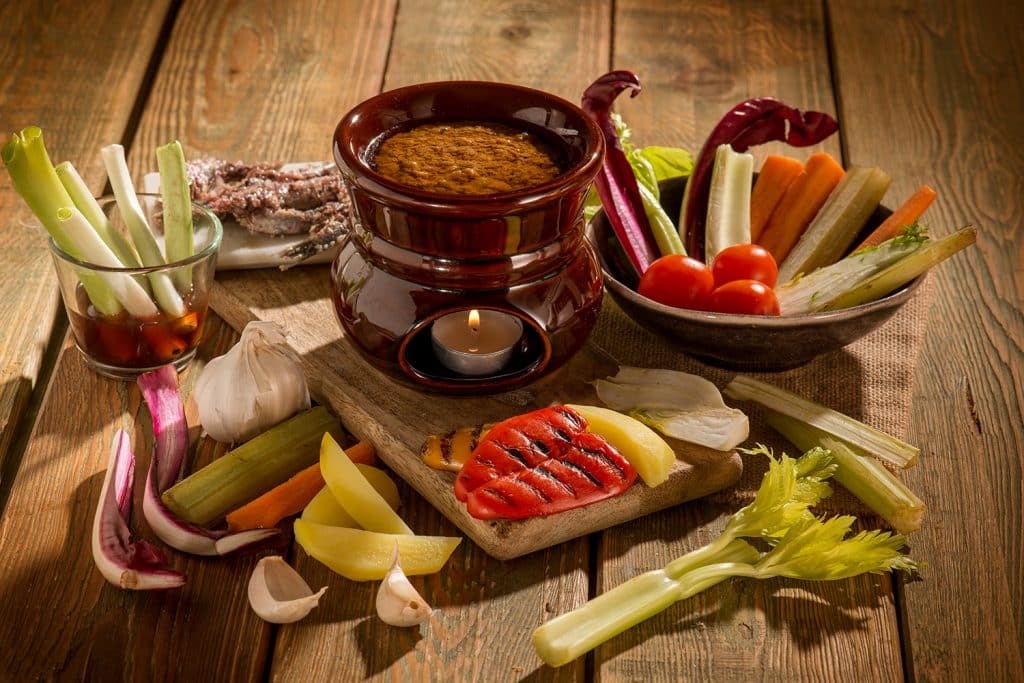 Among the most famous and typical dishes of Piedmontese cuisine, we obviously have the "bagna cauda", a traditional sauce based on garlic, oil, and anchovies that is served hot and in which raw vegetables are dipped (especially cardoons, peppers, Jerusalem artichokes, radishes, cabbage) or less commonly boiled (potatoes, turnips …).
It is prepared in a special pan, kept constantly hot on the spirit stove, in which the diners dip the pieces of vegetables. Bagna cauda is a simple dish of the peasant tradition that is eaten mainly in winter.
Bagnet Vert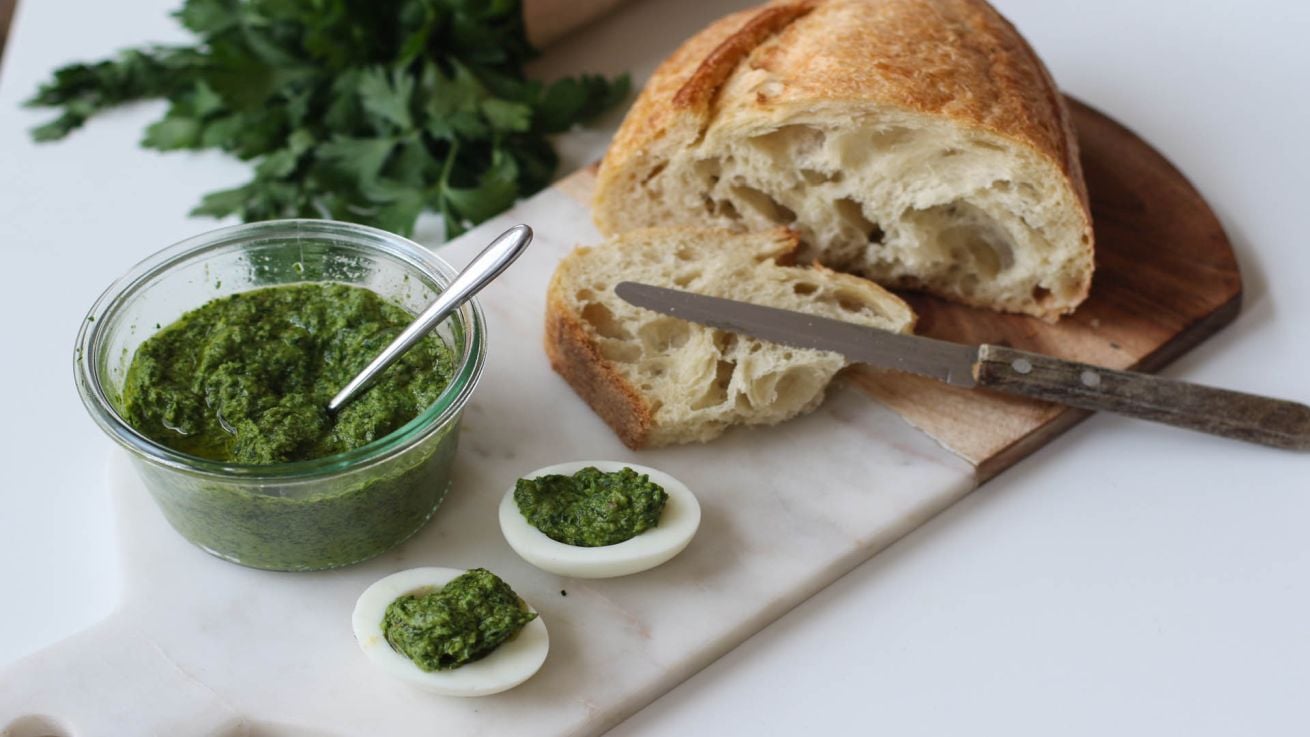 The "bagnet vert" is another sauce, used this time to accompany the boiled meat; there are two types: we have the "bagnet vert", made with garlic, parsley, anchovies, breadcrumbs soaked in a drop of white wine vinegar and oil; on the other hand, there is also the "bagnet ross", prepared with sauce tomatoes, onions, carrots, garlic and occasionally chili. These two sauces are traditionally served with meat and fish dishes or tomino cheese.
Mixed Boiled Meat (Bollito Misto)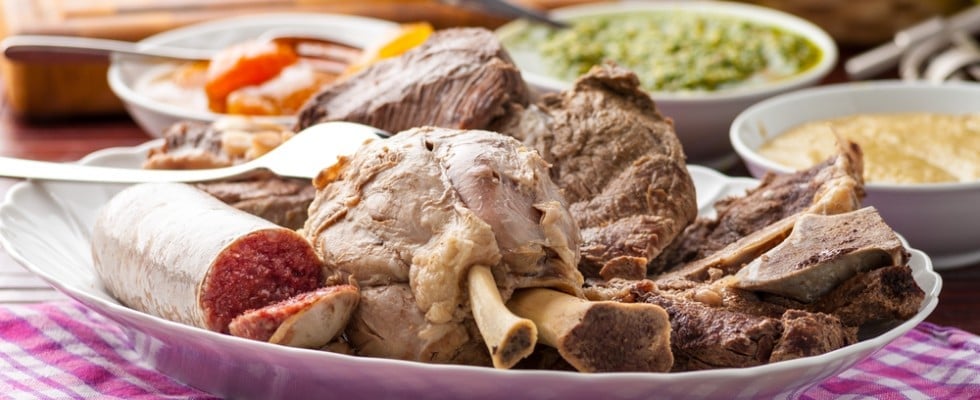 The "mixed boiled meat" is another traditional dish, typical of family celebrations. It is said that it was among the favorite dishes of the king of Italy Vittorio Emanuele II. According to tradition, mixed boiled meat to be defined as such must contain seven varieties of meat.
The sauces accompanying the meat are the "bagnet ross" and "verd". It is a very rich and elaborate dish and is eaten with four vegetable side dishes (boiled potatoes, sautéed mushrooms, spinach in butter, and sweet and sour onions). At the end of this rich meal, a cup of boiling broth is served.
Vitello Tonnato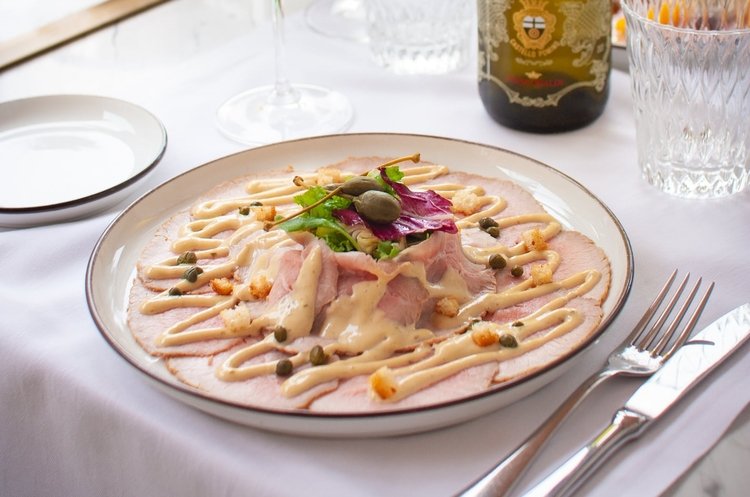 "Vitello tonnato" is another ancient dish. It is a traditional recipe, of poor origin, probably born at the beginning of the 18th century.
It is made with a specific cut of meat, which is first marinated in white wine, together with carrot, celery, onion and bay leaf, and then boiled in water with its marinating liquid; once cooked, the meat is cut into thin slices, generously covered with a sauce based on tuna in oil, capers, anchovies, and firm egg yolks, and served cold as an appetizer.
Mixed Fry (Fritto Misto)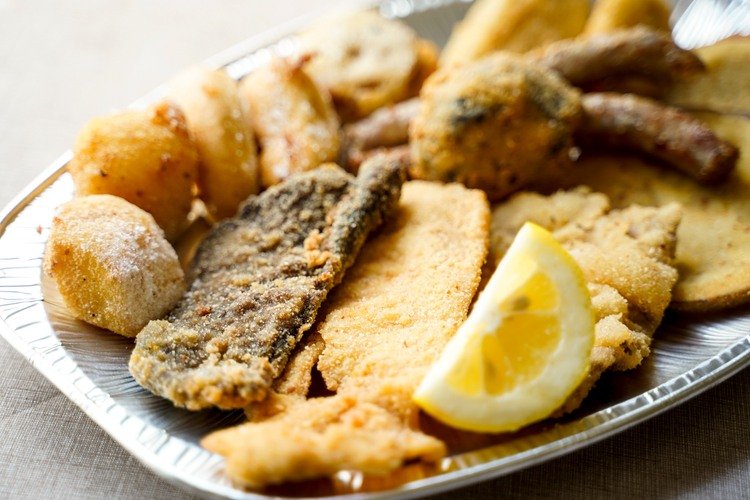 The Piedmontese "mixed fry" is one of the cornerstones of the typical regional cuisine. A dish of poor origin, it uses the less noble meat of lamb, veal or pork. These meats, along with fruit, vegetables and macaroons, are first passed in a batter and then fried in boiling oil. This is the dish for important and festive occasions.
Russian Salad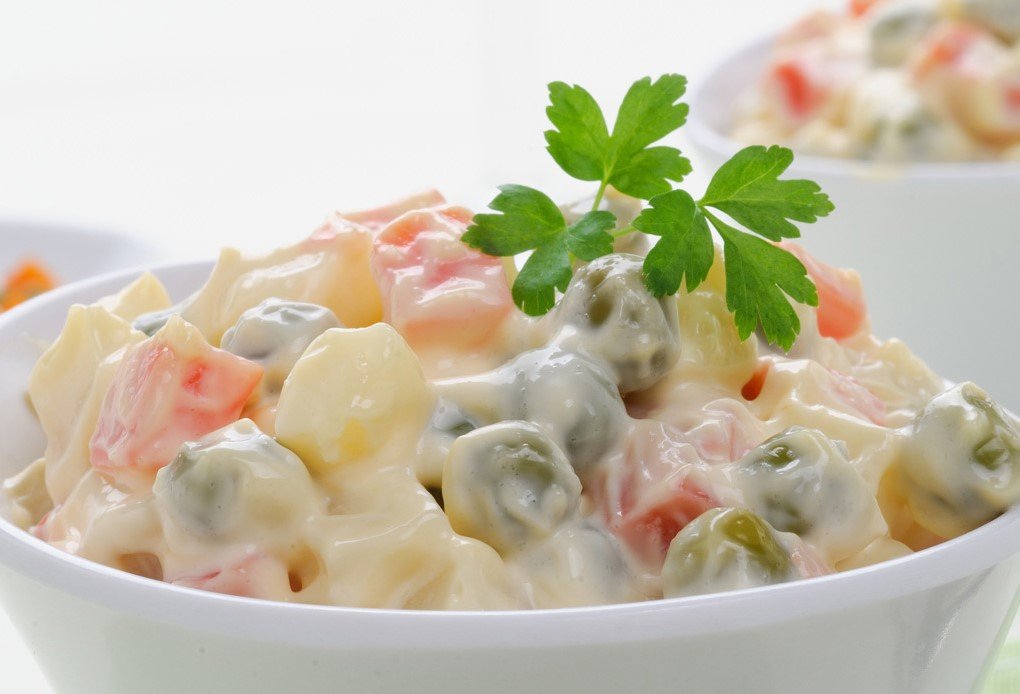 The Russian salad is certainly one of the most famous salads of national gastronomy and in Piedmont, it is served as a typical appetizer. In its modern version it is based on boiled potatoes, beets, green beans, peas, and carrots, seasoned with capers, anchovies, and pickled gherkins and then seasoned with mayonnaise. The recipe, despite its controversial origins, began to circulate in Italy at the end of the nineteenth century (it appeared for the first time in a cookbook in 1868).
Risotto al Barolo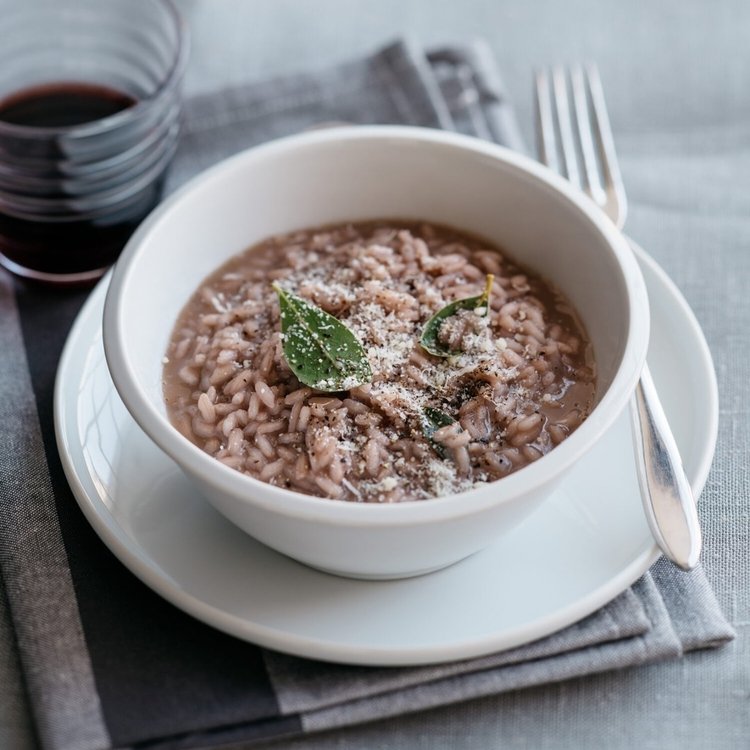 "Risotto al Barolo" is a dish starring one of the finest wines of the Langhe, Barolo. The risotto enhances its nuances and aromatic qualities. First, a sauté with onions, bay leaves, and butter is prepared, the rice is added and it is lightly toasted; then add the Barolo wine and cook, gradually adding a ladle of boiling meat broth. Once ready, turn off and mix everything with butter and grated cheese.
Agnolotti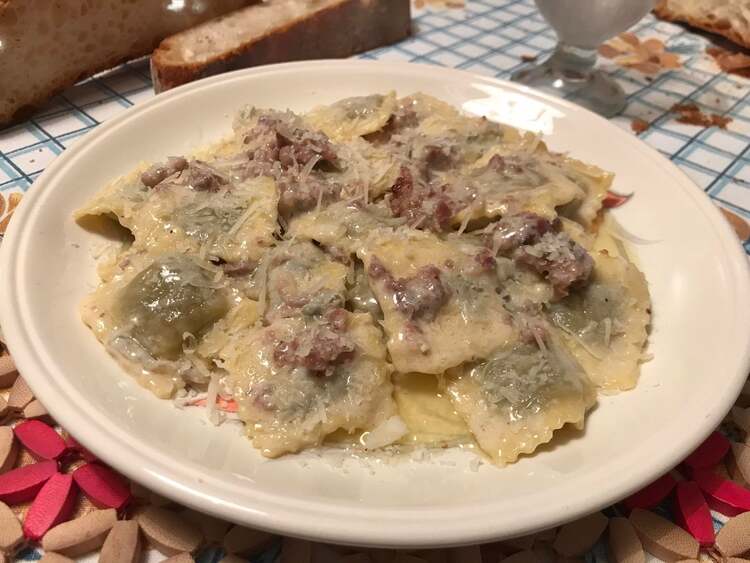 "Agnolotti" are a Piedmontese specialty of pasta filled with mixed meats. Born as a preparation to reuse leftover meat, there are numerous variations of agnolotti, according to the available meats and local habits. In the dough, together with the meats, we often also find a vegetable (usually endive, but sometimes spinach or chard). The agnolotti del plin are also characteristic: rectangular ravioli filled with roast veal or pork, with spinach and cheese.
Tajarin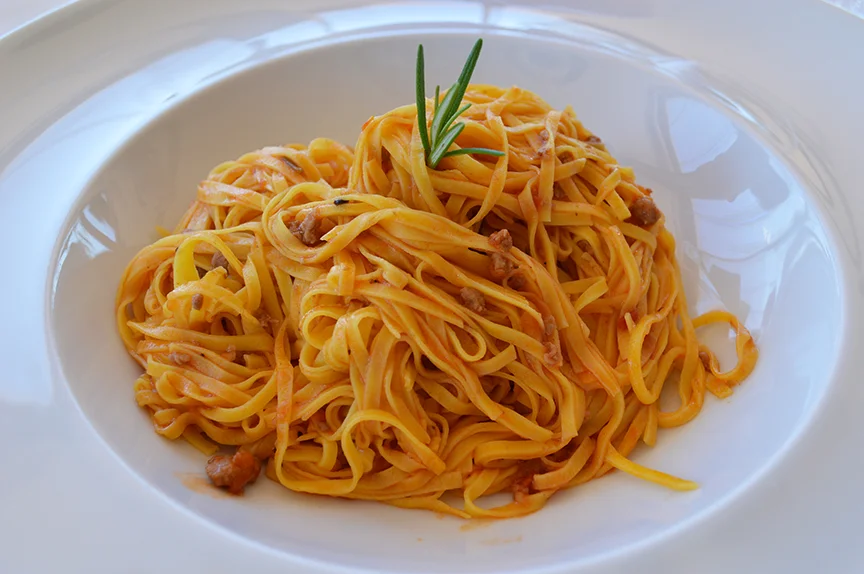 "Tajarin" are thin egg noodles, full-bodied and consistent. This is thanks to the presence of a considerable number of egg yolks, the addition of a pinch of cornflour, and the absolute prohibition of kneading by adding water: the result will therefore be a pasta with an intense color and a very short cooking time. The toppings are white truffle, Bra sausage sauce and classic ragù, but also simply with butter and cheese.
Bicerin
"Bicerin" is a historic hot drink prepared with coffee, dark chocolate and milk, and served in the classic round glass cups that allow you to admire the delicious layering of ingredients. Typical of the city of Turin, bicerin is the evolution of the eighteenth-century "bavarèisa", a tasty drink made with coffee, chocolate and milk cream. In 2001 it was recognized as a "traditional Piedmontese drink".
Bonet
"Bonet" is a typical dessert of the Langhe made with eggs, sugar, milk, cocoa, liqueur (usually rum) and dry amaretti. It is made with the same technique used for homemade desserts such as crème caramel and pudding and, in its original version, the use of chocolate was not foreseen. The modern recipe, that is the chocolate one, is the most widespread and loved of all.
Hazelnut Cake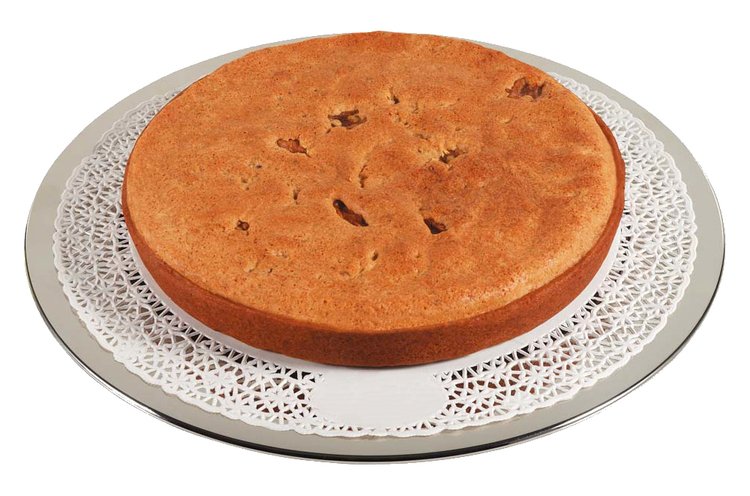 The hazelnut cake is made with a variety of hazelnut produced only in Piedmont, in some areas of the provinces of Cuneo, Asti and Alessandria. The hazelnut cake has a rather dry and crumbly texture. Of peasant origin, it is traditionally accompanied with a sweet wine or a zabaglione cream made with Moscato or Barolo wine. The cake should contain only butter, sugar, eggs and at least 35 percent of hazelnuts.
Marrons Glacés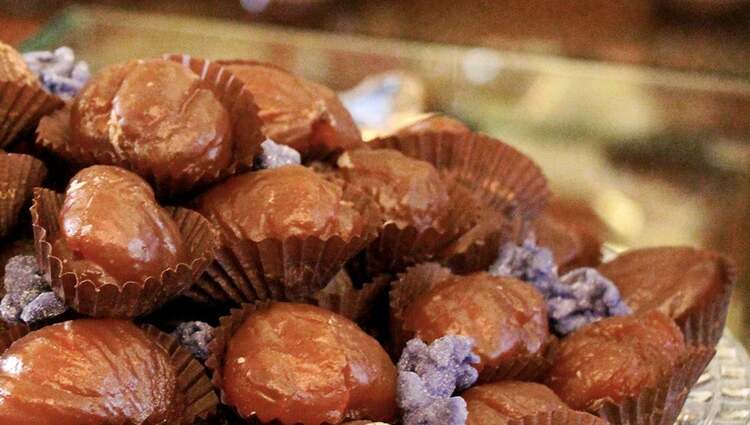 The "marrons glacés" are made with a very fine variety of chestnuts, larger in size and with a sweeter flavor than the classic wild fruit, they are first syruped and finally covered with a thin sugar glaze which is left to crystallize for several days. The processing is quite long and laborious.
Panissa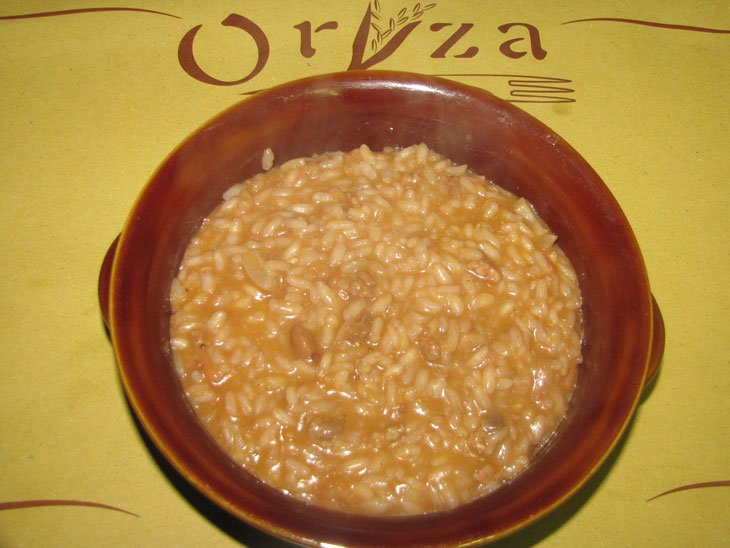 "Panissa" is a particular type of risotto widespread, especially in the provinces of Novara and Vercelli. This typical dish of Piedmontese cuisine is cooked with rice, beans, Barbera red wine, onion, lard, salami, salt and pepper. A dish with a rich flavor, absolutely worth tasting.
Castelmagno gnocchi
Last but not least we have "Castelmagno gnocchi". Castelmagno is a cheese that takes its name from the municipality of the same name located in the province of Cuneo. Semi-hard gnocchi is created with this delicious cheese, a must-try. The cheese can also be eaten alone accompanied by honey.
---
Read also: