11 Best Italian Restaurants in Dallas, TX
Are you from Dallas, Texas, and looking for a romantic Italian restaurant? Or are you an Italian tourist looking for a taste of home while abroad? In either case, you may be wondering where to find the most delicious plate of tiramisu in the Dallas metro. Dallas, Texas, may be known for its barbeque and Tex-Mex cuisines, but that doesn't mean the city is lacking in Italian restaurants. Read on to find, in no particular order, the top 11 Italian restaurants in the Dallas, Texas area.
400 Gradi Dallas – Dallas
There is a lot of prestige hidden inside this kitchen. 400 Gradi was actually founded in Melbourne, Australia, gained popularity throughout the Middle East, and they have now made their US debut opening a restaurant in Dallas, Texas. The name of the restaurant, 400 Gradi, translates to "400 degrees (Celsius)", which is the exact temperature in which Neapolitan pizza is cooked – for a mere 90 seconds! This restaurant, according to their website, "adheres to the guidelines of the Associazione Verace Pizza Napoletana" ("True Neapolitan Pizza Association"). What's more, their founder, Johnny Di Francesco, was the first ever Australian inducted into the AVPN. As I said, there is prestige in this kitchen, making the somewhathigh prices absolutely worth it. As you may have guessed it, this restaurant specializes in Neapolitan pizzas. They also offer take-out and delivery options, although they are closed on Mondays. Here, you can order traditional Italian appetizers like a salumi board, prosciutto di parma, and polpette al sugo. There are 14 different pizza options to choose from. My favorite part of the menu, however, is the clearly listed allergen warnings for each dish. And in case this helps you make your decision of which restaurant you want to dine at tonight: 400 Gradi once won a Guinness World Record for "the most cheese piled onto one pizza".
Sassetta – Dallas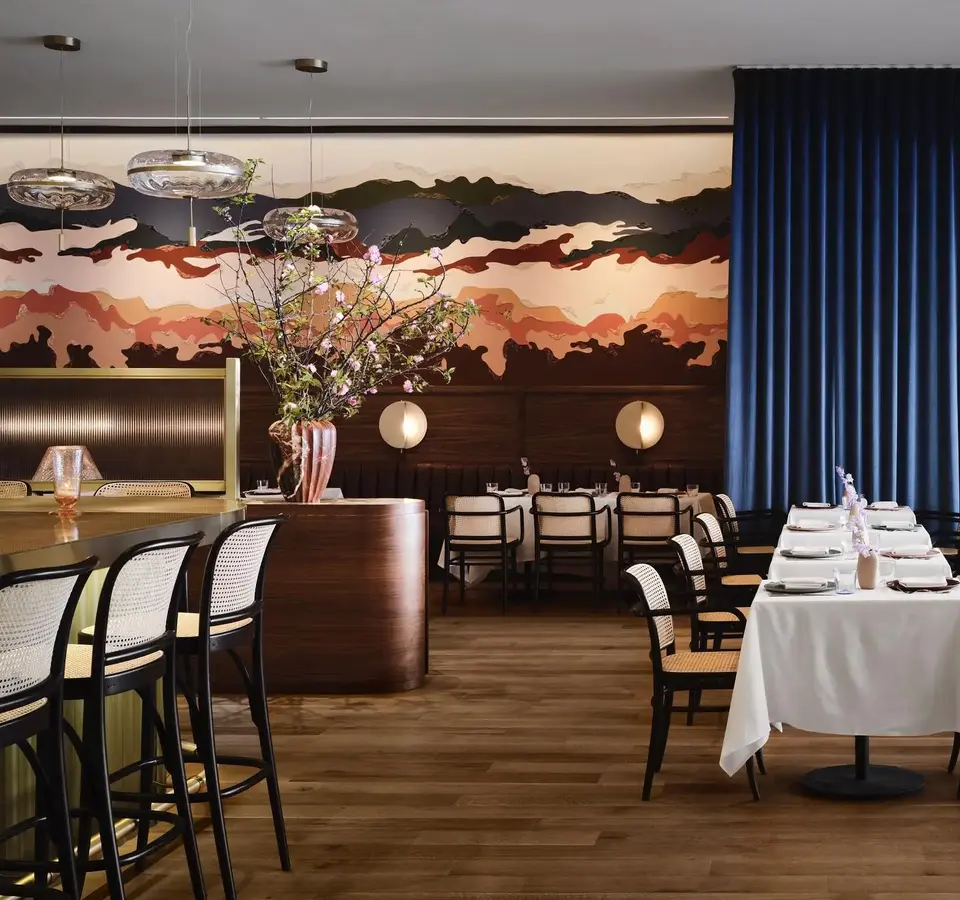 Inside the United States of America, I admit, it can be difficult to find an Italian restaurant that serves true Italian dishes and zero Italian-American dishes. But finally, I have found one! Sassetta is one-of-a-kind. Connected to the Joule Dallas Hotel, you can find Sassetta, a one-of-a-kind, upscale restaurant that serves genuine Italian cuisine. Spaghetti, meatballs, fettucine Alfredo, and chicken parmesan are all absent from this menu. Instead, you will find only traditional dishes like burrata panzanella salad for a starter, cacio e pepe for your pasta, and budino for dessert. Simply listing the choices on the menu is making my mouth water. Reserve a table now and give it a taste!
Mio Nonno – Allen
Mio Nonno, meaning "my grandfather" in Italian, has been serving central and southern Italian foods with contemporary flair since 2014. It is an intimate, high-end restaurant – which is just a fancy way of saying "this place is small, elegant, and popular, so it's advisable to make reservations if you want to dine here on the weekend." But it's so busy for good reason – the wood-fired pizzas are delicious! Chef Ati Mala will prepare for you a scrumptious Italian feast using the finest and healthiest ingredients available. While wood-fired pizzas are their specialty, you can also choose from a variety of appetizers, pastas, and secondi (meat-based entrees); on the menu, you will find tartare, ragu di angello (a pasta with tomato and lamb sauce), and risotto with salmon, amongst many other tasty choices. As they are closed on Mondays, come and try a bite of one of their pizzas or pastas Tuesday through Sunday.
Terilli's – Dallas
Full Disclaimer: This place does not actually make Italian food. Terilli's specializes in Italian-American (or, Texan-Italian) food, which I personally think should be considered a completely separate cuisine from Italian food. Italian immigrants of the late 19th century were justly proud of their heritage, and because their cuisine was such a deeply embedded part of their culture, they cooked a lot of traditional dishes from their homeland – or, more accurately, tried to cook traditional dishes from Italy. With the ingredients reasonably available to them in America, it was difficult to accurately reproduce Nonna's handed-down recipe, and so the Italian-American cuisine was born out of necessity from substituting ingredients. As Americans developed a craving for these quasi-Italian dishes and added their own spin on it, the recipes evolved even further to become the ItalianAmerican cuisine we know and love today.
Now back to our regularly-scheduled review of Terilli's. This Texan-Italian restaurant was opened in 1985 by Jeannie Terilli, whose family originates from Italy. Living in Texas, she has built up an elegant restaurant that produces Texan-influenced Italian-American cuisine. The house specialty is something she calls the "italcho", which is a delicious marriage between pizza and nachos. Terilli's is also well known for their martinis; so I highly recommend giving one a try if you are above 21. The rest of the menu is all of your favorite Italian-American foods, including prosciutto wrapped asparagus, Terilli's chicken parmesan, and sausage & peppers tortellini. As an added bonus to your evening out: there may be live jazz music.
Italian Café – Irving
In the United States, Italian food is often correlated with fine-dining (i.e. expensive dining). If you are more interested in a simple sit-down restaurant that serves a good pasta, try the Italian Café in Irving, Texas. This quaint restaurant has been around for a long time, with largely the same staff as when it first opened. I can only imagine that this restaurant must be a lovely place to work if the staff has stayed loyal to the kitchen for so long. The Italian Café serves both lunch and dinner for reasonable prices. While relaxing and enjoying their terrace – styled like a typical Italian restaurant – you can dine on Italian and Italian-American cuisine. Choose from fried calamari, panzanella salad, pasta primavera, or a Hawaiian calzone. You can enjoy all your favorite Italian foods with your whole family on a budget.
Cafe Amore – Richardson
Dine-in, BYOB, take-out, and catering. Cafe Amore in Richardson, Texas, offers it all. On the menu, you can find all of your favorite Italian and Italian-American dishes: there is manicotti, linguine ala putanesca, ceasar salad, and shrimp scampi. The elegant interior makes this restaurant the perfect place to host your large group dinner with the whole family and impress your mother-in-law. Or you can reserve a table for two and impress your lovely date. Or even more romantic still, you can grab a delicious meal to go and enjoy a taste of Italy while stargazing. Be forewarned. As I mentioned earlier, this restaurant is "bring your own beverage", and they really mean that when it comes to alcoholic drinks. You can order a coffee, tea, or soft drink at Cafe Amore, but if you want a glass of wine, you need to bring your own bottle and the staff will happily open it for you.
Joe's Italian Café – Addison
Another option for delicious Italian food on a budget is Joe's Italian Café. The chef, and owner, Joe Catalano, bakes all his dishes with fresh ingredients. Closed on Sunday, this Mom 'n' Pop style restaurant will make you feel at home, or at the very least, like a dear friend dining in Joe's kitchen. Joe's Italian Café serves the best of Italian cuisine, including focaccia, prosciutto, and eggplant parmigiana. If you love their food, you can also ask them to cater your special events.
Aboca's Italian Grill – Richardson
If you are looking for live music, a fine wine selection, and a delicious 3-course meal for two, try Aboca's Italian Grill. This family-owned and operated restaurant serves a combination of Italian and Italian-American dishes, including four cheese focaccia, mozzarella fritti, osso bucco, and chicken parmesan. They also serve all your favorite Italian-American pizzas, from meat lovers to TexHawaiian (a typical Hawaiian pizza with added barbecue sauce). Be sure also to order a dessert: the chocolate cake is unforgettable. If you are particularly selective about your wine, you are also welcome to bring in your own bottle from home to pair with your all-natural Italian dinner. Don't want to leave your couch? Aboca's Italian Grill has got you covered; they also deliver!
Speranza Italian Restaurant – Dallas
This restaurant features traditional cuisine from central and southern Italy. Come and visit Tuesday through Sunday to have a taste of Italy. The staff are always welcoming and friendly and the food always of the highest quality. The menu is filled with traditional Italian dishes, written with their original Italian names. Choose between polenta, polpette in pomodoro sauce (sorry, no spaghetti with these meatballs, as is the norm in Italian culture), caprese, and my personal favorite Neapolitan pizza: prosciutto e rucola! Of course, this is only just a small selection of the menu. There are so many delicious dishes to select from. There are a few Italian-American dishes as well, but unfortunately (fortunately?), no Alfredo sauce. To drink, you can have your pick from a variety of wines, including Italian D.O.C. and D.O.C.G. (certifications of high quality), or sip on a Bellini spritz.
Bugatti Ristorante – Dallas
If you are looking for an especially romantic place to dine, maybe for your anniversary or pre-Prom dinner, try Bugatti Ristorante. This restaurant is owned, and named after, by Zee Bugatti. It has an elegant interior, with an even more magical exterior with a patio and a view of the lake. The restaurant is true to its word. The menu options are traditional Italian fare, along with other modern dishes that lend to the fancy and romantic air of the ristorante. The most exciting thing on their menu, to me, was the crespelle – a delicious dish that is like a hybrid of lasagna and savory crepes. I genuinely do not think I have ever seen crespelle offered on the menu of an Italian restaurant in the United States before. The one downside: there are only two options on the dessert menu. However, you can never go wrong with tiramisu and cheesecake. Overall, this classy restaurant is perfect for a romantic dinner paired with a bottle of wine from their extensive wine list.
Abruzzo's – Dallas
Hole-in-the-wall restaurants can be hit-or-miss, but, trust me, Abruzzo's is a slam dunk. After closing during the pandemic, this little Italian restaurant recently reopened, serving only the best. Abruzzo's has no website, so you will have to visit the restaurant in-person to get a feel for the place. It has a rustic yet modern interior, and the air is filled with live music. The serving staff will treat you like royalty while serving elegantly plated dishes. The menu is smaller than most Italian restaurants in this area, but, truth be told, this only adds to the true Italian nature. Italian restaurants usually have limited options per day, so this small menu feels on par with the cuisine. Try one of their lasagnas; they are made of the thing of dreams. Share a plate of the chicken parmesan with your dining partner.
Most importantly, don't forget to order a bottle from their beautiful wine selection. And the best part? For all this fancy deliciousness, the overall price of dining is much smaller than you might expect. In sum, this small hole-in-the-wall Italian restaurant is sure to make your evening out a night to remember.
---
There are so many options to choose from to fulfill your Italian food craving in Dallas, Texas. Whether you are looking for Italian-American, Texan-Italian, or traditional southern Italian cuisine, you can find it all in the Dallas metro. America is called the great Melting Pot for a reason; we have diverse cultures everywhere you look. Enjoy Dallas barbecue one day, Tex-Mex the next, and then save room for some Italian the day after. Buon Appetito!