10 Best Italian Restaurants in Miami, FL
Picture this: you are in Miami, Florida, living in the lap of luxury. Today you spent the day shopping; tomorrow, you will pass the hours soaking up the sun at the beach.
The seaside views are incredible, the very thing of dreams. Suddenly, you feel a twinge of hunger. It's just about dinnertime. You know there is a ton of fresh seafood just waiting to be eaten.
What could possibly be better for dinner than a big plate of shrimp scampi linguini? When you are in Miami, Florida, there are hundreds of different cultures represented in the restaurants. If you've got a craving for a taste of Italian food, where should you go?
Please, read on to discover the 10 most delicious (and genuine) Italian restaurants in Miami.
Ferraro's Kitchen Restaurant and Wine Bar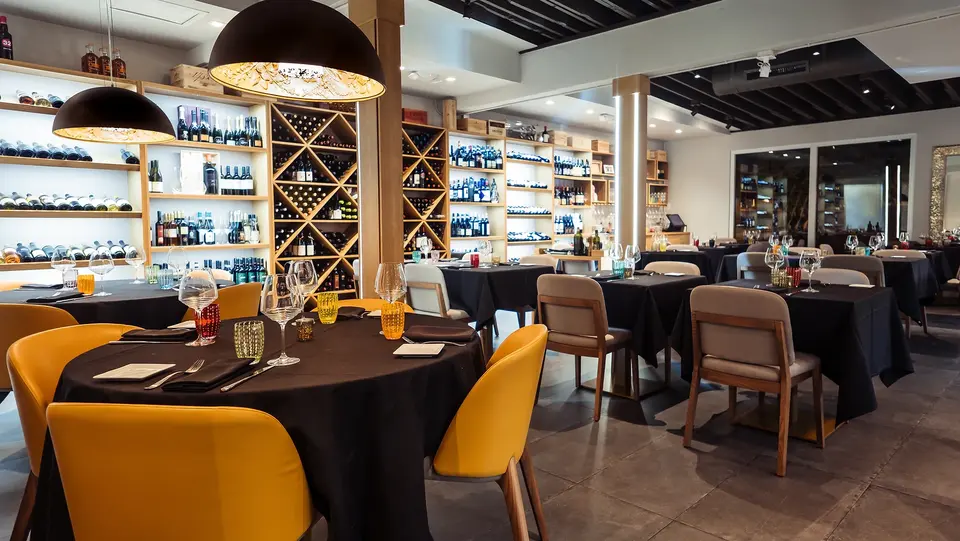 Chef Igor Ferraro, the son of a wine producer and a native of Venice, Italy, opened Ferraro's Kitchen Restaurant and Wine Bar with his wife, Cristiana. You can enjoy fresh northern and central Italian dishes in comfort at this fine-dining establishment.
Don't let the unassuming exterior fool you. Inside, you will find a sleek, intimate environment perfect for an extravagant yet casual dining experience.
Igor Ferraro chooses only the freshest, in-season ingredients, which means the menu at this restaurant changes regularly based on the season. The gluten-free options are always clearly listed. To pair it with your dinner, ask for a bottle of wine.
There are more than 2,000 bottles kept in the cellar. Chef Igor also offers cooking classes, and the restaurant hosts wine events.
If this restaurant matches your fancy, make a reservation; the restaurant only reserves a few tables for walk-ins, and those tables fill up very quickly.
La Locanda restaurant bar pizzeria – Miami Beach
Francesco Cavaletti and Naples-born Massimo Fortunato opened this 60-seat trattoria together. La Locanda is open for dinner every day, and also Sunday brunch. Sunday's brunch menu may not be necessarily Italian-style, but it is equally as delicious and exactly what you want for a late Sunday morning meal. For dinner you can take your pick from a variety of Italian flatbreads, primi (pastas), secondi (meat-based dishes), or a brick-oven pizza. The pizzas are available with classic or innovative topping combinations; you can even choose from the vegan pizza section on the menu. Try the chef's signature pizzas: burratina a stella (a star-shaped pizza), sfiziosa, or pera – yes, that does, in fact, mean "pear" pizza. Later in the evening, order a Sicilian cannoli for dessert. If you want to pair a wine with your primi or secondi, ask for a bottle of Chianti, which famously hails from Tuscany.
Fi'lia
Fi'lia is a small international chain restaurant with four (soon to be five) locations in the United States. It is connected to the SLS Brickell Hotel & Residences. The smell of the wood oven will bring you mouthwatering through the doors, passed the long bar, and out to the patio. From there, you will enjoy your choice of Italian and Italian-American cuisine. Fi'lia offers breakfast, weekend brunch, weekday lunch, happy hour, and dinner times. On Wednesdays, Fi'lia hosts "Antipasti + Wine Wednesdays", which are sure to make your hump day a little less bland. This restaurant is proud to offer fresh meals in an "unpretentious setting" in their sweet and cozy dining room. I recommend starting with a spritz to open the appetite for dinner. Then try one of the most popular dishes on the menu. Choose from truffle pizza, rigatoni Bolognese, a bone-in pork chop, or their winning Fi'lia chicken parm. The best part? There is a gluten-free option for both pasta and pizza.
Salumeria 104 – Midtown Miami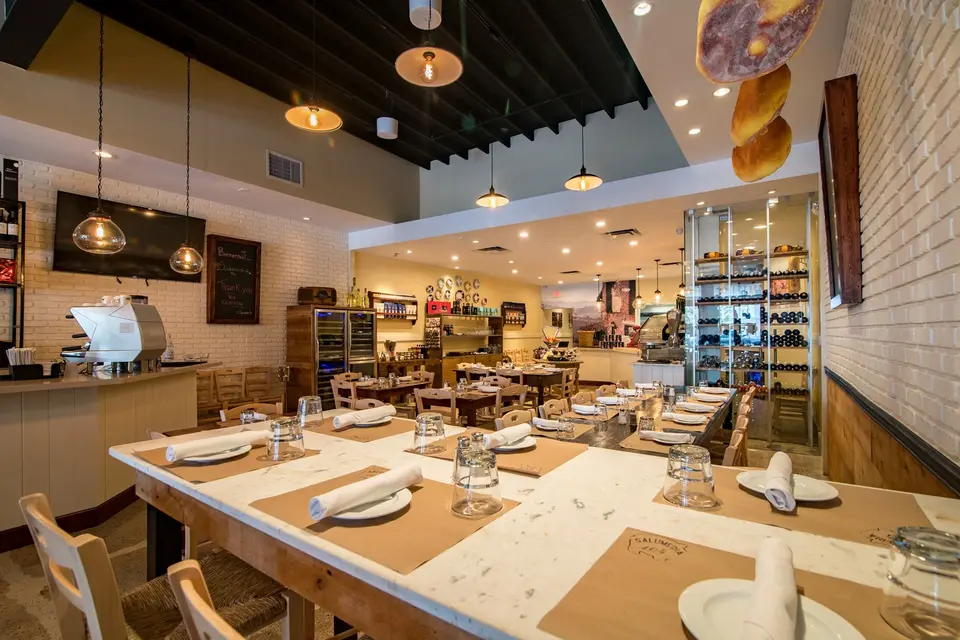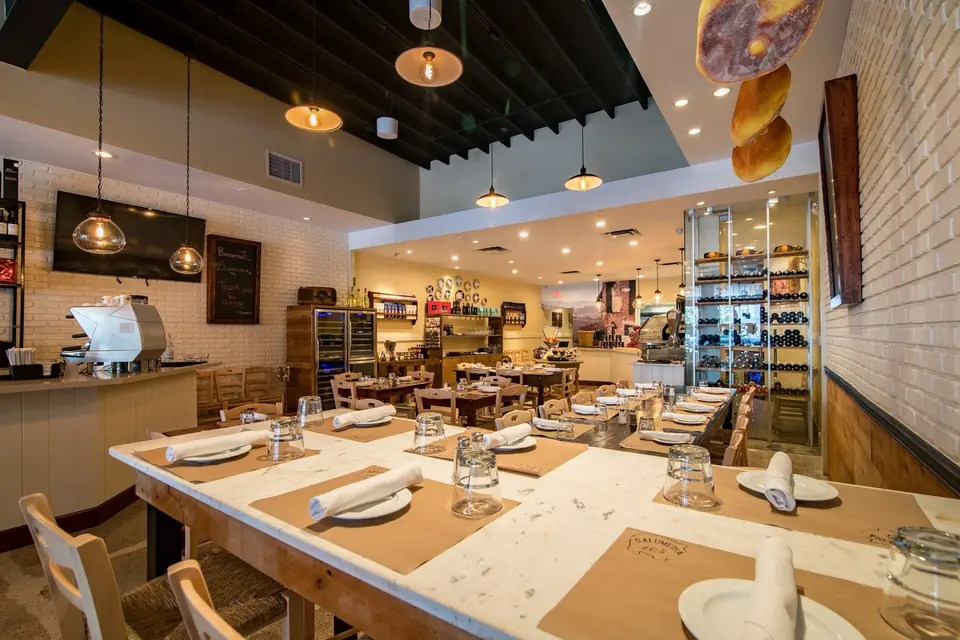 Salumeria 104 has two locations – this one in Midtown and another in Coral Gables, a suburb of Miami. The co-owners Angelo Masarin (also the chef), Graziano Sbroggio, and Carlo Donadoni have styled this restaurant after a northern Italian trattoria. Chef Masarin cooks like his grandmother taught him, following the season's freshest ingredients. This means that the menu is everchanging, following the seasonal harvests. Salumeria 104 is unique because, while most Italian restaurants specialize in either pasta or pizza, this place specializes in charcuterie boards. They offer a variety of prosciuttos, salamis, pecorino cheeses, and parmesan. All of your favorite salumi, cheeses, and olives are available for purchase by the pound from their market.
Via Emilia Garden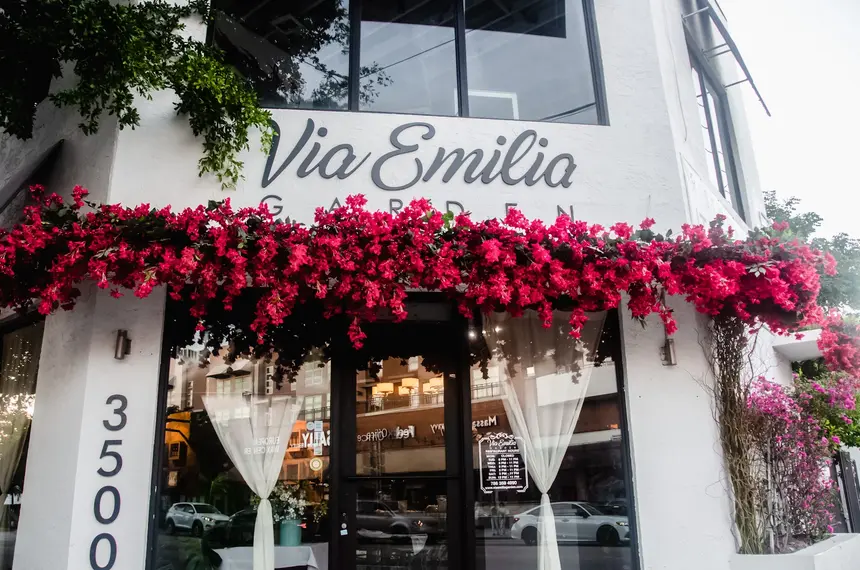 "If you can't find a dish in Emilia Romagna, you won't eat it at Via Emilia." This is the motto of the true-to-authenticity Via Emilia Garden. Named after Via Emilia, an ancient and still heavily used road that connects the cities of the Italian Emilia-Romagna region, this restaurant serves only food that is popular amongst that region. The most famous ingredients to come from Emilia-Romagna include parmigiano reggiano, prosciutto di Parma, mortadella, and balsamic vinegar. If you see one of these ingredients listed in one of Via Emilia Garden's dishes, you know it is going to be delicious. Try one of the region's most famous recipes, like a piadine (a flatbread-style sandwich), the ravioli del giorno (of the day), or, of course, the tagliatelle al Ragù (the sauce for which the Bolognese sauce that is popular outside of Italy is derived). If there is room in your stomach for dessert, please take a chance on the salame al cioccolate e mascarpone. No, it is not a kind of salami, but instead a delicious chocolate cake of sorts. Via Emilia Garden goes one step further than just their recipes to make you feel in Italy. The entire staff provides Italian-style service, which means nobody is going to try to rush you out the door after signing the check, nor will the waiter constantly bother you with the customary "how is everything?" inquiry. Instead, you will be left to enjoy your meal and your table company in peace. What's more? If you really loved your meal, you can stop by their market to purchase fresh pasta, house-made sauces, and homemade panettone or pandoro during the Christmas season.
Vero Italian
It says it right in their name. Vero (meaning "true") Italian serves only true Italian dishes. You will find no fettucine Alfredo, no pineapple pizza, no spaghetti and meatballs, and certainly no macaroni salad here. They proudly advertise on their website: "Italians eat here." Chef Paolo Gallotti produces Italian cuisine like Mamma and Nonna taught him. Instead of the usual Italian-American food, try bruschetta con polpo (bruschetta with octopus), the Vero Italian lasagna bake, or the costolette di angellino (lamb chops). If you have a hankering for some pizza, try the regina margherita. For dessert, I highly recommend the torta della Nonna. Vero Italian has an extensive wine list to choose from for a good pairing with your dinner. The owners and wait staff all operate in a truly Italian manner. For a moment, you might forget you are in Miami, not Rome. As icing on the cake, Vero Italian also offers gluten-free and vegan menus for their diners.
Soya e Pomodoro
Rosario and Cristian were both born and raised in Italy. Together, they own Soya e Pomodoro, a restaurant that serves southern Italian cuisine just as a southern Italian family would serve in their kitchen. When you are in their kitchen, you are not just a diner in their restaurant, you are a friend and a guest for the evening. Soya e Pomodoro is open for lunch Monday through Friday, and dinner Thursday through Saturday. For a special outing, claim a table for Thursday night and enjoy dinner and live music. No matter what day you visit this restaurant, you are in for a treat. The calming atmosphere mixed with a few bites of provola arreganata (smoked mozzarella with tomatoes) will soothe your soul. The fact that this charming and vibrant restaurant is actually converted from an old bank will pique your interests. On the traditionally small menu, you will find scrumptious southern dishes like linguine vongole e bottarga (pasta with clams) and platessa agli asperagi & zafferano (baked flounder with asparagus and saffron). Come on in and experience southern Italian hospitality in the most unique of locations.
Sapore di Mare
Matteo Paderni and Giorgia Calabrese must adore life on the sea. Sapore di Mare is owned by this married couple hailing from Florence and Naples, respectively. If you are looking for an elegant dinner fit to impress the Queen of England, this restaurant might not be the best choice. However, if you desire a unique experience that really explores the seaside theme of Miami, Sapore di Mare is the place for you. They have decorated their restaurant to have a very blatant nautical theme, designed specifically to recreate the ambiance of a ship. The colors of Capri and the Amalfi Coast bring the environment to life. More interesting than the décor of this restaurant is the origin of its ingredients. Sapore di Mare imports ingredients directly from Italy to give you the truest taste of la dolce vita. Yes, this means that the restaurant can be a bit on the pricy side for the sake of authentic ingredients. Try their Frittura di Mare (fried seafood), Risotto al Nero di Seppia e Gamberi (risotto with black squid ink sauce), and Branzino al Forno. Finish with the Amalfi Lemon Cake. If you really like seafood, take a look at their Raw Bar for an appetizer. Sapore di Mare is available for pick-up, delivery, catering services, and also hosting private events.
Ristorante Fratelli Milano
When you picture Italian cuisine, you likely envisage pizza from southern Naples, shrimp pasta from Sicily, or spaghetti alla carbonara from Rome. One specific sector of Italian cuisine not often represented in restaurants is Milanese: that is, dishes from the northern city of Milan. Twin brothers, chefs Roberto and Emanuele Bearzi, and Roberto's wife Fiorella have taken on that challenge. They own and operate Ristorante Fratelli Milano, a restaurant that specializes in cuisine from Milan. Italian expats adore their bombolone (an Italian filled donut). For lunch, they offer various panini and salads. For dinner, try their cozze al vino bianco (a new dish of mussels in white wine sauce), hearty parppardelle Milano (filet mignon and porcini mushrooms on pasta), or carne fratelli (skirt steak with roasted potatoes). Northern Italians love their hearty meats with a side of roasted potatoes. Ristorante Fratelli Milano offers all of this for a reasonable price and invites you to dine in an atmosphere that is somehow elegant yet relaxed all at once.
Riviera Focacceria Italiana
Another restaurant that specializes in Northern cuisine is Riviera Focacceria Italiana. This restaurant serves dishes from the Italian region of Liguria. The most famous recipe to come out of Liguria is pesto; if you choose to dine at this restaurant, you absolutely must try real pesto alla Genovese, the most authentic pesto recipe available. Riviera Focacceria Italiana itself is famous for its focaccia, a delicious type of bread. Try their focaccia cheese (thin focaccia dough filled with stracchino cheese). They are also loved for their pansoti, which are a type of dumpling with spinach and ricotta, served with a walnut sauce. This restaurant's dishes are served on typical "fiamanghila", a classic serving dish from old trattorias in Liguria. If you fell in love with the fresh pastas and breads, you will be happy to know that you can purchase their pastas, sauces, and focaccia to bring home! Rivieria Focacceria Italiana imports fresh Italian ingredients weekly, so you know it is always made fresh and authentically.
---
In Miami, Florida, there is an abundance of fresh seafood and a whole host of amazing chefs waiting to cook up a delicious seafood entrée for you. For a taste of the Italian peninsula, reserve a table at one of these 10 restaurants. You will not be disappointed. Buon Appetito!
Read also: