13 Best Italian Wedding Dress Designers
Wedding dresses are one of the most important symbols of marriage. One of the fundamental steps in the complex organization of a wedding is therefore to extricate yourself from the infinite proposal of wedding dresses, choosing your favorite stylist and model from a sea of possibilities. It is a matter of finding a stylist who reflects your tastes and falling in love with a particular model.
The tailor-made wedding and groom dresses speak of lines in step with the times and precious fabrics, details and attention to detail.
Many Italian brands among the world-famous designers have made the history of fashion and dictated trends in the field of wedding dresses, creating unique masterpieces.
Among the best high fashion wedding dresses, the Made in Italy models stand out for their originality and high quality, the excellence of tailoring chosen by brides worldwide to meet a future of love with elegance and style.
Because, on the wedding day, being "simply" the most beautiful woman he has ever seen is easier when you wear one of the wedding dresses made by the major Italian wedding dress brands.
So let's find out which Italian brands every bride can entrust her look too.
Antonio Riva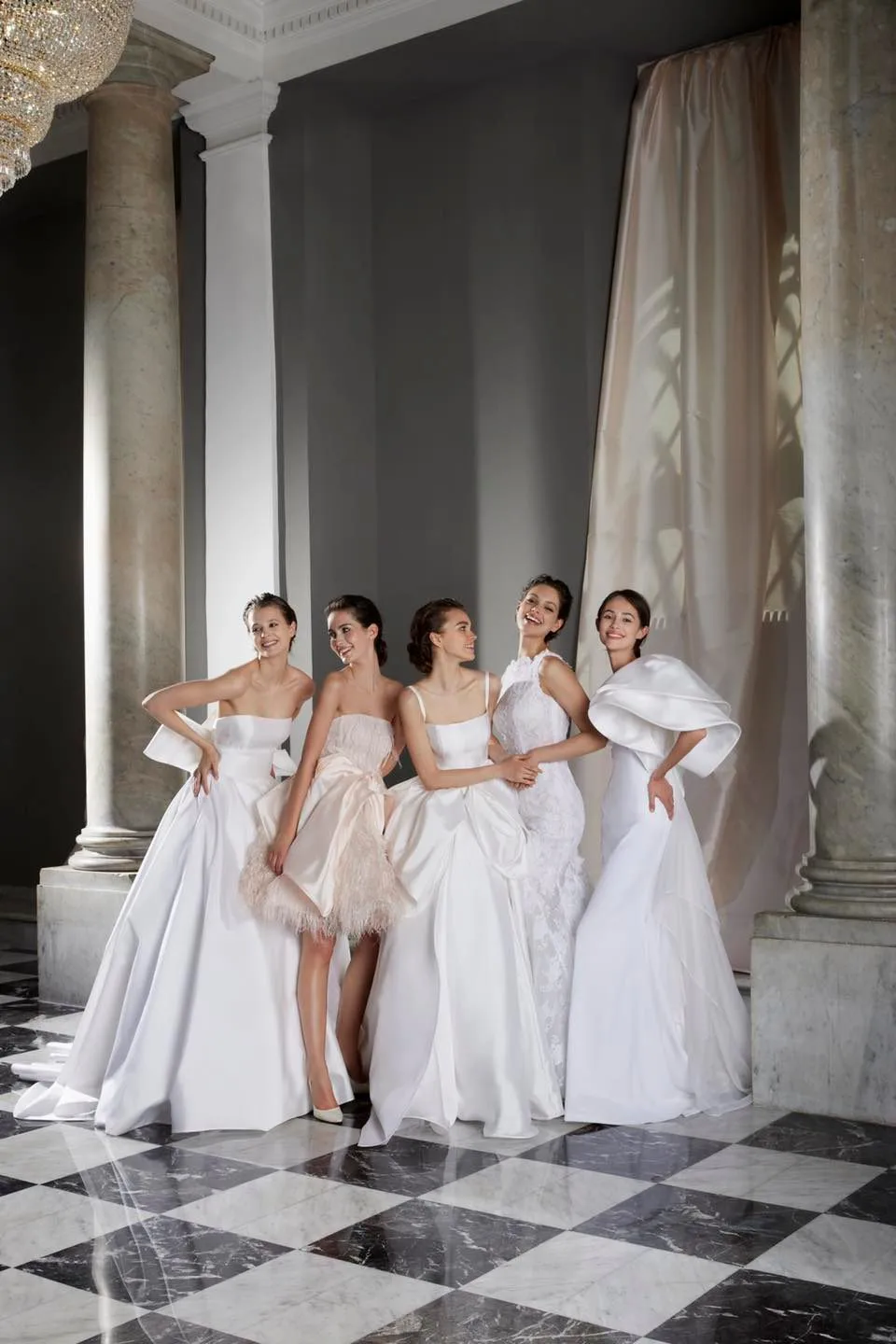 Antonio Riva dresses a romantic bride, sophisticated and classic at the same time, poised between tradition and modernity, which makes elegance her diktat.
Dresses with a strong personality, characterized by simple lines and a strong sense of proportion: ideal for religious ceremonies or, in any case, perfect in all strictly formal contexts.
From the atelier in the heart of Milan, the designer's high fashion creations – one of the most prestigious ambassadors of Made in Italy – reach all over the world, where they are distributed through selected retailers.
A unique style and a perfect harmony between innovation and tradition distinguish Antonio Riva's clothes, with his marked creativity and in-depth knowledge of the Italian tailoring tradition.
They are real works of art with a recognizable touch, characterized by geometric shapes and bows, capable of giving voice to the desires and dreams of modern women.
Luisa Beccaria
Luisa Beccaria dresses modern brides who do not renounce to amaze, especially on the altar, with fairy-tale dresses suitable for any type of ceremony.
Already from its beginnings, the graceful style of Luisa Beccaria is outlined in the freshness of the garments presented in art galleries and scenographic gardens.
Lace, embroidery, volumes, craftsmanship, and a meticulous selection of particular and always new fabrics make the brand's bridal collection a real unicum in the sector, the perfect symbol for a dream day.
Romantic, dreamy, and determined: these are the women this designer loves to dress on the most beautiful day of their life.
Natural interpreter of Italian style, Luisa Beccaria is internationally recognized for her ethereal creations, which find their perfect location in the charming boutique in the heart of Milan.
Blumarine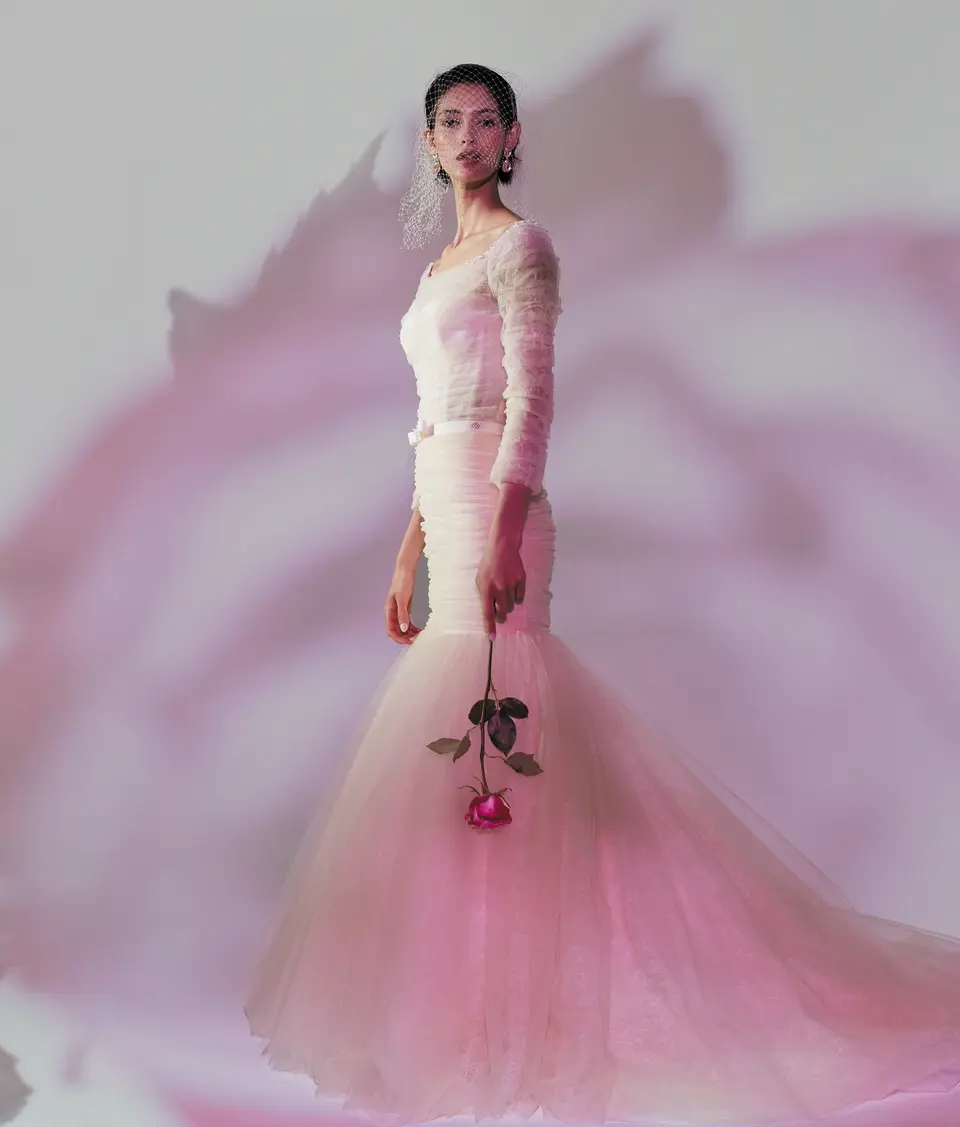 Much more than a brand, but a true reference point for fashion at an international level: we are talking about Blumarine, the historic brand founded by the spouse's Anna Molinari and Gianpaolo Tarabini in 1977 in Carpi.
The bridal collections of the brand have always been characterized by their refined and sober lines, where attention to detail and creativity mix to create a perfect mix of elegance and originality.
Blumarine Sposa prefers contemporary cuts, fabrics, and models in which experimentation winks at tradition: floral applications and precious stones adorn real masterpieces to wear, perfect for the female bride who wants to amaze everyone, feeling like an authentic princess of the day.
The clothes are marked by a determined, confident sensuality, in full harmony with today's women. The lines follow the body and underline it, enhancing it, thanks to the transparency of the fabrics.
Carlo Pignatelli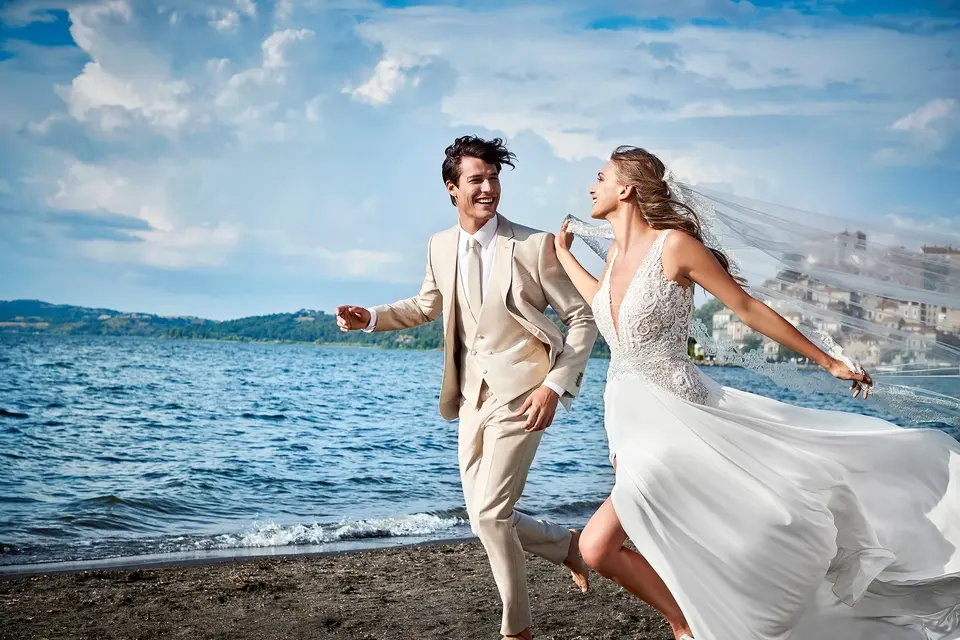 Carlo Pignatelli is the world's most famous brand, particularly for groom's and men's formal suits. Research and exclusivity outline the creation of this brand.
Games of light and shadows brush materials that intersect and overlap, creating transparent effects for a whispered elegance. The colors multiply: all the variations of white and ivory blend into the antique pink and reach up to sapphire color.
The fabrics have exclusive and artisanal processes: organza in all its forms, satin, jacquard, imprimè, duchesse and satins, matelassè and fil-coupè.
The embroideries range from classic chantilly to crochet effects and flowery meadows with three-dimensional flowers evocative of romantic painting.
Carlo Pignatelli experiments with fabrics in bright colors and innovative lines, creating a new image of the bride and groom. His original style is appreciated worldwide as an emblem of made-in-Italy sartorial excellence.
Max Mara Bridal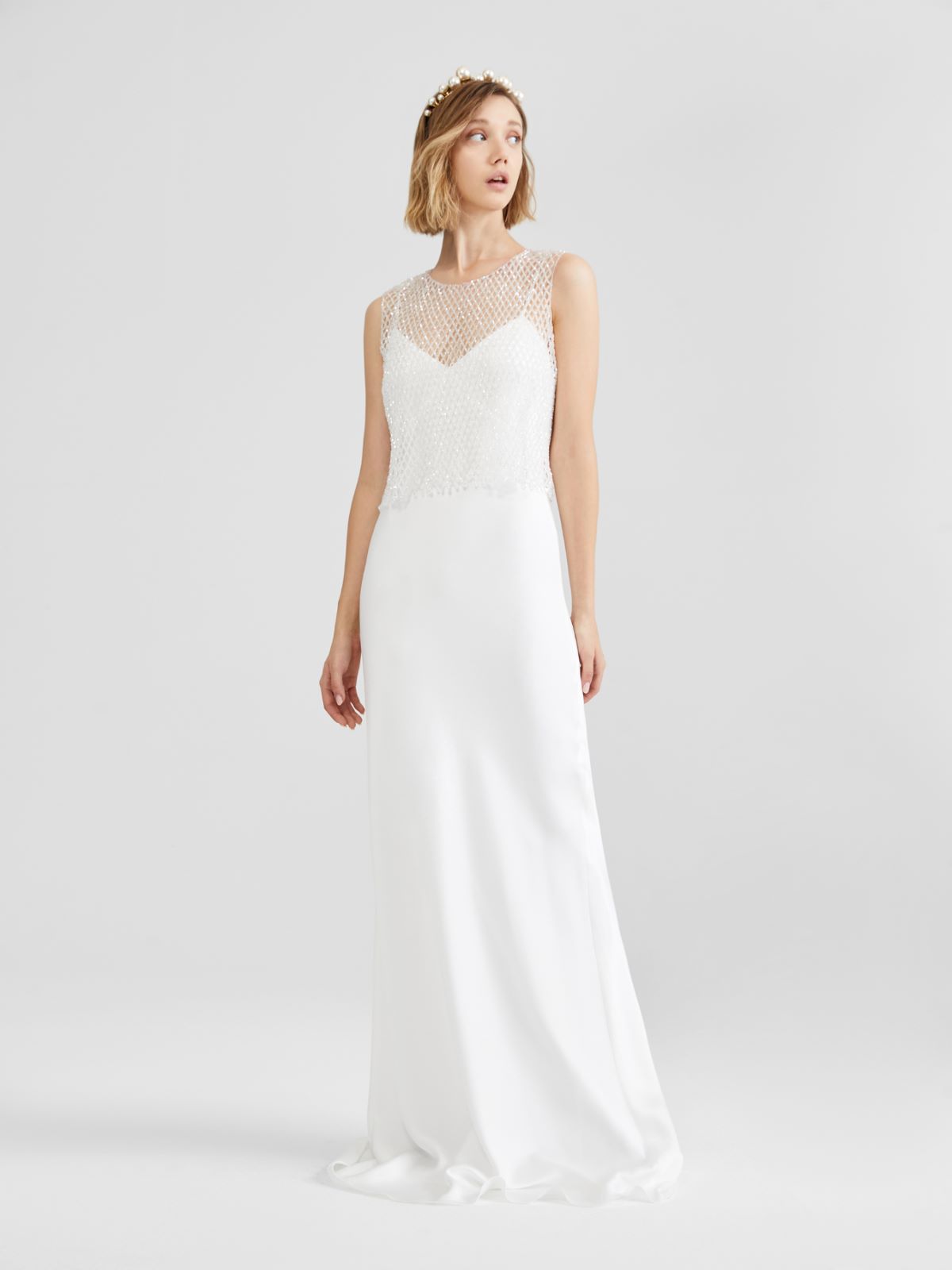 The Max Mara Bridal collection creates the perfect dress for the modern bride. The brand does not betray expectations, scrolling through the roundup of the spectacular models that make up the new collection: unique clothes capable of responding to the desires of a contemporary woman.
Minimal lines, precious details, comfort, and refinement are the basic ingredients of this bridal line that will delight all those who do not want the classic white princess dress but a modern and elegant dress for a perfect blend of tradition and novelty.
Simple but with an extra touch, precious and elegant, Max Mara Bridal dresses represent the quintessence of a well-orchestrated dream.
They are dressed with refined elegance. Feminine beauty is, in the foreground, enhanced by precious details.
Nicole Milano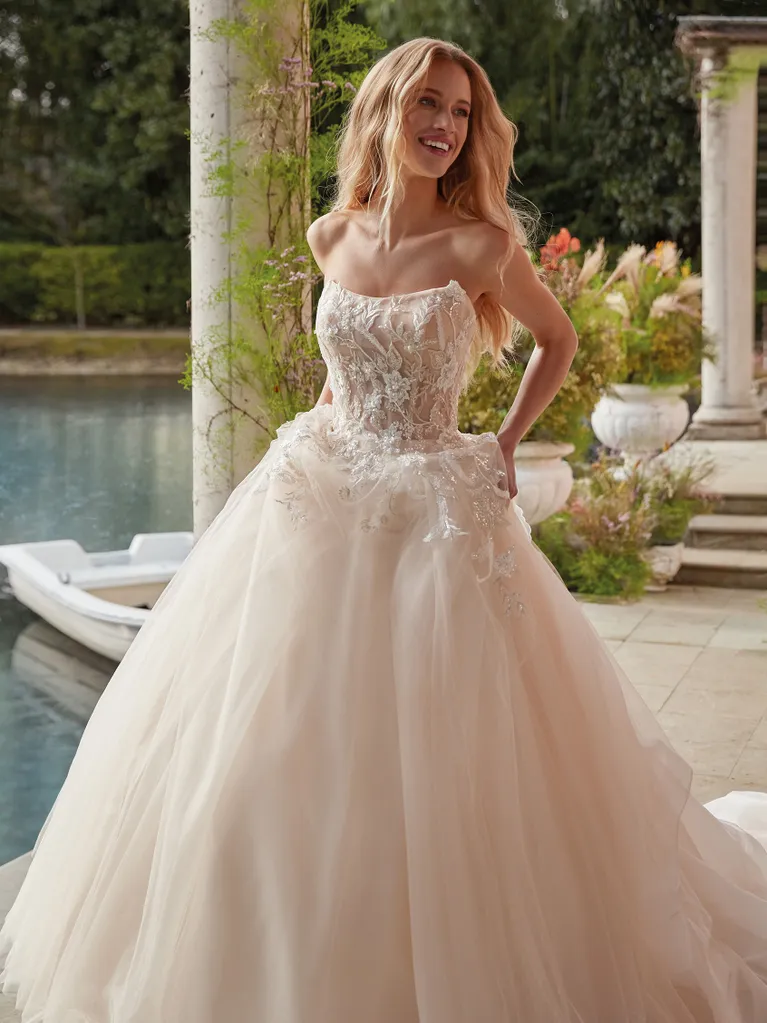 The dimension of dream and glamorous romanticism pervades Nicole Milano's style more than ever, thanks to her dream dresses, where the modulation of volumes ranges from important and classic skirts to more sensual and modern lines.
The bride who chooses a Nicole Milano dress is a woman who wanted to fulfill her dream when she was a child. She is a romantic bride who chooses the elegance and refinement that distinguish the Italian style in the world.
A collection in the name of femininity, created to enhance the soft and sinuous beauty of the woman, in which the elegant transparencies of the necklines, decorated with lace and crystals, adorn the cleavage.
Liberty style in the most precious embroideries, overlapping tulle, and organza, graceful and innovative degradé embroideries, whispered nuances of the most elegant and refined pastel tones, all always in a modern key, satisfying the needs of contemporary brides.
The Nicole Brand now boasts more than 1000 authorized dealers in Italy and in the rest of the world.
Elisabetta Delogu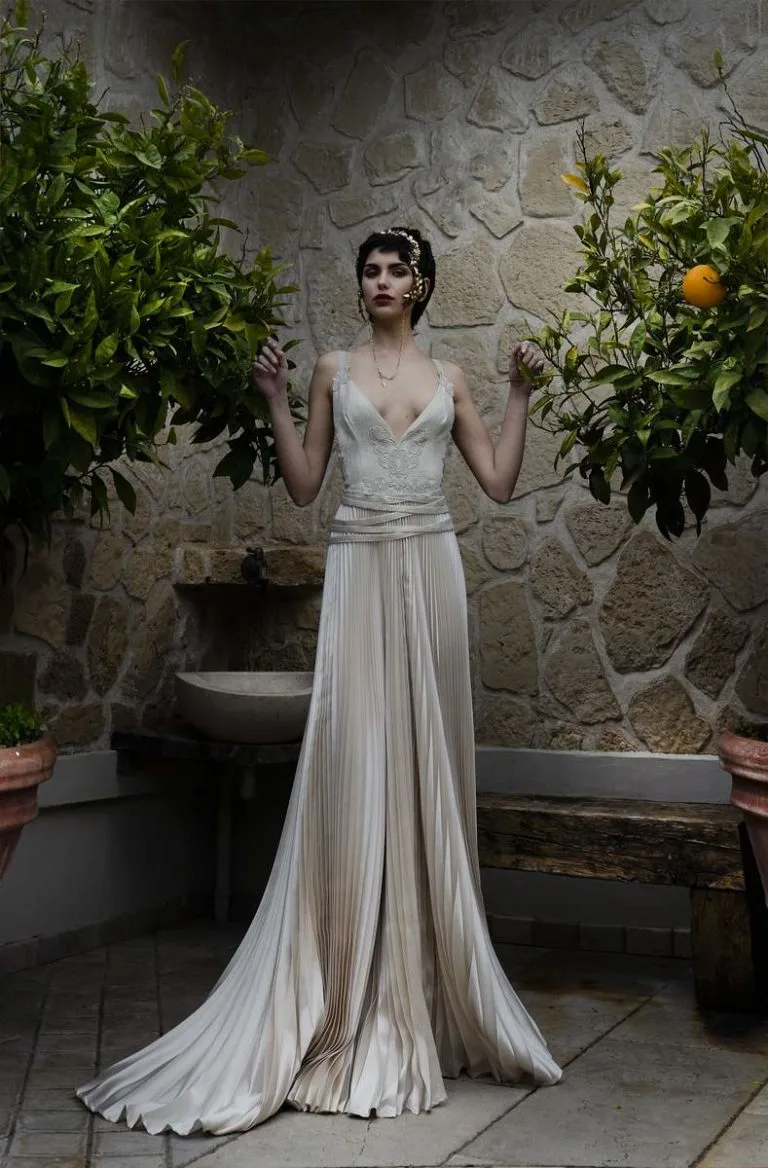 The world of this Sardinian Bridal Designer goes beyond the concept of creativity: each dress, rigorously designed ad hoc on the skin of each bride, according to her tastes and desires, is transformed into a true work of art full of references and wrapped in magic.
The combination of shapes, colors, inspirations, fabrics, and decorations gives life to a universe populated by languid and dreamy femininity, inspired by painters who draw lymph from Nature to envelop the bride in a luminous and fairy aura.
The fabrics are pleated brocades and cotton and linen lace. Small flowers and light organza, soft and fluid dresses, accompanied by ramages of pistils and petals that enhance the fabrics.
A beautiful and sensual woman, who wears silk dresses and white flowers, the quintessential expression of femininity: shades of white, flowers everywhere, you can even smell them, veils of lace and tulle.
This is how Elisabetta Delogu expresses her spring bride, rich in details: shades to underline her beauty, purity, and sensitivity.
Elisabetta Polignano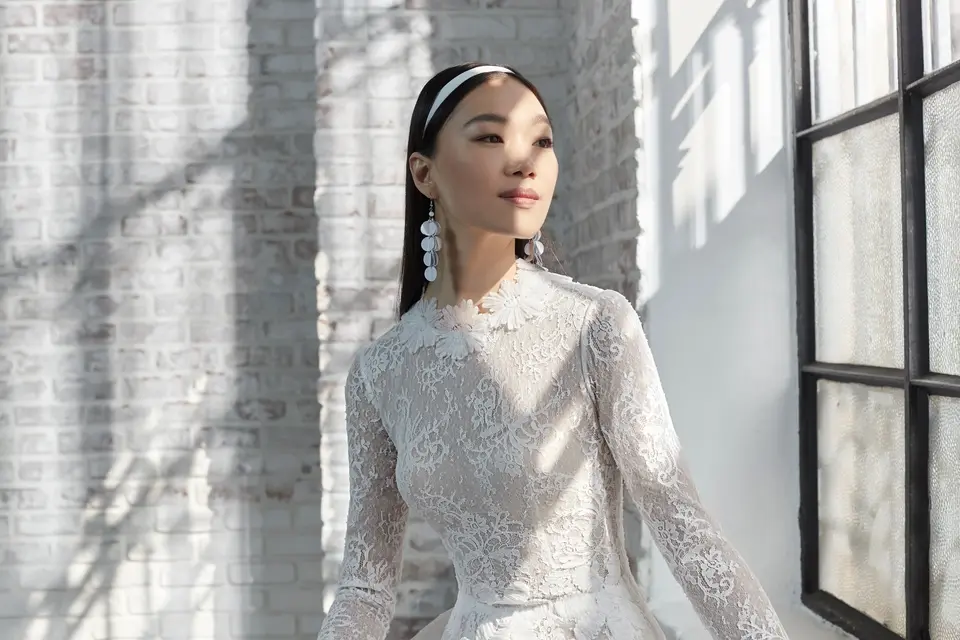 Those of Elisabetta Polignano is precious dresses, with multiple shapes created, as always, by the stylist choosing and selecting 100% made in Italy silks and fabrics.
Great attention to every detail and great attention also to accessories.
Elisabetta Polignano's Collections celebrate the female figure in her sublime essentiality and bring to light the sacred and the beautiful that is in and of every woman but without ostentation.
In each of the three Bride Lines, she wanted to enhance that desire to rediscover the original, pure, true, and profound value in the exchange of a promise of love that wants to last forever.
Elisabetta Polignano's creations tell women's intense life and nature in the name of elegance, femininity, and originality. This figure remains a clearly visible feature in the signature of this brand.
Each dress emphasizes the female body in harmony thanks to silk organza, tulle, georgette, and structured fabrics such as mikado because the details make the difference.
Bellantuono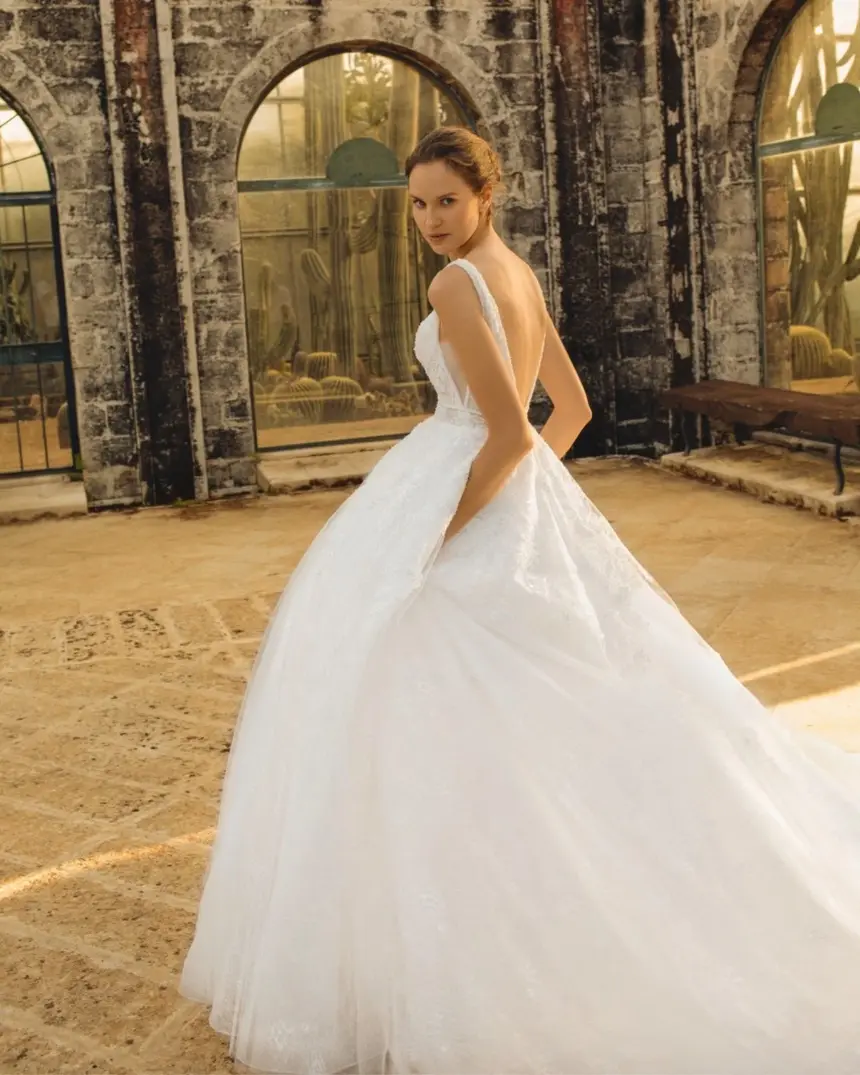 Bellantuono is a prestigious atelier born in 1956 and specialized in wedding dresses. Managed by highly qualified staff, it offers an innovative tailoring reality with a unique style, dressing women with elegance and refinement on the most beautiful day of their life.
The Bellantuono Bridal Group is characterized by an all-Italian know-how that, with perseverance and dedication, learns the technique to create masterpieces.
For three generations now, seamstresses, milliners, and designers have handed down this knowledge and carried on the sartorial tradition of "Made in Italy", creating elegant and original dresses for a sophisticated woman who is at the same time modern and strong.
Today we are also attentive to new technology, the use of social media, and social and fashion trends, but with an awareness of their history and the tailoring that distinguishes them.
The Bellantuono Bridal Collection intercepts the needs of the new generations and translates them into irresistible bridal couture.
Amelia Casablanca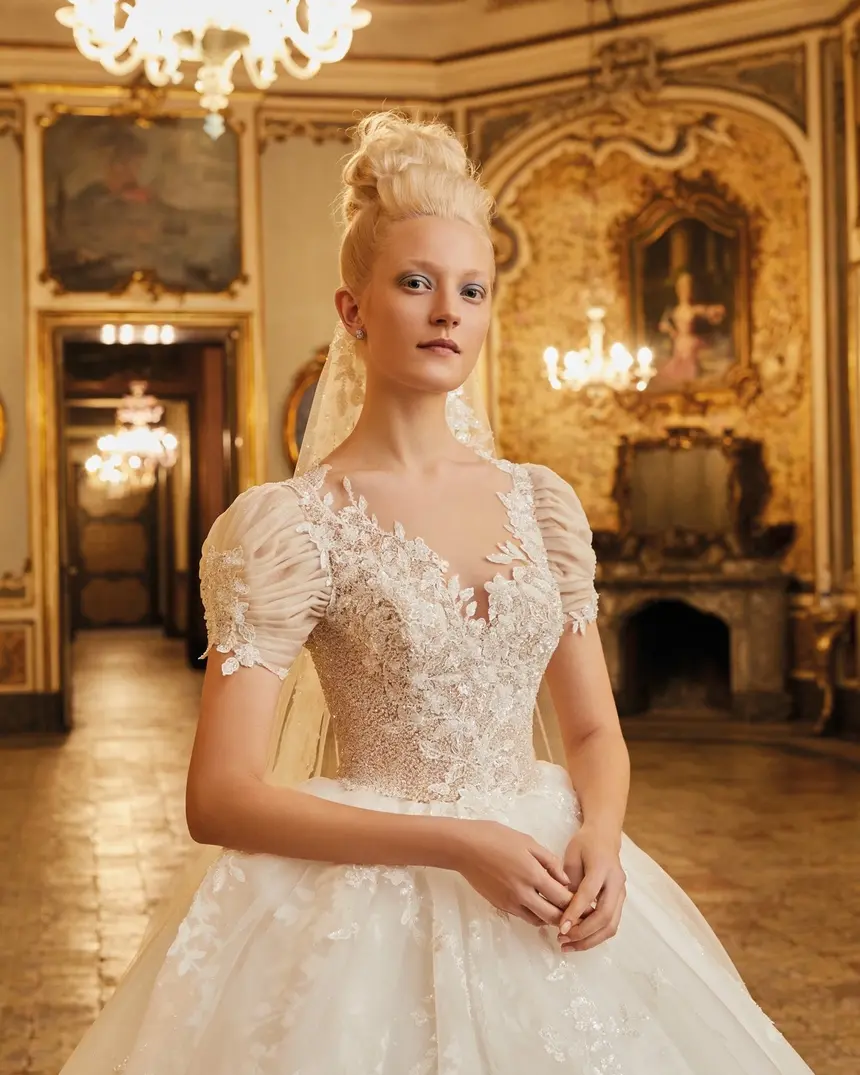 Amelia Casablanca is driven by an innate passion for high-fashion bridal. She made her first wedding dress at the very young age of 13, on a path that would lead her to extraordinary destinations full of success and prestige.
The Casablanca Bridal dresses are characterized by superb quality, original design, and attention to detail. Each Casablanca dress is made to order, one at a time, without mass production.
Each dress is unique and completely handmade, adapting perfectly to each bride's specific needs. Amelia Casablanca's dresses speak to romantic brides seeking sophistication.
They are enchanting dresses made from extraordinary creativity, revealing details, and precious fabrics. Amelia Casablanca's designer dresses are inspired by a romantic bride looking for refined details.
Amelia Casablanca's creations speak many languages to enhance the taste and personality of brides in this atelier who meet their dream dress, exclusive and unforgettable.
Galvan Sposa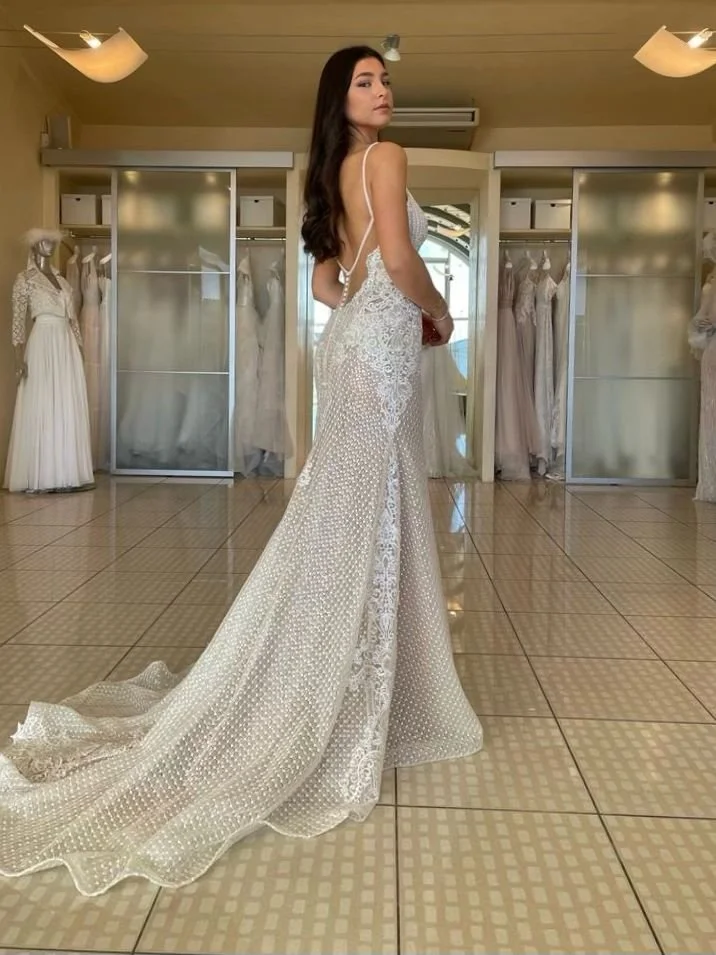 Here is another Italian brand that has long been very famous also abroad. We are obviously talking about Galvan Sposa, a sensual and refined brand, captivating and, at the same time, very elegant, in a perfect mix of tradition and innovation.
Galvan Sposa haute couture dresses are designed for modern and dreamy brides. Its collections are multi-purpose and conquer both the most traditional and the most original brides.
Galvan Spose favors provocative dresses on the one hand and more classic shapes on the other, placing the most feminine and precious details on the podium, including laces and necklines.
A hymn to femininity between sinuous shapes and desires sewn on thanks to the experience of a team led by two great experts in the sector of the caliber of Stefania Vaccari and Lucia Galvan.
Galvan Sposa wraps the bride with precious dresses made with the best fabrics and original and avant-garde lines.
Enchanting dresses, created with the highest respect for the canons of elegance and prestige of Made in Italy, make you feel unique and beautiful.
Giuseppe Papini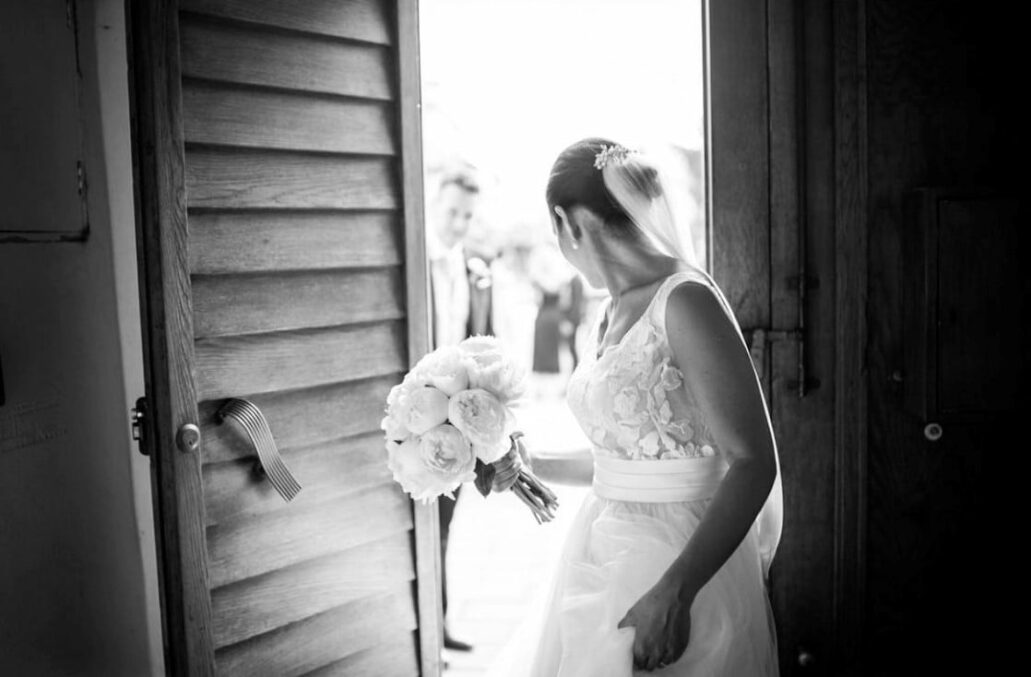 Giuseppe Papini's designer clothes are the dream of a romantic and, at the same time, concrete, elegant, and sophisticated woman who wants to shine for the wedding day while remaining herself. And to make it, the designer's creations take care of it.
Dresses, skirts, tops, veils, and accessories find their stylistic features in the sculptural cuts, in the taste for asymmetry, in the perfect fit, in the game of transformations, and in the preciousness and exclusivity of the fabrics.
With a view to constant innovation, these dresses are characterized by unique embroideries, designed and developed personally by Giuseppe Papini: embroidered organza, macramé lace … Infinite inspirations for the bride determined to live the most beautiful dream.
Among embroidery on organza or tulle and precious applications, Giuseppe Papini amazes with the elegance of his clothes, making a white triumph, an unrivaled symbol of purity and femininity.
Alberta Ferretti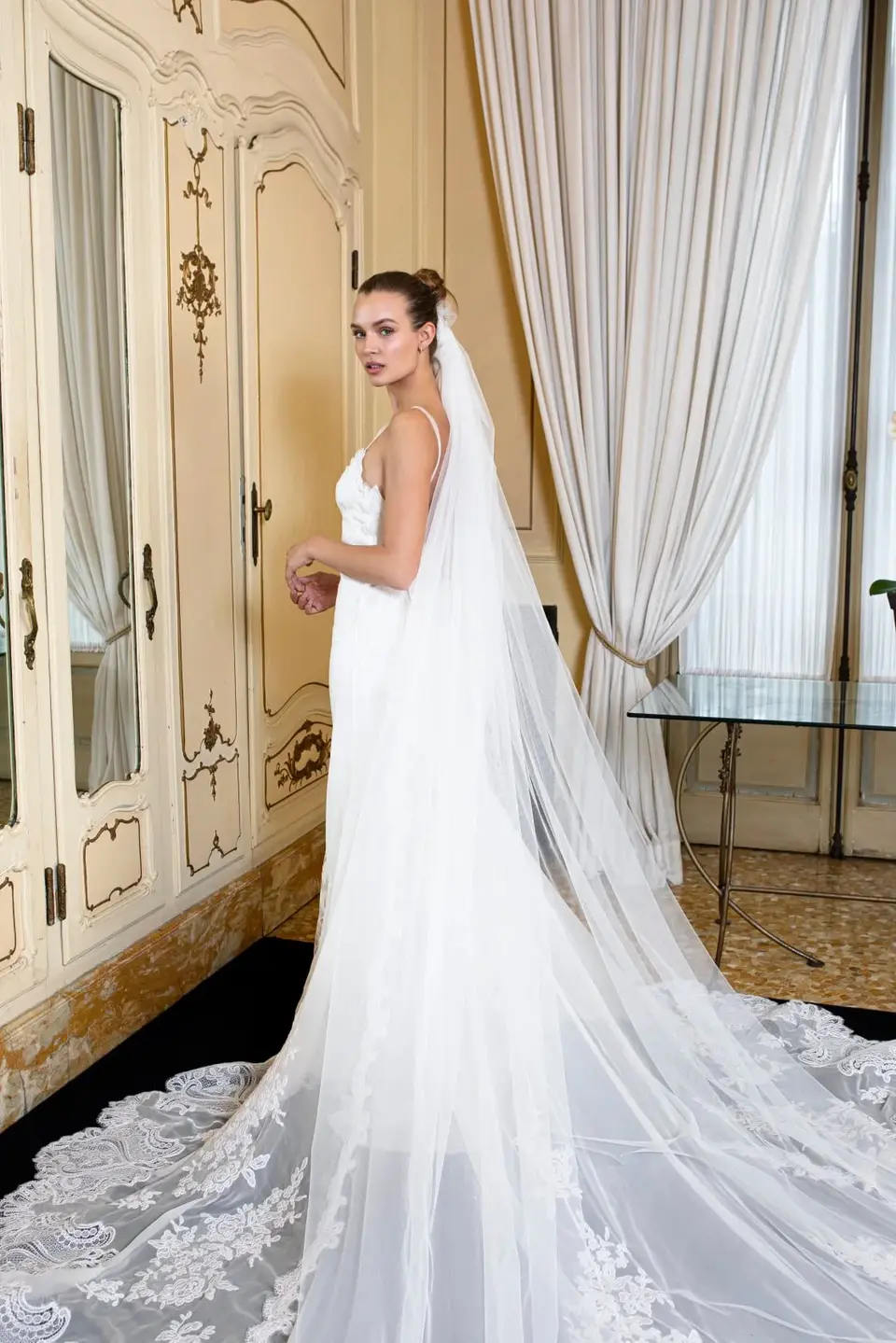 The one by Alberta Ferretti cannot be missing among the best brands of Italian wedding dresses. The famous Italian designer has permanently dedicated part of her work to creating refined dresses for the most important day, obviously tailor-made with the finest materials.
It is the brand most chosen by Italian stars who get married, including duchesse and mikado, chiffon and crepe satin, Chantilly lace, and three-dimensional embroidery, crystals, and organza flowers.
Bridal Forever is a collection of fifteen wonderful handcrafted creations inspired by and bearing the names of as many Goddesses of classical mythology: here, then, is that the bride imagined by Alberta Ferretti is as strong and wise as Athena, she is as smart and determined as the Goddess Nike or sweet and ethereal like Venus.
The entire collection is pervaded by pure, refined romanticism, enhanced by elegant and precious fabrics. Large bows, very light capes, and artfully designed transparencies make the clothes original and modern.