9 Best Restaurants in Bergamo, Italy
Bergamo is located a stone's throw from Milan and from valleys and mountains. This area has always relied on products of the earth for the creation of typical dishes, certainly including polenta, a delight that is now enjoyed almost throughout Italy.
It is said that in Bergamo and its province, people love to eat polenta, Taleggio cheese, and meat. Bergamo today boasts countless haute cuisine restaurants, and many people love and begin to prefer fish cuisine and creative cuisine. In short, people eat polenta and Taleggio cheese, but also fish and haute cuisine. Here are some of the best restaurants in Bergamo:
Al Carroponte
via E. De Amicis, 4 – Bergamo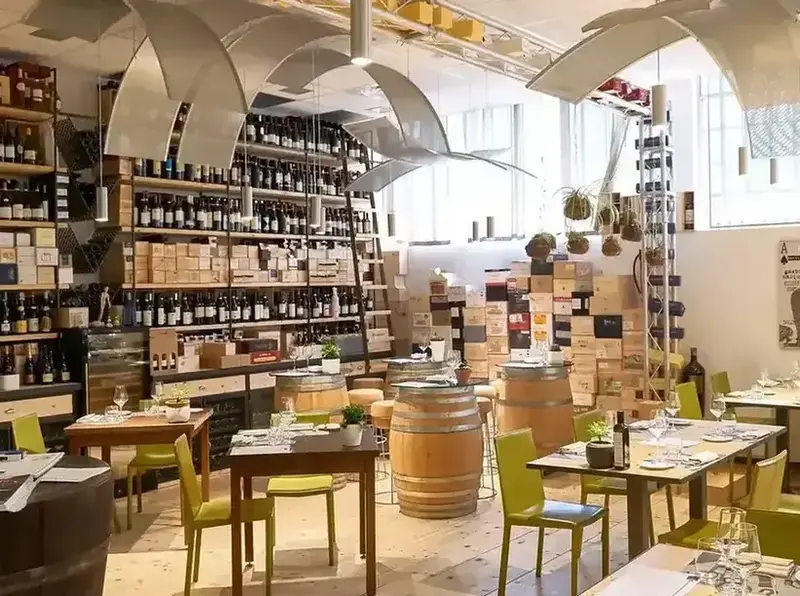 The "Carroponte" is at the same time a bistro, a wine bar and a gourmet restaurant; the right place to stop at different times of the day, whether it's a break with friends or a more formal occasion.
Here you can drink an excellent glass in the wine bar, choosing from a wide list of varieties to combine with finger food or fine cured meats. Or sit in the large open space room, or in the pleasant garden surmounted by vines and jasmine, ordering from a rather large menu: raw, grilled meat, pasta and risotto, catch of the day.
There is something for all tastes and budgets, with convenient lunch options and a five-course evening tasting. The over 1,400 labels in the cellar are flanked by the excellent gastronomic offer of chefs Fabio Lanceni and Fabio Garlini, authors of the simplest and fastest proposal in the bistro and the most refined menu of the restaurant, with its gourmet itinerary.
Among the dishes proposed, we mention: crustaceans, fish, and mollusks, raw and marinated; wholemeal tagliatelle, pecorino cheese, sautéed and fried artichokes; spaghetti, garlic, oil, chili and prawns; smoked and marinated salmon with purple potatoes; risotto with green apple, Siberian Calvisius caviar and potato chips. For dessert: hazelnut pie, fiordilatte ice cream, and smoked yogurt; chocolate, chestnut cream, and mango sorbet.
Casual Ristorante
via San Vigilio, 1 – Bergamo
The "Casual" restaurant reinterprets the gastronomic culture of the area in a contemporary key and offers tasty cuisine, with a predominantly traditional vision that leaves room for innovation and offers guests a high quality gastronomic experience.
The starred chef Enrico Bartolini has opened his bistro in the splendid old town and combines resourcefulness and knowledge in his dishes, giving life to original and balanced flavors that emerge from the fusion of past and present.
Among the dishes of the "Casual" restaurant, we find: raw purple prawns, medlars and violets; local hen, turnips and yeast; pasta in cuttlefish, squid and black lemon sauce; lamb, almonds and lavender or pigeon, morels and juniper; half-fried shrimp with citrus sauce; "Around Sicily": anchovies, capers, baby squids and caponata; bluefin tuna with vinegar, grappa and spring onion emulsion; steamed prawns, chickpea cream and stewed artichoke; Piedmontese beef tartare; beetroot risotto with Gorgonzola sauce; spaghetti with garlic and oil, mushrooms and Bernese sauce; ravioli with pumpkin, cabbage, ginger and foie gras.
A special mention also goes to the list of cheeses, which is very extensive and selected.
For dessert: soft chocolate with hazelnut ice cream.
Donizetti
Via Gombito, 17a – Bergamo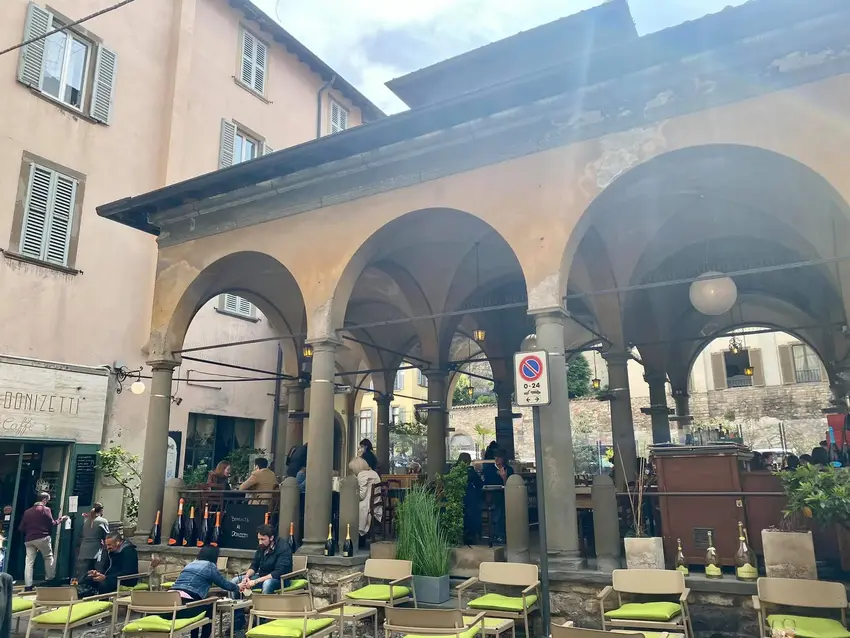 The "Donizetti" Restaurant Enoteca Wine-bar, located inside a finely restored ancient building, in the heart of the upper town of Bergamo, is a pleasant, warm and welcoming environment, also equipped with outdoor tables in which to dine in summer.
The "Donizetti" restaurant in Bergamo also has an excellent wine cellar with a wide selection of prestigious labels. The wine shop boasts an assortment of over 900 wines. Also noteworthy is the selection of spirits: ranging from grappas to scotch, passing through Japanese whiskeys, rum, gin, brandy, and great cognacs.
The cuisine is typical of Bergamo, and the tasting of many typical local products is also offered, accompanied by an extensive list of Italian and foreign wines. At the "Donizetti" wine shop, there are also various cheese or cold cuts platters; you can also enjoy dishes with polenta.
At the "Donizetti," you can come for an aperitif at the counter or for a real meal, choosing dishes such as fish and meat carpaccio; polenta with Taleggio cheese; Bergamo-style "casoncelli"; beef in oil with polenta; chocolate salami.
N.O.I. Restaurant
via A. Pitentino, 6 – Bergamo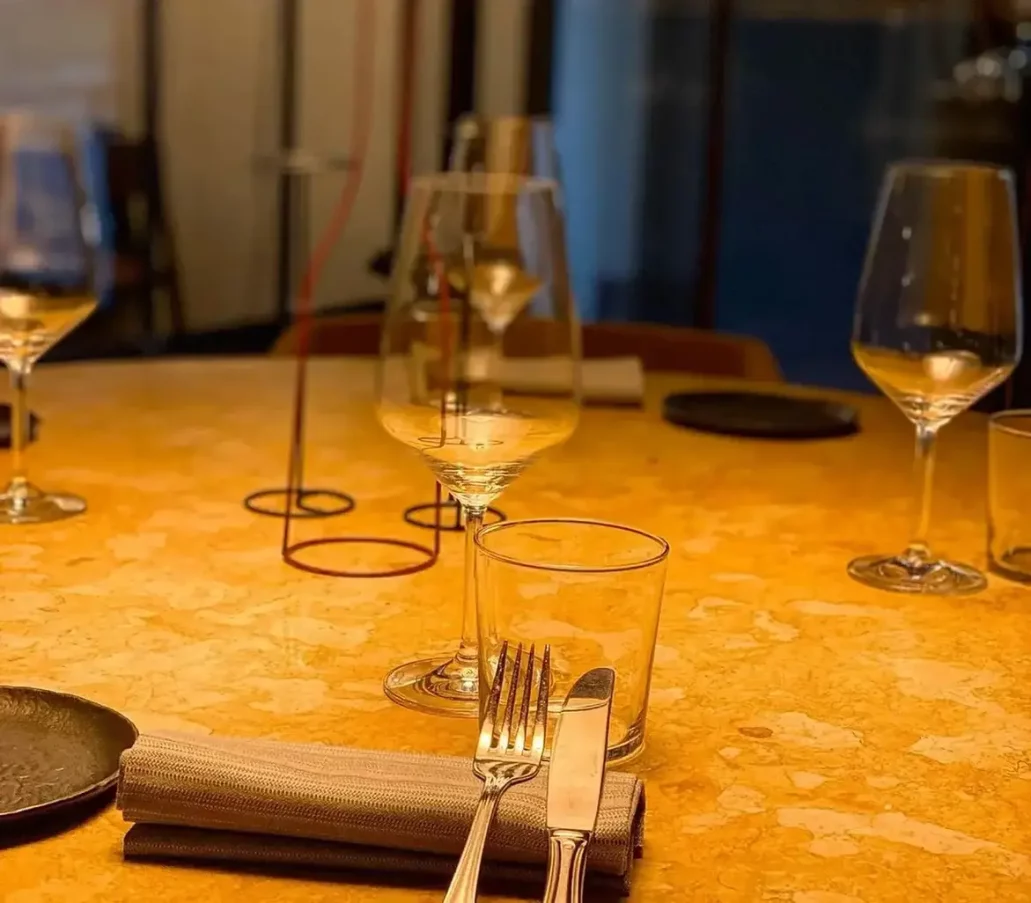 The N.O.I. restaurant (Nuova Osteria Italiana) is actually the home of a happily international cuisine, given by the experiences of the young and talented chef Tommaso Spagnolo. A place to discover the flavors of Bergamo, and sometimes indulge in aromas from afar.
Few dishes on the menu change very frequently based on the availability of raw materials. From appetizers and side dishes to proposals for cold dishes and hot dishes. From the prestigious risotto prepared with Acquerello rice, to proposals based on Norwegian salmon and meat, to dishes that embrace the Italian tradition such as the Apulian "frisella" with burrata and tomato or the classic and timeless bread, butter and anchovies from Cetara, ravioli with prawns, confit lemon, rocket pesto and coconut milk; spaghetti with tuna bottarga, fresh tomato, and red onion; roasted carrots, lentils, yogurt; polenta, spinach, and taleggio cheese; snails, potato, garlic, and parsley. In short, a place to indulge in the chef's creativity.
There is also a wide selection of wines, beers, and other proposals, such as cocktails and fresh fruit centrifuges.
Lio Pellegrini
Via San Tomaso, 47 – Bergamo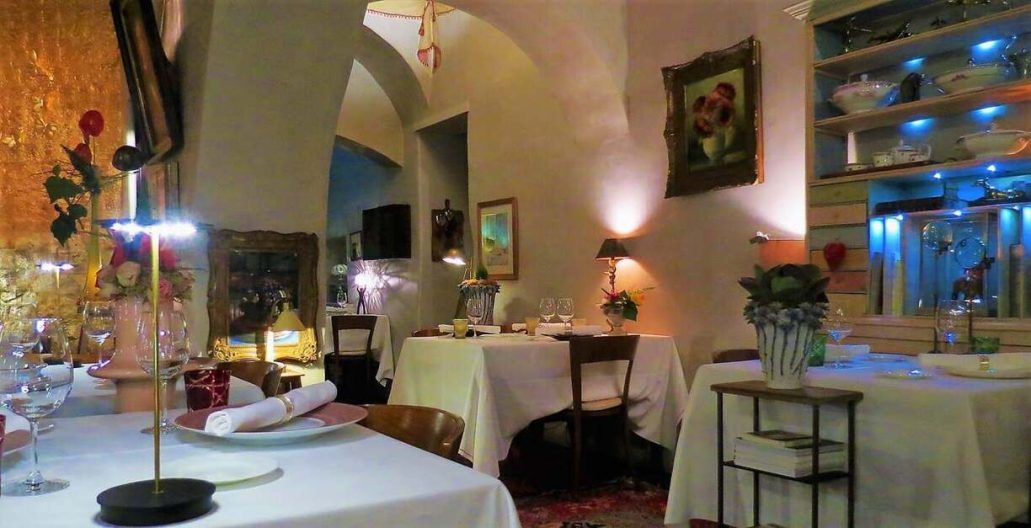 The "Lio Pellegrini" restaurant is located in front of the Carrara Academy, a charming setting, obtained from a 17th-century sacristy, which recreates the atmosphere of the romantic French bistro, with furnishings rich in a thousand objects and curiosities.
The chef proposes dishes were the first fruits alternate with poor products, presented with care and finesse. The wine and spirits list is good. The internal garden is well-kept.
Among the dishes of the kitchen of chef Giuliano "Lio" Pellegrini, we list prawns with tomato from Piennolo del Vesuvio and green tomato pesto; raw Piedmontese beef fillet with pine nuts, buttered eggs or tomato sauce with burrata, grilled baby squid and crispy capers; mashed potatoes, cheese sauce, and white truffle; Tagliolini with white truffle; baked Gorgonzola, buttered egg, white truffle, and fried porcini mushrooms; porcini mushroom soup in the crust with white truffle; egg tagliolini with white truffle; fried scampi, squid, cod, vegetables, shrimp and squid.
As a dessert: Cantucci biscuits with almonds and Vin Santo; lemon sorbet with grape juice; hot figs and ice cream; wild strawberries in vinegar; mango puree with caramelized fruit, ice cream, sorbet, and strands of sugar; warm pear and hazelnut tart, with vanilla ice cream and white truffle.
Arti
Via Previtali, 5/7 – Bergamo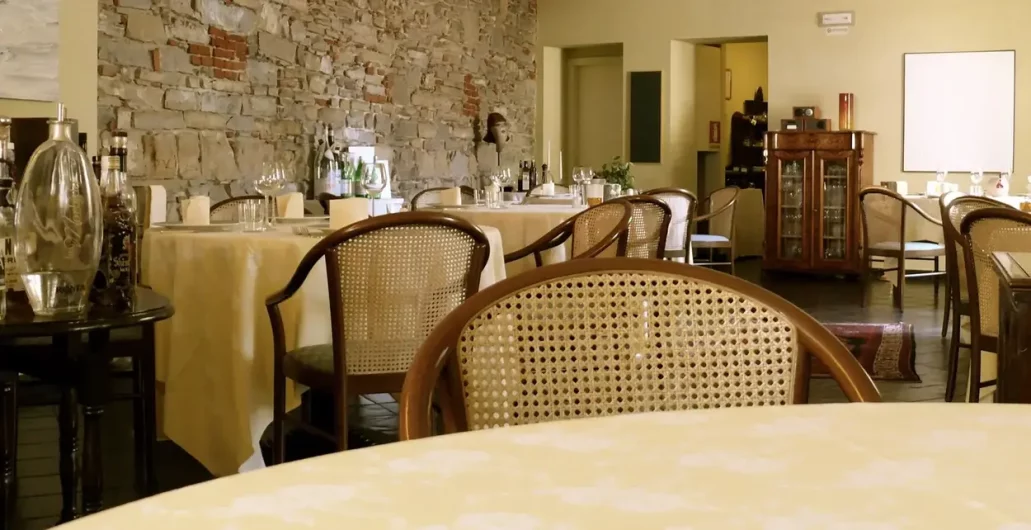 The "Arti" restaurant is a very elegant setting with modern furnishings, located in the city's heart. The cuisine is based on appetizers and fish-based courses.
The "Arti" restaurant in Bergamo also has an excellent wine cellar, especially whites, with a careful selection of both national and French labels.
The local specialties are fish dishes according to the Venetian tradition and among the recipes proposed there are real delights for the palate such as oysters.
The fish is prepared and cooked with absolute respect for the freshness and quality of the raw material. Do not miss an appetizer such as the fish plateau and the cod in Vicenza style.
Other dishes include potato and beetroot purée with roasted sea bass meatball; tuna with rosemary flatbread; goat potato and trout roe; king crab with salt and pepper; roasted octopus with wakame seaweed; barley pie with Sicilian purple prawns; fried seafood and vegetables; sea fantasy with crustaceans, molluscs and seafood; paccheri pasta with broad bean cream, scallops and crispy leeks; turbot fish in vanilla sauce with crisp white polenta and, to finish, green tea crème brûlée with chocolate sauce and waffles. Good choice of cheeses.
Sarmassa
Vicolo Bancalegno, 1h – Bergamo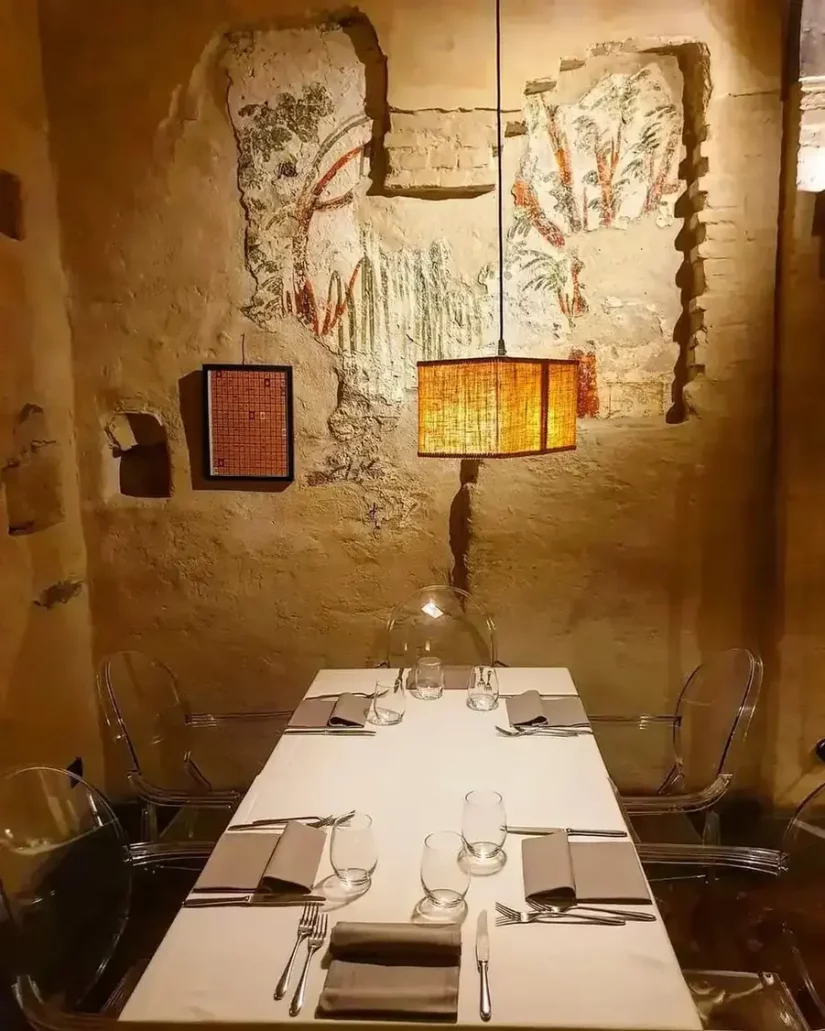 The "Sarmassa" restaurant, located in the ancient Borgo San Leonardo in Lower Bergamo, welcomes its guests in an environment with the charm of yesteryear, among characteristic thirteenth-century columns, vaults, and arches, frescoed walls, and an impressive 11th-century cellar.
The atmosphere of the splendid rooms, made even warmer by the soft lights, makes it the ideal place to spend happy moments of intimacy.
The cellar offers a rich and selected wine list, which boasts 320 labels from all over Italy, leaving some space also for some French, Australian, and Spanish bottles.
The chef offers both sea and land gastronomic specialties, always paying close attention to the seasonality and freshness of the products to propose a cuisine with simple and genuine flavors, where raw materials are of fundamental importance and, when feasible, found directly in the areas of origin.
Among the most important dishes: spaghetti with clams, chili, and sweet bottarga; the Piedmontese Fassone beef fillet; the seared fillet with cannellini beans from Sorana, hot in oil, and the thin hot tart with berries and custard.
You can choose among 70 whiskey, bitters, and liqueur labels to round off the meal.
Impronte
via Cristoforo Baioni, 38 – Bergamo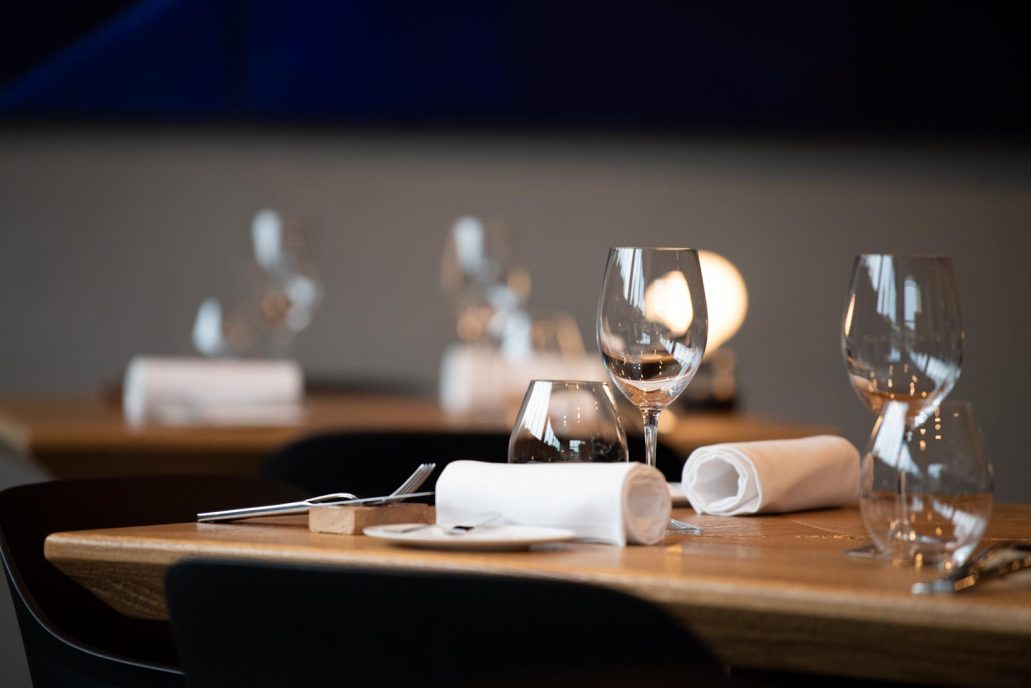 The starred chef Cristian Fagone, from Sicily, has the skills, the passion and the creativity to compose a truly varied menu, capable of transmitting the love for his "personal" cuisine, linked to childhood memories, but also to life lived and travels around the world, without ever forgetting a touch of Mediterranean origin.
The products used are exclusively seasonal and Italian, with particular attention to the quality of the raw materials. Among his dishes, we have ventresca, potatoes, mussels, and provola cheese; spaghetti, lemon, sea urchins, amberjack bottarga, fennel and oregano; rigatoni pasta and tomato; liver, sweetbreads, Tropea onion, lettuce and frozen salmoriglio; pigeon, champignon mushrooms and herbs; Bronte pistachio and lemon; snapper, frozen almond, oyster; watermelon, oyster and champagne; ravioli with foie gras, Parma ham and lemon; risotto, snails, limes, aromatic herbs and red wine.
Among the desserts, the Sicilian cannoli with a crunchy wafer base is a must, as well as "Oro di Sicilia", a Bronte pistachio parfait. The restaurant offers a choice of à la carte dishes, or 5, 8 or 10-course tasting menus. The wine list is also very well stocked, with more than 300 labels.
Osteria della Brughiera
Via Brughiera, 49 – Villa d'Almè
The appearance of the Osteria della Brughiera, located in a villa with a garden, is refined and romantic: soft lights, modern works of art on the walls, and carpets paint the context in which to savor the dishes of the kitchen of the young chef Stefano Gelmi.
The kitchen uses high-quality raw materials, researching and selecting the delights and uniqueness of Italian products. The continuous search for balance and original flavors outlines creativity.
Do not miss some classic dishes, such as "cappelletti alla bourguignonne", pumpkin and ginger, or dark leek with salmoriglio and avocado, with pistachio pesto, hemp seeds and capers.
Among the other dishes: spelled linguine with seafood; short durum wheat pasta with cuttlefish and pink pepper potato; spaghetti with shelled clams; ravioli with oxtail ragout and forest-scented broth; mashed yellow potato, egg, and caviar; raw seafood with carpaccio of fish, shellfish, squid, anchovy and oyster.
As for the pastry: strawberry sorbet with a froth of Franciacorta wine, biscuit with mousse and apple slices, green tea ice cream, vegetarian customers can also count on a dedicated menu.
The cellar is extremely well cared for, with a selection of important labels.
---
Read also: Places to visit in Bergamo.
---
Think your friends would be interested? Share "Best Restaurants in Bergamo"!