12 Best Restaurants in Brescia, Italy
Brescia is a very beautiful city. It is certainly a destination that does not escape lovers of Italian cities of art. Here are many monuments to visit; then many churches, a splendid art gallery, and, above all, the Castle overlooking the city, the pre-Alps, and the Franciacorta region. But also the testimonies of the Roman city, in Piazza del Foro with the theater and the Capitolium. In Brescia, you can also eat and drink well, because this is a land of wines and great cuisine. It is a city that has many starred restaurants, vineyards on the lake, mountain cheeses, and recipes handed down for generations. It is an ideal area for a gastronomic weekend among historic trattorias, gourmet restaurants, and cellars. Brescian cuisine mixes city and countryside, plains and mountains. If you happen to be in Brescia or will visit Brescia any time soon, you have to check out these 12 restaurants on our list, as they are the best places to eat in Brescia:
Antico Beccaria Restaurant
Via Cesare Beccaria, 11 – Brescia

The Antico Beccaria Restaurant is located in the heart of Brescia, in via Cesare Beccaria, a stone's throw from Piazza della Loggia and Piazza del Duomo.It has an elegant and refined atmosphere.
The cuisine has a refined gastronomic offer both in terms of the recipes and the ingredients used. The products come from all parts of Italy and abroad in the name of high quality. Constant commitment to researching the best ingredients to bring only excellence to the table. The wine list is also curated, which includes about 50 national labels combined with the specialties proposed. Among the dishes cooked by the restaurant we have: local cotechino with potato cream; tomino with grilled bacon and black truffle; tomino with grilled bacon and white truffle; fried dumplings with selected cold cuts; mixed cheeses from the Brescia valleys with honey and jams; delicately seasoned beef tenderloin tartare; octopus on potato cream with pesto; fresh salmon tartare and mango salad; red prawn tartare with purple potatoes.
Nuovo Nando
Via Amba D'Oro, 119 – Brescia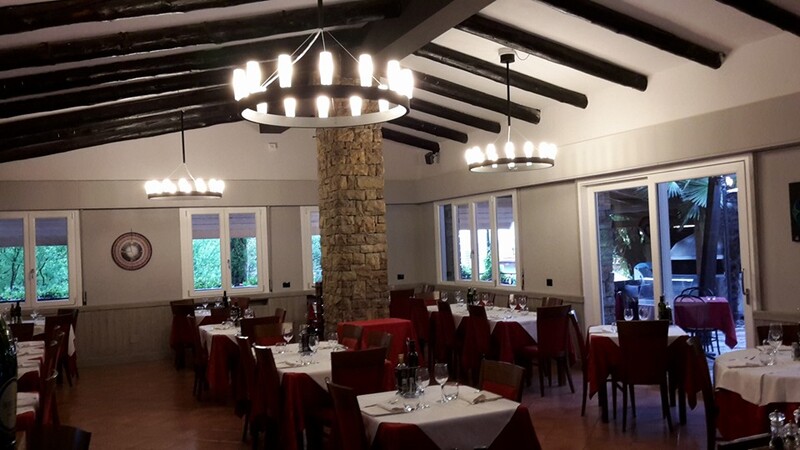 The Nuovo Nando restaurant is located on a hill a stone's throw from the city: surrounded by greenery but not even a kilometer away from the central Viale Venezia. The pleasant interiors are characterized by a rustic and welcoming style: ideal for a quiet lunch or an evening with friends. Two young friends from Trentino-Alto Adige run it. The staff welcomes customers with cordiality and competence, guiding them in the choice of courses. The cuisine is Italian and offers typical dishes revisited in search of a balance among the different flavors. The preparations are made with genuine ingredients, seasonal products and traditional flavors: these are the distinctive features of the cuisine of the Nuovo Nando. Among the strengths of the menu, the appetizers are certainly worth mentioning, in particular the rich platters of cold cuts and the pickled vegetables. Among the first courses, the red wine risotto and the traditional "casoncelli" are particularly popular. The great protagonist of the menu, however, is the grilled meat. Other dishes are: beef tartare; smoked goose breast with baby spinach and parmesan; tomato soup with Apulian burrata; marinated salmon with fennel, orange and toasted almond salad; salted meat with borlotti beans. The choice of wines is really rich, especially from North-East Italy.
Il Forchettone
Via Puccini 10 – San Zeno Naviglio (Brescia)
Il Forchettone Restaurant is located in San Zeno Naviglio, on the outskirts of Brescia, in the southern area and a few kilometers from the Brescia motorway exit. The restaurant offers its guests an elegant and refined place, but at the same time informal. Here courtesy and professionalism are at home. Customers can sit in the large dining room furnished in a classic style, with warm and welcoming tones, or find a place in more intimate corners for greater privacy. In the warm season, there is a large porch overlooking a green garden. The strong point of the restaurant are the sea fish proposals that know how to delight even the most demanding palates. Dishes beautiful to look at and good to eat, created with passion by chef Marco Bellini. Rich and varied, the menu includes, in addition to seafood specialties, also a good choice for meat lovers. Here are some dishes: crispy octopus with rosemary-scented potato cream; red prawn tartare from Mazara del Vallo in Sicily; Sicily langoustine tartare; selection of oysters; scallop with pumpkin cream and crispy cheek; seafood salad from the fork; seafood sauté with cockle clams and truffles and much more.
Hostaria Uva Rara
Via Foina, 42 – Monticelli Brusati (Brescia)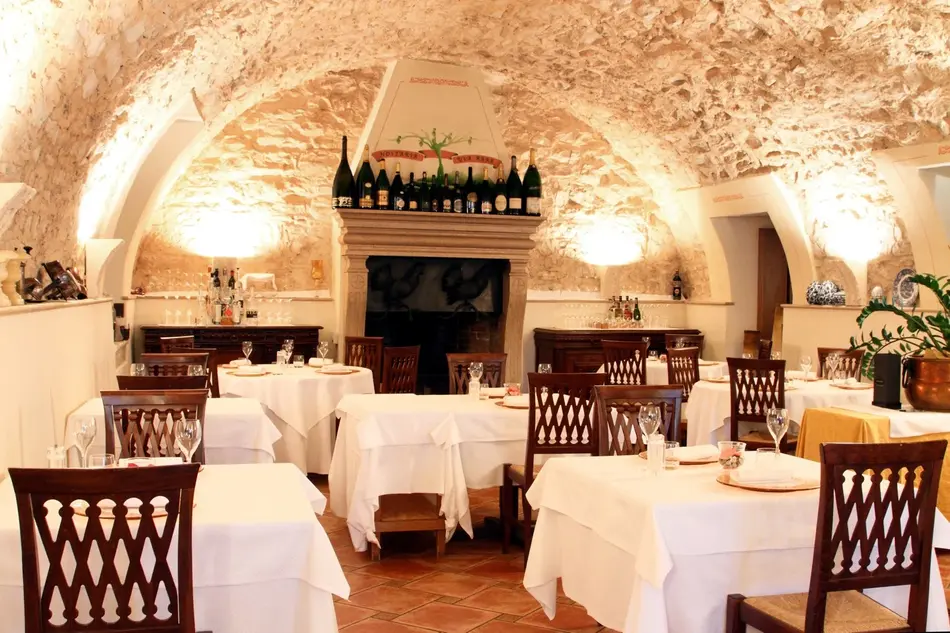 Hostaria Uva Rara is located in Monticelli Brusati, in an ancient 15th-century farmhouse surrounded by greenery, not far from Brescia and Lake Iseo. The restaurant with a traditional atmosphere is treated with taste and a touch of style. At guests' disposal there is the dining room with fireplace and the veranda overlooking the garden. The restaurant offers traditional specialties, paying particular attention to the search for selected raw materials especially in the provincial territory, without ever forgetting the products of other Italian regions. The restaurant's philosophy is based on tradition with an eye on innovation. The restaurant also offers a tasting menu linked to the Franciacorta territory. Vegetarian and vegan dishes are also available. In the wine list, local wines obviously play a leading role, as well as the great Italian and foreign excellences. Here are some dishes cooked in the restaurant: battered vegetable frying of Parmigiano Reggiano nuggets with beetroot sauce and carrot ketchup; lukewarm veal tongue with truffle, brioche bread and dill chlorophyll; cooked egg with parsley potato mousse and char roe; dried sardines with roasted red wheat polenta.
Corte del Mago
Via Ostiglia, 3 – Brescia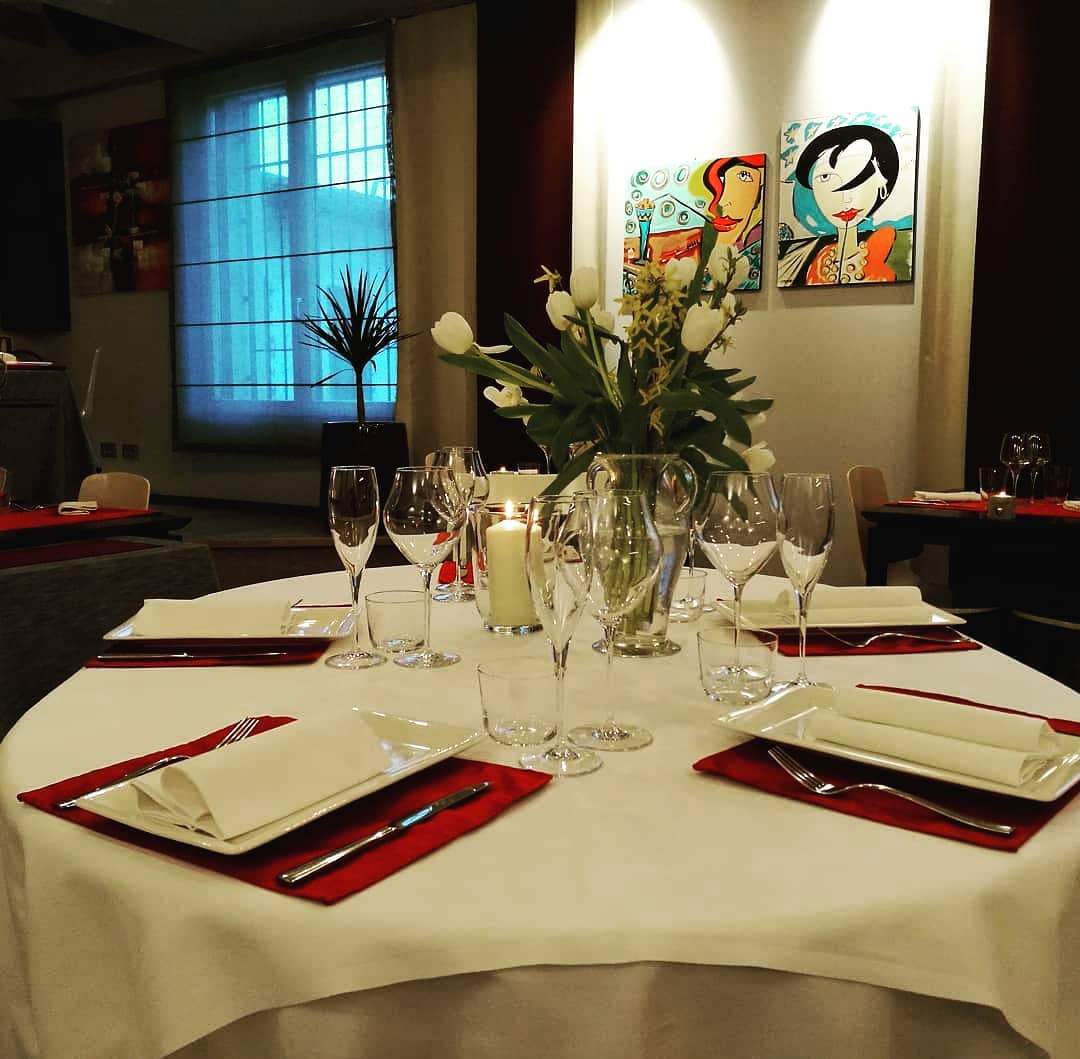 It is located right inside a fascinating historic courtyard of the '900. The cuisine is taken care of by chef Alessandro Ferrara and his origins from south Italy are felt. La Corte del Mago offers excellent Mediterranean cuisine revisited with fish and meat proposals. The service is very accurate as well as the presentation of the dishes, the wine labels to choose from are almost a hundred and the desserts are also remarkable. A must try for those who want quality. It starts with an appetizer of raw fish and crustaceans, continues with Gragnano squid with tomatoes and monkfish; tortelli stuffed with prawns in basil and shellfish cream; fried baby squid and pink Adriatic prawns served with yogurt and lemon balm; Nebrodi black pork cutlet cooked in butter and with raisins and pine nuts; roasted octopus with almond sauce and yogurt on sesame wafer; pasta with duck sauce with Madagascar cocoa wafer and Marsala wine. There are also vegetarian options. Among the desserts: cream brulee with white chocolate and mandarin; Sheridans parfait, Catanzaro licorice and salted peanuts. Italian and foreign wines are chosen with particular attention to small producers.
Castello Malvezzi
Via Colle San Giuseppe, 1 – Brescia
Alberto Riboldi is the chef in this location among the most beautiful in Lombardy, surrounded by a park and with a spectacular view. The setting is elegant and refined. Malvezzi Castle is the ideal restaurant for exclusive lunches and dinners. Chef Alberto Riboldi amazes with Mediterranean cuisine revisited in a modern way. The cuisine is modern in style and alternates fish with more regional recipes, therefore essentially meat-based, and pays particular attention to the excellent Calvisano caviar. All served within the frescoed walls of a refined sixteenth-century hunting lodge with a beautiful summer terrace overlooking the city. Among the chef's dishes we mention: poached and fried egg with goose foie gras, Franciacorta wine and black truffle; Fassona meat – Tartar; cold black spaghetti with Caviar Calvisius Siberian; Carnaroli rice creamed with beetroot and blue cheese foam; mullet fillet with saffron cream and Caviar Calvisius Siberian; kid from Brescia in a modern way; ravioli stuffed with ricotta cheese and beetroot in a seafood stew. Among the desserts: rose cake flavored with candied orange and vanilla cream.
Lanzani Bottega & Bistrot
Via A. da Brescia, 41 – Brescia
Originally it was the family butcher's shop, now it is a modern place that is also a takeaway gastronomy and wine bar with great wines. And also a restaurant, open for lunch and dinner. So a little bit of a Gourmet shop, a little bit of a restaurant and a little bit of a wine bar. But also historical butcher. A multipurpose and multifunctional place, spread over two floors and located in a quiet area of Brescia, led by chef Alessandro Lanzani, who has gained fame even far from his city. The beating heart is certainly the shop where products – especially from the territory – of the highest quality are kept, which are then reworked in the restaurant's dishes. Dishes whose only claim is to enhance the raw materials in the best possible way. Today, in its halls and in the large internal courtyard, you can enjoy quality crudité, simple and well-finished first and second courses, a long and inviting series of various dishes accompanied by a valid wine list. At street level there are a small terrace and the family gastronomy with a few tables, while on the lower floor there is the elegant and charming bistro, made even more pleasant by an open cellar where you can find bottles from all over the place.
Carne & Spirito
Via dei Gelsi, 2 – Brescia
A little hidden, just 3 km from the A4 Brescia Ovest motorway exit, it is the right address for meat lovers, thanks to a raw material of excellent quality. A pleasant modern trattoria atmosphere. The restaurant in Brescia that celebrates the union between passion and taste, between cuisine and eros. A cuisine that skilfully combines excellent quality raw materials, reworking the traditions of the territory in a creative way. The specialties of the restaurant are grilled meat and pasta: among the other dishes on the menu you will find above all the typical recipes of the Brescia cuisine. Grilled meat dishes with the finest cuts, such as the very rare Kobe steak and the Rubia Gallega beef steak, the Piedmontese Fassona fillet, the American Black Angus sirloin steak and the Iberian suckling pig. But also delicious first courses of fresh pasta and precious sauces based on fish, shellfish, vegetables, wild meats or traditional cheeses. The Carne & Spirito restaurant offers the "Aphrodisiac" menu, the "Bourguignonne" menu, the "Carne & Spirito" menu and the "Business lunch" menu, which includes two delicious courses to choose from appetizers, first and second courses with a side dish seasonal, water, coffee with homemade biscuits. The wine list offers a choice of over 700 bottles.
Il Labirinto
Via Corsica, 224 – Brescia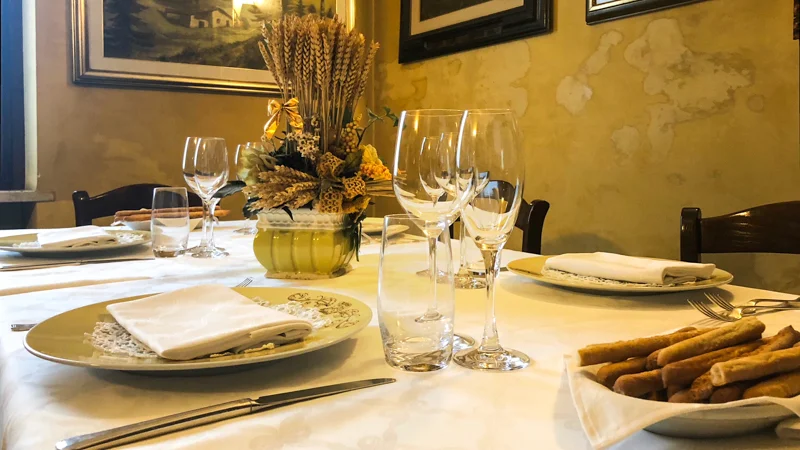 A restaurant with a long tradition and professionalism founded in 1980 by Chef Raffaele Chiappi and now under the guidance of his son Michele, a skilled sommelier and expert restaurateur, Il Labirinto has always been an excellence of the Italian culinary scene. The cuisine is varied and ranges from land to seafood dishes. Do not miss the cured meats of own production. The cuisine offers refined dishes, using only raw materials of excellent quality and freshness, inspired by the classic Mediterranean cuisine. The restaurant's pride is the excellent fish, which places "Il Labirinto" among the first restaurants in the area. Bread, focaccia, sweets and delicious biscuits are prepared and baked on site daily. Among the cooked dishes we find: prawns in Cognac; fresh oysters; mixed crudités with scampi, red prawns, sea amberjack, salmon and tuna; steamed lobster with vegetables; scallops au gratin; beef tongue carpaccio; spaghetti with amberjack and spicy cherry tomatoes; fresh pasta with courgettes and red prawns; duck breast with chestnut honey and apples. The cellar has over 500 national and international labels of high value and prestige. The environment is rustic and elegant, where traditions, innovations, art and an intimate atmosphere merge.
La Sosta
Via San Martino della Battaglia, 20 – Brescia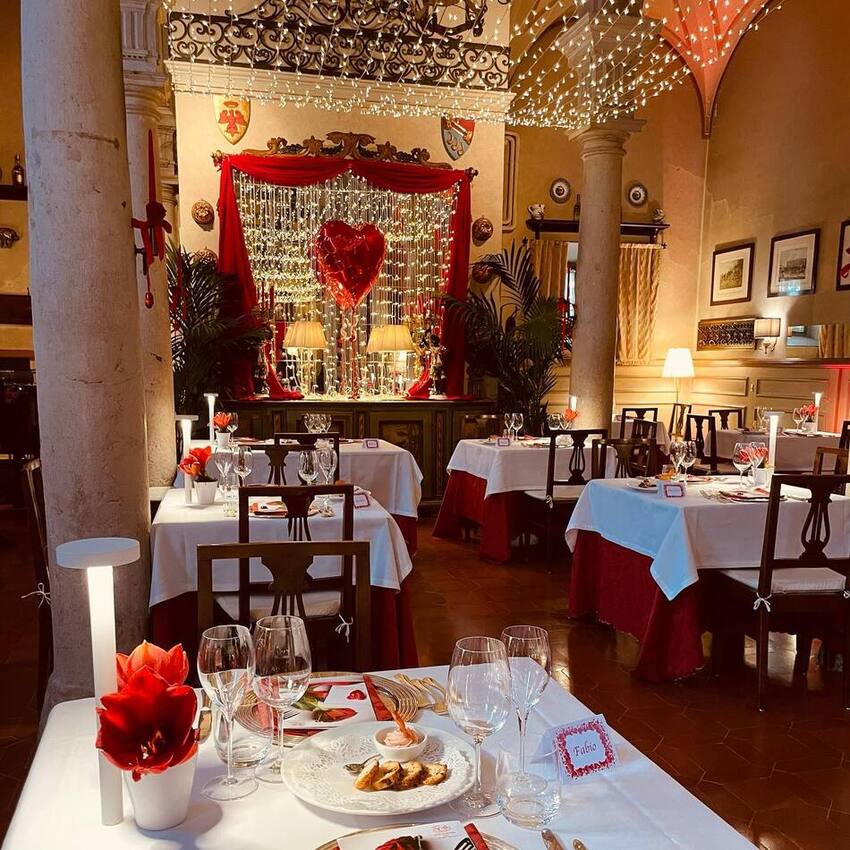 The La Sosta restaurant is located in the historic center of Brescia, in an ancient building dating back to 1600. The place that once housed the stables for the shelter of carriages, has now become an elegant restaurant where you can stop to appreciate Lombard flavors accompanied by a good wine and a precise and accurate service. The main hall is sumptuous, characterized by stone columns that open on cross vaults, and will give you the impression of having stepped back in time. As soon as you are inside, you will be welcomed by the elegant fireplace that dominates the whole room. Other rooms on the upper floor are intimate and comfortable for romantic dinners or business lunches. The cuisine winks at the Brescian tradition, but does not lack more innovative impulses, which make the menu very interesting. Among the dishes to be tasted, the following must not be missing: goose foie gras, brioche bread and Sauternes; snails with shallots and parsley. Followed by risotto with Franciacorta wine, saffron and courgette flowers, or pasta with herbs with bagoss cream. Among the main courses of meat, the beef in oil or the pork fillet with dark scamorza are worth mentioning. For those who prefer fish, try the grilled tuna steak. The wine list features labels from all over Italy, with a good selection of bottles from Brescia and Franciacorta area, as well as French Champagne.
Trattoria Porteri
Via Trento, 52/d – Brescia
A family history spanning over 150 years, which is part of the even more ancient history of Borgo Trento, now incorporated into the city. The Porteri family has always managed the delicatessen for several decades and have also been involved in the trattoria, a true reference for traditional Brescia cuisine. Particular attention is paid to polenta, cheeses and meats (beef, lamb and horse). Marco Porteri, the chef, is also open to innovation, especially through new cooking techniques and small adaptations in the preparations. The menu is mainly meat-based but also includes lake fish and vegetarian dishes. Simple dishes with familiar flavors: casoncelli; badly made to bagòss; risotto with radicchio and Gorgonzola; semolina and braised cabbage gnocchi; risotto with pumpkin and goat cheese and the inevitable polenta. Excellent appetizers based on mixed platters of both cured meats and cheeses. Among the desserts we have: dark chocolate cake; Piedmont hazelnut semifreddo; licorice burnt cream; cantucci with vin santo. The wine list is also rich, in particular we point out the excellent Franciacorta wines.
Caffè Floriam Restaurant
Via G. da Salò, 3 – Brescia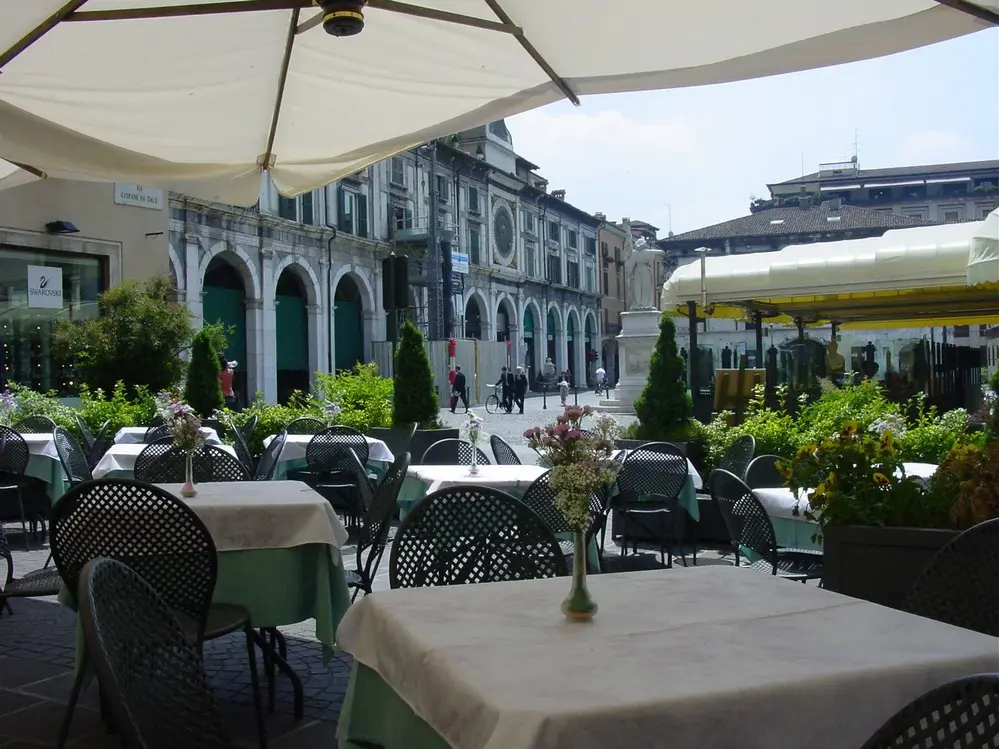 Caffè Floriam Restaurant is a historic restaurant in Brescia. Characteristic environment and stylish furnishings with attention to detail, it offers an intimate and relaxing atmosphere. In the kitchen, you will find typical recipes from Brescia and the classics of Italian cuisine. The cuisine is influenced by the rhythm of the seasons and the availability of products. Particular attention is paid to the freshest and highest quality raw materials used. The menu includes, depending on the season, some great classics of typical local cuisine, but also original recipes based on the chef's inspiration. Among the first courses we remember the classic "Casoncelli" with butter and the risotto with smoked provola cheese and Franciacorta wine; among the main courses a clear prevalence of quality meat dishes. The desserts are home-grown. Among the dishes of the restaurant we remember: thin "culatello" with bread fritters; platter of salami and sweet and sour vegetables; selection of cheeses with homemade jam; seared octopus tentacles with mint and apple; Adriatic sardines in lemon oil with croutons and salted butter; grilled vegetables with grilled smoked provola cheese. Finally, the wine list offers 70 mainly Italian labels.
Best Restaurants in Brescia Map