12 Best Restaurants in Lake Maggiore, Italy
Divided among Piedmont, Lombardy, and the Canton of Ticino, Lake Maggiore (the second largest one after Lake Garda) is a very popular tourist destination. It offers beautiful views, and from a culinary point of view, it has great restaurants in its best and most luxurious hotels, making in the last years a great leap in quality. Restaurants of Lake Maggiore also offer an excellent location, with terraces that allow you to enjoy the wonderful panorama.
From Lake Maggiore comes perch, whitefish, tench, pike, and trout, all fish that can be found in the typical recipes of the place. The proximity to the Ossola Valley and the neighboring valleys bring cheeses such as Bettelmatt and Mascherpa and the delicious Val Vigezzo raw ham to the lake restaurants. From the nearby province of Varese come small specialties such as peaches from Monate and asparagus from Cantello. Having said that, it is evident that Lombard and Piedmontese cuisine also influences the cuisine of Lake Maggiore.
Piccolo Lago
Via Filippo Turati 87, Verbania – Website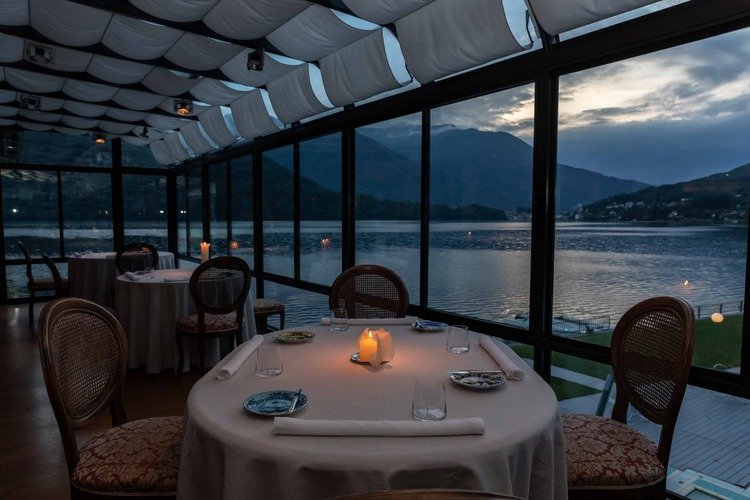 At the Piccolo Lago, you live a unique experience with two Michelin stars. With rigor and scruple, chef Marco Sacco in about twenty years has been able to radically transform the cuisine of his restaurant into something very close to research concepts. Five menus are proposed: from "Curious but … not too much" to "Very innovative: 10 dishes ahead …", as well as the traditional," or "10 dishes back: taste the history", up to the last "In the kitchen with Marco, "an intriguing option with the Chef (you know when you start but not when you finish eating). In the kitchen, the talented chef reads the dishes of this territory in a contemporary key, elaborating them with imagination and class. Near Lake Maggiore, the peaceful Lake Mergozzo offers itself to the restaurant tables like a romantic postcard. In fact, some of the tables are located close to the lake. The restaurant has an elegant summer terrace that creates continuity with the interiors for alfresco dining immersed in the typical summer atmospheres of Lake Mergozzo. The service is impeccable.
Villa Pizzini
località Mottarone 3, Stresa – Website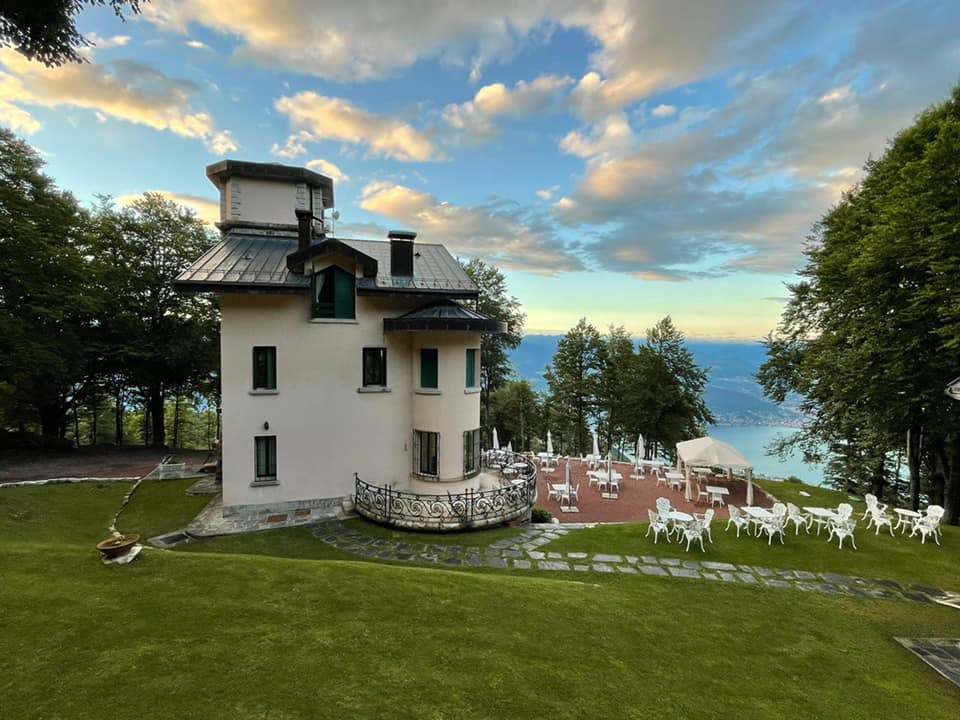 From Lake Maggiore, you go up to Mount Mottarone at about 1400 meters. In what was an old hunting lodge from the late nineteenth century, a young couple has created a contemporary and romantic restaurant. As for the dishes, we have: tasty dishes from the land and some lake specialties also served in the terrace with a panoramic view. Between the outside and the inside of the structure, immersed in the woods, it is possible to taste captivating and tasty proposals both à la carte and for tasting such as cod, milk cream, caramelized onion and fried almond; poached mountain eggs, pea cream and red garlic mousse. Homage to the land that hosts them are the lake ravioli flavored with citrus fruits, bottarga and trout eggs. There are also interesting combinations with Parmigiano Reggiano cheese and black truffle. We have venison with potatoes and veal with polenta and turnips among the main courses. Do not miss the dessert made with pear, cinnamon, almonds, and licorice. The wine list, which has about five thousand bottles of four hundred different labels, is constantly evolving and is updated at least twice a year.
Osteria Mercato
piazza Capucci 9, Stresa – Website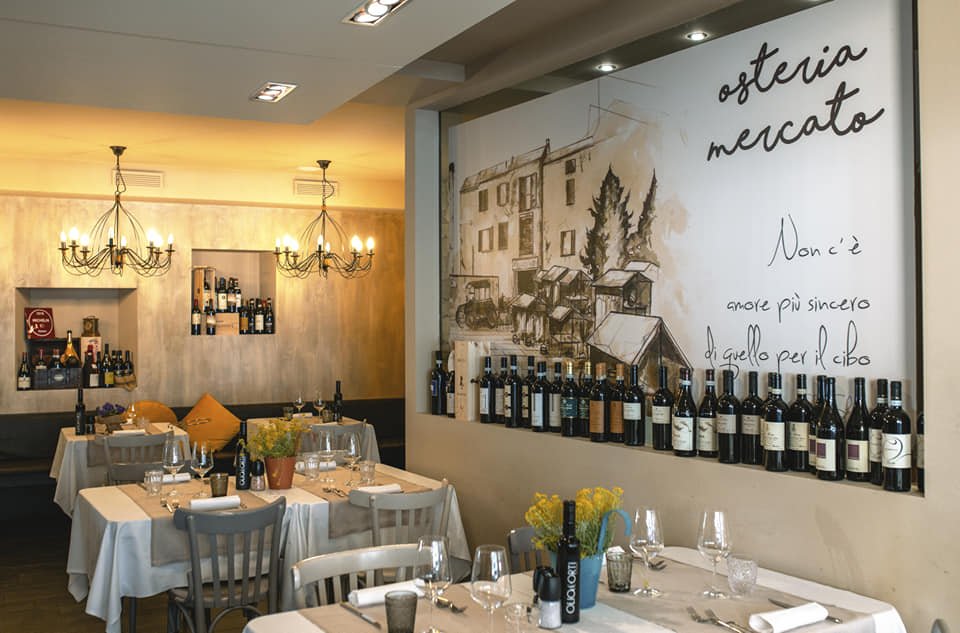 A few steps from the historic center, we find the Osteria Mercato: cozy and welcoming environment, with a pleasant terrace and Italian cuisine reworked with imagination. A place in constant evolution both for the structure and the raw material. Every day to discover original and new products and wines to delight customers. The cuisine looks at the local territory but also experiences national flavors. The quality raw material is essential for the success of the dishes: in fact, here the seasonality of the products is followed, combining different flavors. It is a sensory journey to discover the flavors and aromas that characterize innovative and quality dishes. On the menu we find: Ravioli stuffed with bufala camembert cheese, yellow tomatoes, and codfish; lake fish in tempura with sour cream; sandwich with lobster in Catalana style; Spaghetti with crustaceans sauce, stracciatella cheese, and lime; Risotto, smoked char fish, salt eggnog and black summer truffle; beef fillet with carbonara sauce; lamb, red cabbage and friggitelli peppers; white trout from Dolomiti, Greek yogurt and nettles. About desserts: fruit sorbet; mango, almonds, and yogurt. Wide choice of wines to match the dishes served.
Lo Stornello
via Cavour 35, Stresa – Website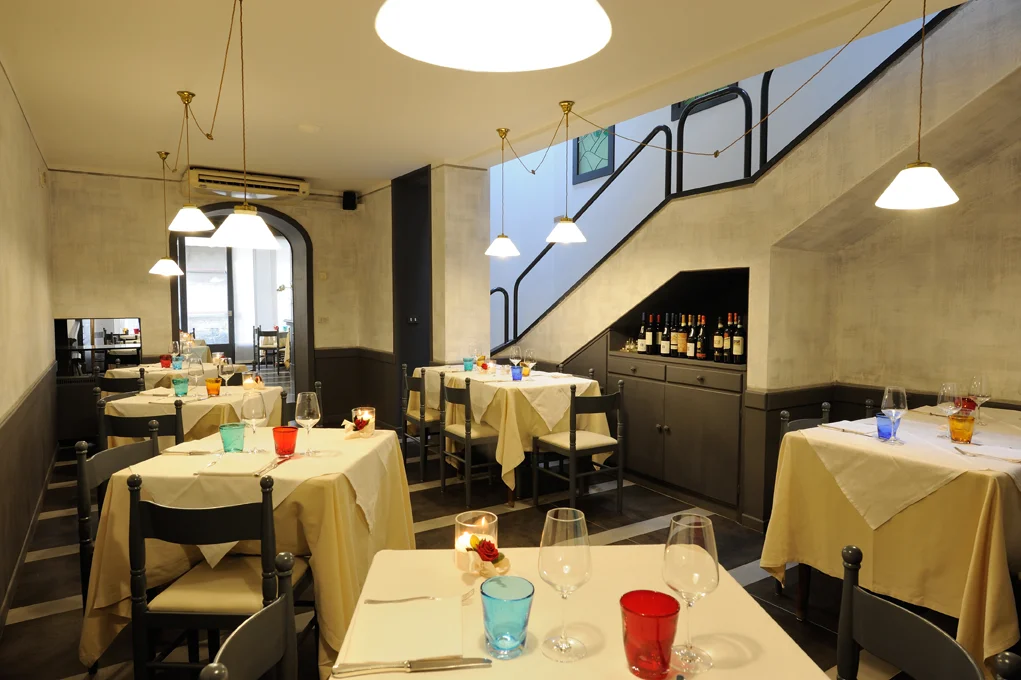 The Lo Stornello restaurant in Stresa offers quality and professionalism in a pleasant touristic context. The cuisine is Italian and Mediterranean, imaginative in its elaborations, with some lake specialties. The restaurant is ideal for any occasion: small and medium-sized events, a quick business lunch, a break between one excursion and another, but above all for a romantic and quiet dinner for two or a delicious aperitif in the center of Stresa. The cuisine favors the use of typical products from Lake Maggiore and the Ossola Valleys and offers tasty traditional local dishes revisited in a contemporary way. The menu has genuine flavors with ingredients that enhance the territory and make you rediscover the pleasure of typical flavors following the natural course of the seasons. The philosophy of using locally sourced products always guarantees fresh, high-quality ingredients and greater attention to sustainability from an environmental point of view. Among the dishes proposed: salad of crustaceans and mollusks scented with green pepper with pink grapefruit and crunchy vegetables; Pork loin marinated in pepper with raspberry vinegar, berries, and nuts; Spaghetti with cheese and pepper and artichokes with crispy bacon; potato gnocchi with pumpkin cream, crumbled sausage and Taleggio cheese cream; spelled and vegetable soup with black cabbage and linseed; cod, sweet and sour red onions and yellow pepper cream with purple potato chips.
Milano
Corso Zanitello 2, Pallanza – Website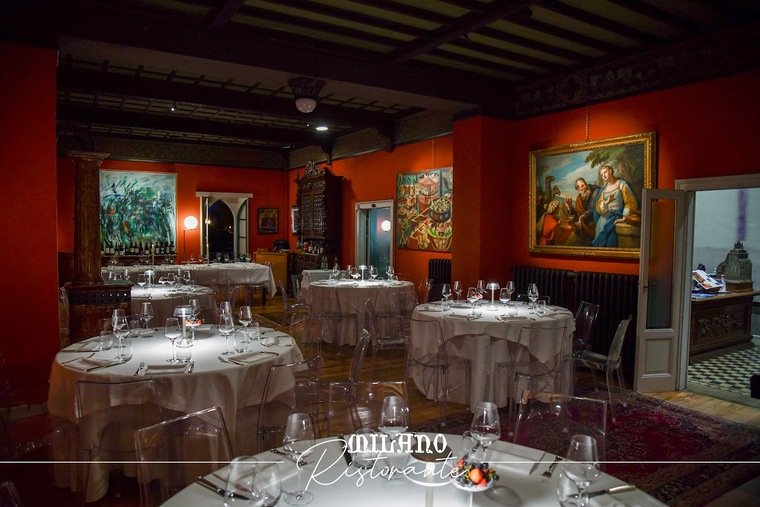 This historic restaurant is located directly on the lake (with a private dock) and has a panoramic veranda. It is certainly one of the most popular restaurants on Lake Maggiore by residents and tourists for the excellence of the cuisine and the specialties offered to customers, combining an environment in which culinary art joins that of great artists in a gallery that hosts works ancient of great value and offering unique sensations. The Milano Restaurant offers a wonderful location where history, art, and nature come together. The chef-patron Agostino Sala maintains a cuisine with a classic style, slightly permeated by touches of modernity, thanks to the excellent raw materials of both earth and water. Typicality, tradition, love for the territory, research, and imagination are the characteristics of this restaurant, where innovation continues with an eye to the past. The perfect combination of modernity and history, the Chef's cuisine offers dishes that play with shapes and colors, using local excellence and beyond. On the menu, we read: pumpkin cream with scampi caught in the Mediterranean Sea; ravioli del plin with black truffle and pigeon broth; sea ​​bass caught in the Adriatic Sea with thyme and hazelnut cream; lemon, verbena, and chamomile sorbet; caponata of aubergines, pears, and sweet and sour almonds; frogs with vegetables scented with Sichuan pepper; smoked salmon with charcoal black bread; pumpkin and mustard tortelli with candied lemon; snails with butter and parsley, pea cream and Jerusalem artichoke; pigeon with Marsala wine and cooked wine of figs; Fassone fillet with Sichuan pepper.
Il Portale
Via del Sassello 3, Verbania – Website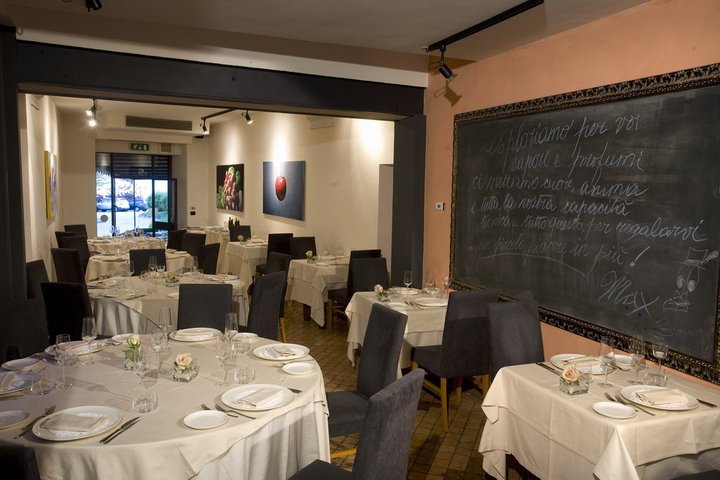 Il Portale di Pallanza (one Michelin star) is a nice restaurant on the central square, facing the lake, where you will find mainly sea fish and some lake and meat proposals. Chef Massimiliano Celeste experiments with his contemporary, traditional creativity linked to the territory. The cuisine constantly varies because the products vary with the seasons. Creative cuisine with simple and distinct tastes allows you to live a unique experience. Among the dishes prepared by the chef, we find: Catalan lobster; spelled tagliatelle with rabbit, asparagus, red onion petals, and Taleggio cheese fondue; roasted snapper with tomato, capers, Taggiasca olives, and cauliflower cream; Piedmontese beef tartare; veal hamburger; duck in orange sauce; durum wheat spaghetti with garlic, oil and chili pepper with red prawns and Mazara del Vallo tuna bottarga; Buffalo camembert ravioli with squid, turnip greens and roasted peppers; Tagliolini with rocket, octopus and crispy vegetables; squid ink polenta gnocchi with cod, tomato and asparagus; spelled tagliatelle with veal cheek and tongue, courgettes, broad beans, carrot cream and flakes of fresh pecorino cheese; saffron risotto; frozen passion fruit; drowned in coffee. In addition, the cellar of the restaurant offers wines that can satisfy even the most refined requests. The extensive wine list ranges from timeless classics to lesser-known but high-quality examples,
La Tavola
Via Fortino 40, Laveno – Website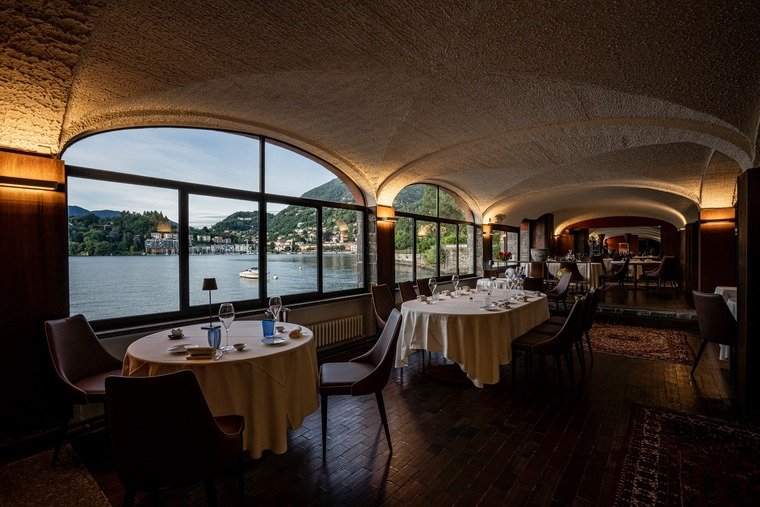 At the restaurant La Tavola (one Michelin star), you can enjoy a splendid terrace overlooking the lake and a cuisine that is a harmony of flavors and aromas. Riccardo Bassetti's cuisine is modern, but it does not turn its back on the Italian culinary tradition. There are two tasting menus, but you can also choose à la carte. The restaurant is inside the family hotel. Il Porticciolo is truly spectacular: you can literally eat by the lake, inside with a spectacular view, or, in the summer, on the outdoor terrace, highly coveted by all customers on a romantic trip. The welcome is warm, as it befits a restaurant that continues to be family-run. The menu, which changes seasonally, offers a cream of fish roe and white cheese, in which the trout roe is left whole. You can then continue with two appetizers, raw Sicilian red shrimp or lake fish toast with cooked oyster, red sauerkraut, and tahini. Three first courses are offered: gnocchi, squid, champignons, boretane onions, and capers; spaghetti with iodized flavors, dill oil, and horseradish snow (an interesting reinterpretation of the classic spaghetti with clams); risotto with asparagus, sweetbreads, and American sauce. Three main courses: zander with butter, lettuce, and onion stock; sturgeon; lamb, pecorino cheese, savory and wild rocket.
Battipalo
Viale Vittorio Veneto 2, Lesa – Website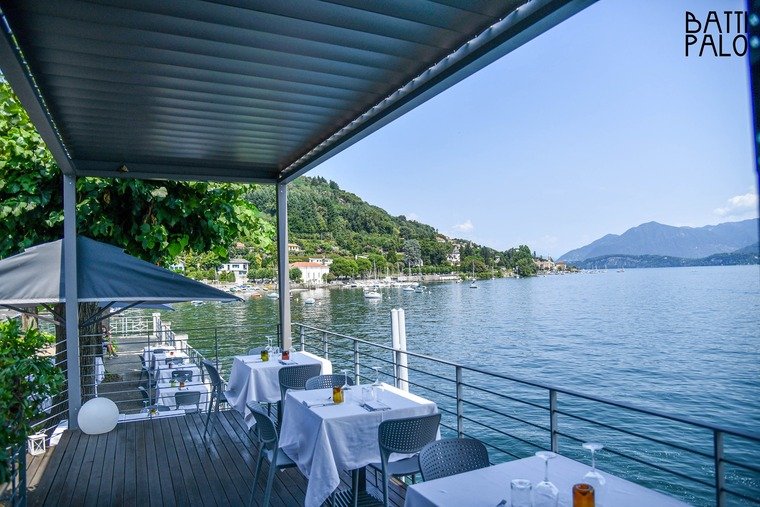 The Battipalo Restaurant takes its name from the tool used to plant the poles on the lake bed. The restaurant, obtained from an old ticket office for boats, directly overlooks Lake Maggiore. Here Simona's passion for cooking merges with hers for her husband Gabriele's wine, thus proposing a gourmet cuisine that combines past and present. The place is suggestive: the covered terrace is obtained in a former ticket office for the boats. Creative cuisine uses the territory but is not afraid to 'contaminate' them, as in the case of sturgeon marinated with black tea and juniper, sour cream with wasabi, rhubarb, and trout eggs. Here you can choose to enjoy dinner out in the open in the summer or indoors in the winter, still enjoying the view thanks to its large windows that allow you to stay on the lakeshore literally. The gastronomic journey begins with two appetizers, one of the sea and one of land. The sea trout includes a seared trout in nori seaweed, avocado, and wasabi mayonnaise, while the land one includes a Piedmontese beef tartare with Vigezzo ham and carbonara sauce. Continuing with the first courses, we have linguine with gentian sour goat butter, herring caviar, trout katsuobushi, and a creamy rice with Langa robiola cheese, roasted pepper, and lake sardine powder. Finally, a traditional "grandmother's" cake is the limoncello caprese with white chocolate, cream, and almond ice cream—a homemade cake, very light.
La Rampolina
Via Someraro 13, Campino di Stresa – Website
A little bit of a tavern, a little bit of a restaurant, and a wine bar. La Rampolina is an informal meeting place with a terrace with a panoramic view. The atmosphere is welcoming, with a breathtaking view of the Borromeo Islands, making it even more pleasant to stop by the tables set with the most classic checkered tablecloths. The cuisine offers guests a wide choice, from typical Piedmont specialties to classic Italian cuisine, with a special eye for seasonal products such as mushrooms, chestnuts, fish from Lake Maggiore, and cheeses and cured meats from the Ossola Valleys. Cured meats, cheeses, wines, and specialties can also be purchased in the local shop. Local products are offered as tradition dictates. The top-quality products make even the dishes simpler and tastier for the palate. Quality of raw materials, seasonality, and zero km are the keywords for the chef, Nicholas Bonati. Among his dishes, we have: meat agnolotti with butter and Parmigiano Reggiano cheese aged 30 months; cut of Fassona meat with hazelnut butter; lard, Russian salad, pepper with anchovies, and Fassona steak; artisanal cotechino with chickpea cream; poached egg, seasonal vegetables, and mountain pasture fondue; Spaghetti with gorgonzola cheese, catalonia, and hazelnuts; potato gnocchi, artichokes, raw ham, and Parmigiano Reggiano cheese; onion soup au gratin; flavored rabbit; cauliflower au gratin. And among the desserts is the delicious chocolate bonet.
Casabella
Via del Marinaio 1, Isola dei Pescatori – Website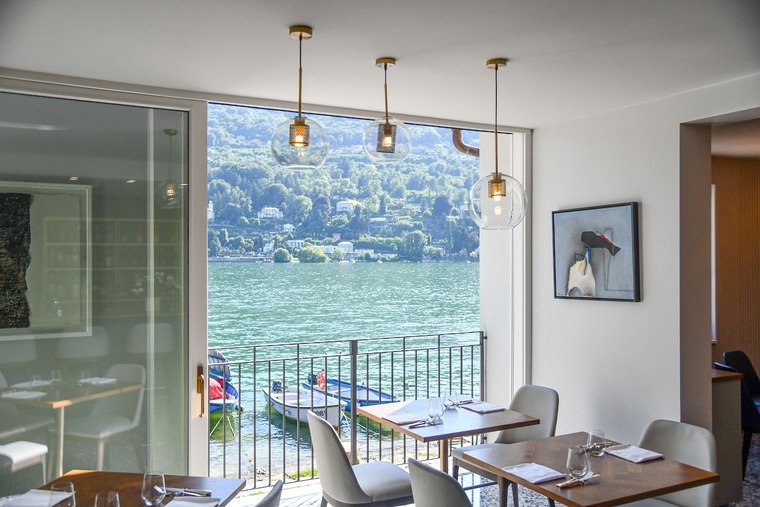 The Casabella restaurant is recently renovated on one of the three Borromean islands and offers an enchanting view of Lake Maggiore. Once you disembark, take the historic gravel walk up to the entrance to the restaurant, which is located on the side facing the Isola Bella, and immediately you feel immersed in a magical and timeless atmosphere. The restaurant consists of two indoor rooms with 30 and 50 seats and a beautiful terrace. The menu is contemporary and careful to give an extra touch to local products, primarily fish from the lake. There is a tasting menu and one for children. The menu offers traditional dishes, mostly based on lake fish: pink ravioli with lake fish, breaded tuna fillet with sesame seeds, whitefish rolls with vegetables. Desserts include the apple pie with vanilla sauce and the Grand Marnier parfait with caramelized Sicilian orange peel. The Chef always tantalizes with high-level cuisine: local flavors combined with creativity and lightness in the preparations and a cellar with great Italian wines. The restaurant offers dynamic cuisine in an informal setting for lunch breaks when visiting the Borromean Islands and business lunches. The private speedboat service is free for restaurant guests. It is also possible to try the experience of the tasting menu served directly by chef Giovanni Acelti.
Il Sole
Piazza Venezia 5, Ranco – Website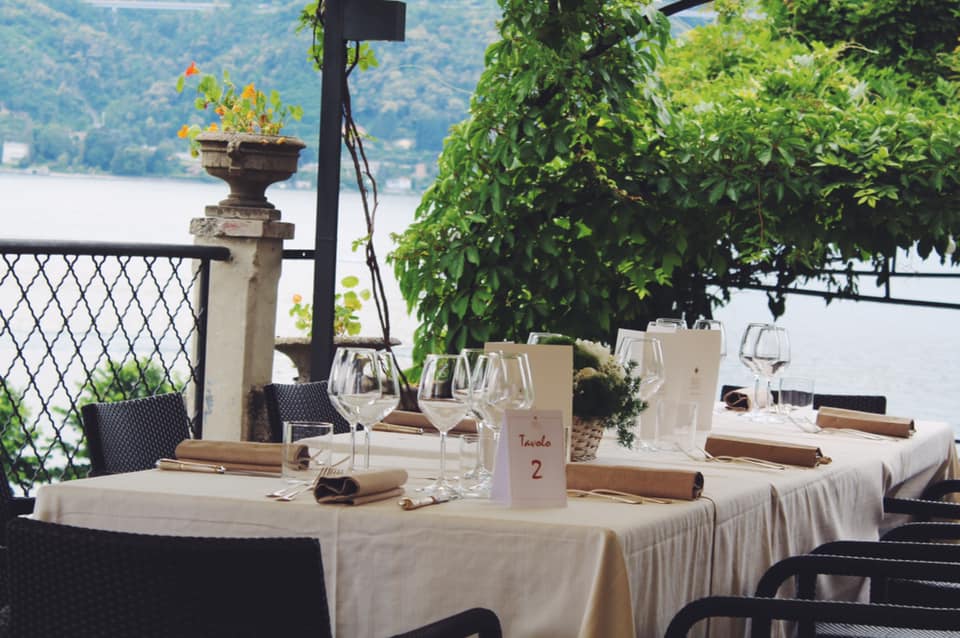 A sign with 170 years of history, an evocative place, a large terrace among the most spectacular on the Alpine lakes: the restaurant of the Brovelli family – who have managed it since the 1950s – remains a beloved destination. For most of the year, it is possible to enjoy the wonderful pergola on one of the most beautiful terraces of Lake Maggiore. Alternatively, there are welcoming and enchanting internal rooms. All in a welcoming context includes a hotel with 14 rooms of the prestigious Relais & Chateaux circuit. Davide Brovelli, the chef, is among the best in Italy in interpreting freshwater fish in a thousand recipes. With his expert cuisine, he manages to combine new techniques and tradition. With simplicity, Davide has become a point of reference not only for lovers of the lake but also for lovers of good food. Among the dishes offered by the restaurant, we have carpaccio of prawns, persimmons, dates, and figs; veal with tuna sauce; fatty liver, grappa, and dried fruit; Carbonara ravioli, crispy bacon; risotto with apples and smoked lobster; sea ​​bass with chocolate, sweet and sour vegetables and mustard ice cream; citrus and apple duck in Teriyaki sauce. Among the desserts: were white chocolate cake and amaretto with salted caramel ice cream.
SottoSopra
Corso Garibaldi 40, Baveno
A pleasant and colorful restaurant in the town center, divided into several rooms, offers an eclectic cuisine: on the menu we find meat dishes, together with both sea and freshwater fish, and some recipes more linked to the territory. The restaurant is well-kept and elegant, with kind and friendly staff ready to give good advice on the most suitable food and wine pairings. The house red wine is excellent, and the dishes on offer are delicious and well presented. The price is adequate for the quality of the dishes. On the menu, we find: citrus-marinated salmon with green beans and soya sprouts, vinegar, and strawberries; meat carpaccio, celery salad, and green apples with pecorino flakes; Piedmontese tomino stuffed with pears and speck wrapped in a paste with wildflower honey; soup of white cannellini beans and mussels scented with fresh coriander; rice with champagne, lime, and oysters; black olives gnocchi with cherry tomatoes and smoked provola cheese; beef fillet in green pepper crust on sautéed champignon potato pie and Barolo sauce; beef steak with balsamic vinegar, rocket and flakes of Grana Padano cheese with black pepper potatoes and onion; rabbit meat with artichokes with carrot and potato flan; pear and chocolate cake. Behind every dish, there is a journey to tell, a story to share, a surprise to reveal, a flap of innovation to taste.
Read also: