The 10 Best Restaurants in Milan
Few people know this, but Milan is a city closely linked to food: new places open daily, and the offer is huge. From the starred chef's bistro to the trattoria, there are many top-level restaurants in Milan, from traditional to contemporary cuisine.
Eating well in a pleasant and welcoming environment is possible, even without spending too much. From 35 to 60 euros, you can have a three-course dinner with drinks not included (the choice of wine, in fact, affects the final bill a lot), with an excellent quality/price ratio.
Here is a selection of the best restaurants in Milan, between tradition and innovation.
Ratanà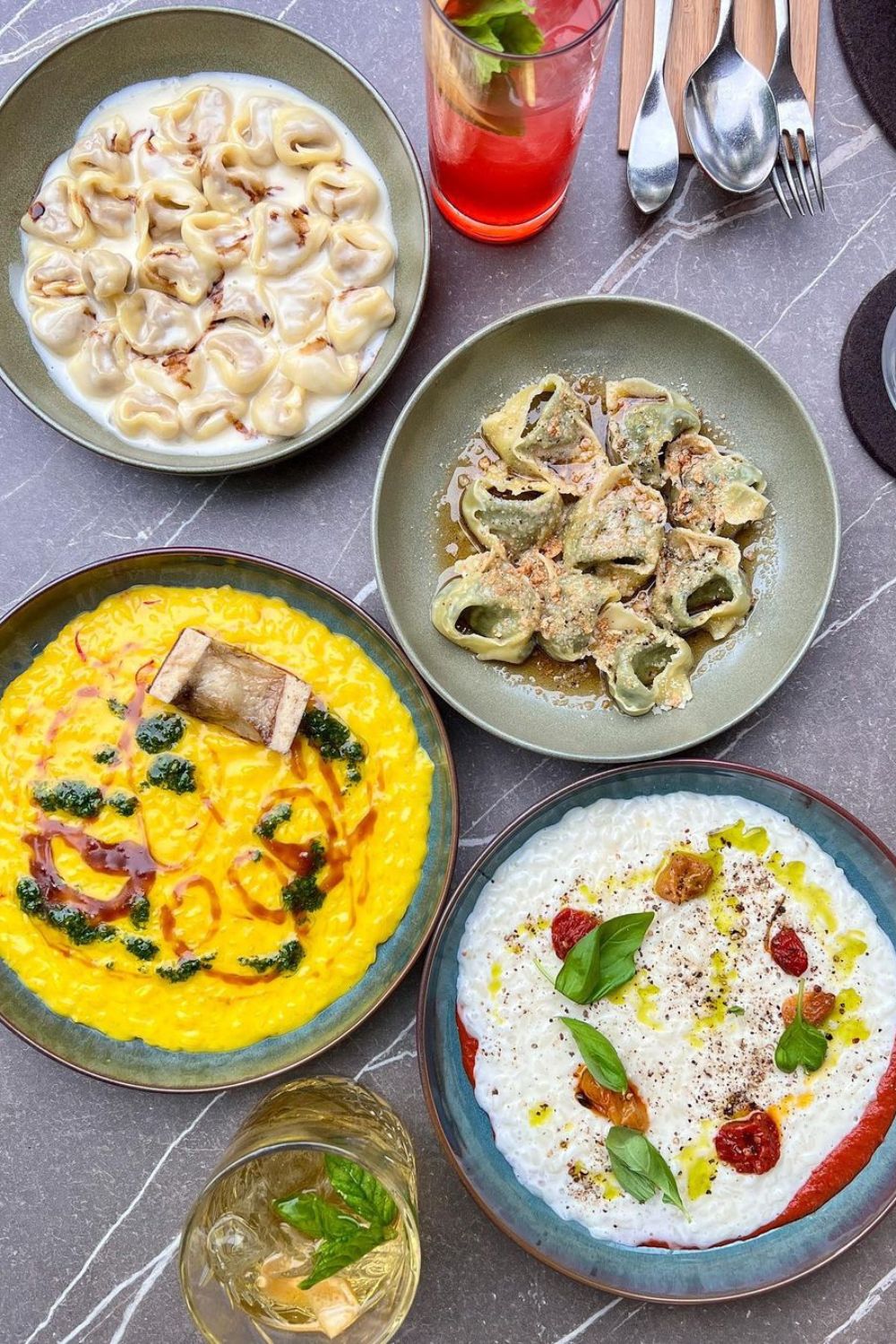 Ratanà is located inside a historic building from the early 1900s and the interiors of the restaurant express the strong bond with Milan.
The lines are essential, the tables are created with recycled materials, the counter is made with marble slabs. Good food, selected wines and conviviality are the characteristics of this place.
The Milanese tradition inspires Ratanà's cuisine in a contemporary version to make the dishes lighter. The raw materials come from small local producers.
Ratanà also serves only freshwater fish: pike from Garda, Adamello trout fillet with asparagus and peas, but also courgette flowers, tuna veal, carpaccio, and Fassona beef tartare—the excellent wine list, with more than 700 high-quality labels.
Average price: 50 euros, drinks not included.
Trattoria Masuelli
Viale Umbria, 80, Milan www.masuellitrattoria.com
The restaurant environment is rustic but with an elegant tone, suitable for a trattoria that retains a traditional atmosphere with 1930s furniture. Founded in 1921, it has come under the management of the third generation. The cuisine is linked to the Lombard and Piedmontese traditions, with typical dishes like those of the past but with a contemporary style. The historic Trattoria Masuelli is also a meeting place for personalities from the food, wine, and culture.
The restaurant menu offers four appetizers, three first courses, three main courses, and an excellent cheeses selection without forgetting those dishes that have made this restaurant a destination not to be missed for those who want to eat well in Milan. Among these dishes: Milanese risotto (also in the version with the bone), agnolotti with meat sauce, cutlet, boiled meats, donkey stew with polenta, "casseoula", cutlet with bone, pasta and beans, cardoon with fondue, and Piedmontese boiled meat.
Average price: 50 euros, drinks not included.
Locanda Perbellini Bistrot
Via della Moscova, 25, Milan www.locandaperbellini.it
This Milanese bistro is very welcoming, with copper, slate, and wengé wood interiors. It was designed for a clientele who love regional dishes but are curious to try them, according to Chef Perbellini's reinterpretations. The place is intimate and enveloping, an elegant and warm environment with calibrated lights and an open kitchen for appetizers and desserts.
Among the dishes on the menu, we mention the Fassona beef with egg and raw artichokes, veal with tuna sauce, onion mousse, bread with tomato, basil and pepper, risotto with saffron, goat cheese, and tomato with oregano, pasta, potatoes, escarole , burrata and black pepper, potato ravioli, cockerel and asparagus ragout, Milanese meat with bean flour, crispy bread and tomato mayonnaise. The raw materials are all of first quality and follow the seasonality.
Average price: from 35 to 50 euros, excluding drinks.
Orma Bruna
Via Montevideo, 4, Milan www.ormabruna.com
This restaurant serves regional cuisine from Marche and Abruzzo regions. It is a restaurant but also a shop: some of the raw materials used to make the dishes on the menu are on sale, such as handmade Ascoli olives and extra virgin olive oil. The gastronomic proposal is varied, traditional, and modern; the atmosphere is informal and very friendly; the decorative elements are essential but full of meanings, starting from the marble counter, like those of the butchers of the past.
The menu is inextricably linked to Marche and Abruzzo regions: olives all'Ascolana, "pallotte" with cheese and eggs, Roman artichoke and mountain ham, chickpea soup, mussels and red shrimp, saffron and licorice risotto, lamb with turnip, mountain eggs, pecorino cheese, artichoke and lemon, pistachio semifreddo and millefeuille.
Average price: from 30 to 40 euros, drinks not included.
Olio
Piazzale Lavater, 1 Milan www.olioristorante.com
The restaurant is located in Piazzale Lavater and is highly appreciated by those who love Apulian cuisine, with high-quality dishes and the excellence of extra virgin olive oil. The environment is young, and the furnishings recall Apulia, but with design elements.
The cuisine combines tradition, freshness, and quality. In fact, the restaurant uses high-quality products, such as the black Lucanian pig, the cherry tomatoes from Monopoli, the Santoro capocollo, and other quality products, such as the Carpino beans, the red onion from Acquaviva delle Fonti, the black chickpeas from the Murgia, the almonds from Toritto and lemons from Gargano.
On the menu: spaghetti with garlic, oil, and chili; pasta and chicory; orecchiette with foal ragout; braised Lucan veal cheek; Gallipoli prawn carpaccio with minced eggplant meat, stracciatella, and licorice; tartare of blue fish, green apple, cucumbers and black chickpeas from Murgia.
Average price: about 40 euros, excluding drinks.
Terrazza Triennale
Osteria con vista – Viale Emilio Alemagna, 6, Milan www.osteriaconvista.it
The restaurant offers an extraordinary panorama. On the terrace of the Palazzo dell'Arte, dinner is in fact in a transparent greenhouse surrounded by greenery and suspended over the Sempione Park, with a spectacular view of the city: from the cathedral to the Isozaki skyscraper.
The Osteria is located a few minutes from Corso Sempione and the Arco della Pace. The area, known for its elegance, reflects the value and prestige of the Terrace. This is also the Milanese restaurant of the starred chef Stefano Cerveni,
The lunch and dinner menus are full of interesting proposals: Piemontese Fassona meat, tasting of oysters with their sauces, linguine pasta with cheese & pepper, Mazara red prawn tartare, Milanese veal cutlet. And then dark squid, lentils, caviar powder and oyster leaf, soft egg, asparagus, and truffle soup, risotto in pea cream, citrus fruits, and sea bass ceviche, saffron risotto, octopus with potatoes, tagliatelle with Neapolitan ragù.
Average price: 50/60 euros, drinks not included.
Trippa
Via Giorgio Vasari 1, Milan www.trippamilano.it
It is a nice trattoria with retro furnishings and traditional cuisine. The specialties are offal, vegetables, and legumes.
The menu consists of 4 appetizers, 3 first courses, 3 main courses and 5 desserts, 4 house dishes (veal with tuna sauce, fried tripe, stewed tripe, grilled marrow) and 3 off-menu dishes every evening.
They have traditionally inspired proposals made above all with less common meats such as mutton, sheep, kid, donkey, horse, guinea fowl, or less valuable cuts of veal such as diaphragm, and then often forgotten seasonal vegetables such as dandelion, kale, Custoza broccoli and little known legumes such as cicerchie or roveja. Among the specialties of offal: tripe, liver, sweetbreads, kidneys, and brains.
There is no shortage of fish, especially cod or stockfish, in the winter months and fish from the Mediterranean Sea in the summer.
Average price: 35, 40 euros excluding brvsnde.
La griglia di Varrone
via Alessio di Tocqueville, 7, Milan www.grigliavarrone.com
La Griglia di Varrone is a restaurant where you can taste the best meat in the world, the result of careful research on all types of bovine breeds, favoring however the most valuable ones, such as the Black Angus proposed in various cuts and Piedmontese Fassona meat. The menu is very extensive, the setting is elegant, made of oak, iron and stone.
This place is the kingdom of meat, but on the menu there are also courgette flowers with burrata and Cantabrian anchovies, Joselito shoulder ham, Pastrami of pure Black Angus, small Piedmontese tartare, ox marrow with warm bread, sweetbreads veal, Foie Gras escalope with caramelized apples, Uramaki of different bovine breeds, spaghetti with Parmesan cream and tuna bottarga, grilled Black Angus. Besides the Piedmontese Fassona, the Rubia Gallega is considered one of the best meats in the world, the Kobe Beef and the Tomahawk Prime. The smoked puree is also a must.
Average price: 50 euros, drinks not included.
Altriménti
Via Monte Bianco 2/A, Milan www.altrimenti.eu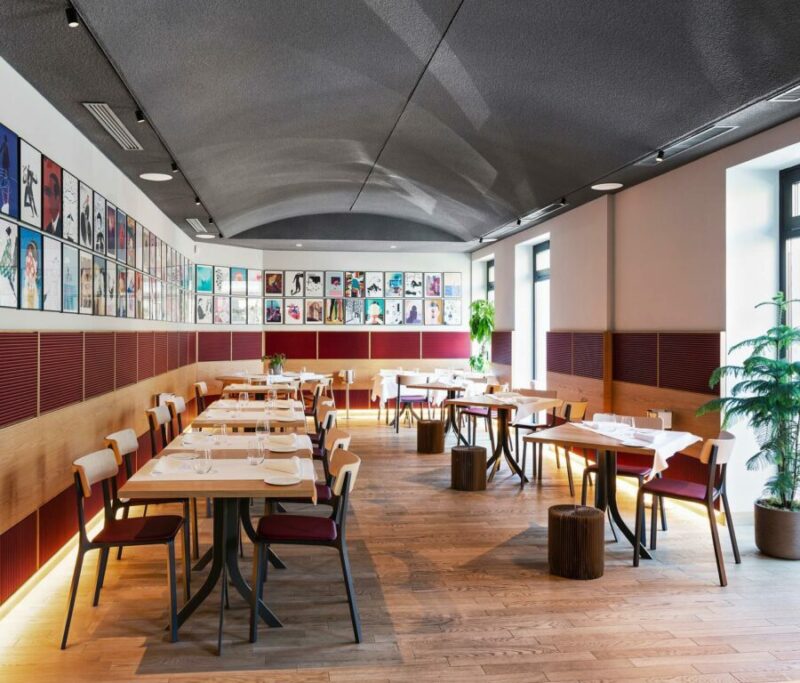 Altrimenti it is a meeting point dedicated to conviviality, where you can take a lunch break, have dinner or have a glass of wine with friends. A contemporary restaurant with a family atmosphere, divided into three different areas. In order to taste various dishes, the menu is developed through the sections "Vegetables", "Meat", "Fish" and "Dessert". You can choose among appetizers, first and second courses, for a total of no more than ten proposals, following a thematic path or combining dishes belonging to the various sections.
On the menu there are dishes to be tasted following different paths. You can choose between pasta and beans with "cardoncelli" and datterini tomatoes and cabbage with yogurt and mustard in the Vegetables section. Among the proposals Meats, suckling pig with strawberry grapes and white turnip, Guinea fowl, Brussels sprouts and pomegranate, Milanese risotto with veal ragù. Among the courses of fish, Spaghetti alla chitarra with mussels, tomato and lemon; octopus with pickled vegetables, bread and rosemary.
Average price: 55 euros, excluding drinks.
Trattoria Mirta
Piazza San Materno 12, Milan www.trattoriamirta.it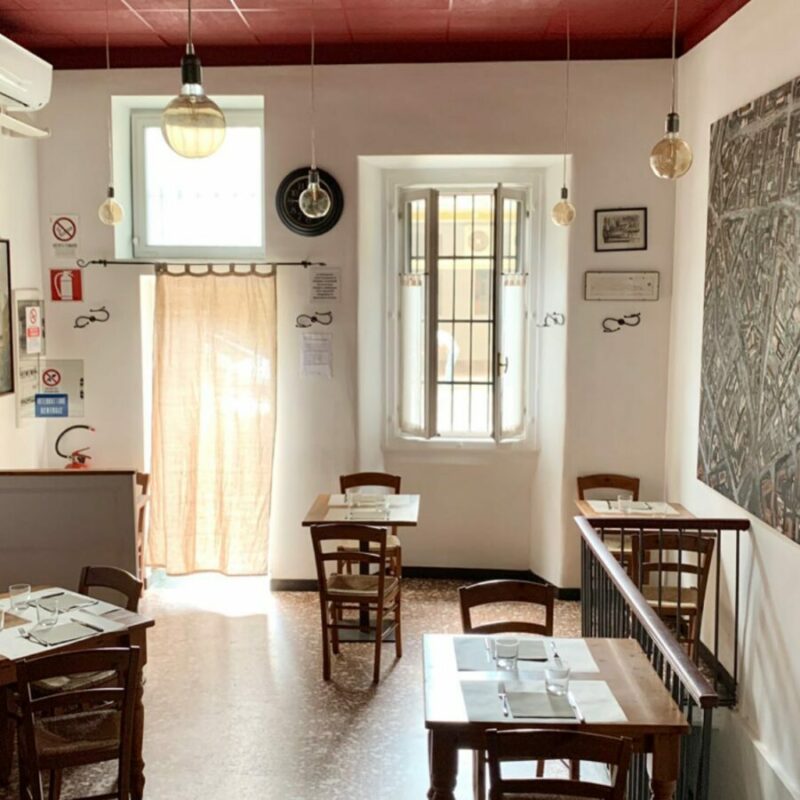 With a refined and welcoming environment, the restaurant is a destination for loyal customers and those looking for cuisine that combines top-quality ingredients and attention to detail. The environment is simple, and the atmosphere is serene and relaxing. The place is small but very nice. It has two rooms, and finding a place is not always easy, especially for lunch.
The typical furnishings of the ancient Lombard trattorias are in the dining room, with square wooden tables set with yellow paper placemats and red napkins. The menu, suitable for the season, is based on traditional northern and central Italy recipes. They are mainly meat-based dishes, such as chicken frays, stuffed guinea fowl, tripe, rabbit croquettes with marinated cabbage, baked lasagna stuffed with eggplant, rice balls with pecorino cream, roast cockerel with turnip greens. Bread, pasta, and desserts are homemade.
Average price: 40/45 euros, drinks not included.
---
Think your friends would be interested? Share "Best Restaurants in Milan"!