Traditional Tuscan Food – Top 14 Dishes to Try
For many people, traveling means visiting new places and immersing yourself in a culture. What better way to do this than by starting with the local cuisine? Tuscany, a land of immense art and culture, can satisfy even the needs of the finest palates.
From first courses to soups to succulent meats and vegetarian options, there are many famous foods in this area, where you are spoiled for choice. In fact, the typical dishes of Tuscany are not limited to just the Florentine steak.
The typical Tuscan cuisine is rich, tasty, and generous, but above all, it is varied and involves meat, fish, and vegetables.

Here is the list of typical dishes to try in Tuscany:
Pappa al Pomodoro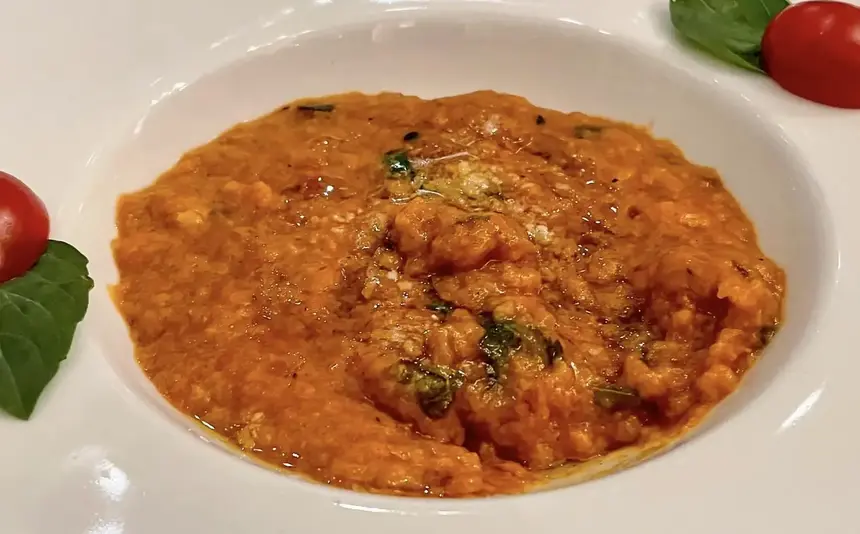 Pappa al pomodoro (tomato soup) is one of the dishes with the simplest ingredients in the world and perhaps for this reason one of the most loved. Like many other dishes of poor cuisine, among the main ingredients there is stale bread, used precisely to minimize food waste, combined with other simple ingredients such as tomato and extra virgin olive oil.
To obtain an excellent dish that respects tradition, it is important that the ingredients are top quality and that the bread is salt-free, as per Tuscan tradition. Each family makes small variations to the recipe for pappa al pomodoro, but everyone agrees on using these ingredients: stale bread, tomatoes, garlic, a little chilli pepper, basil and raw extra virgin olive oil to serve the dish.
Ribollita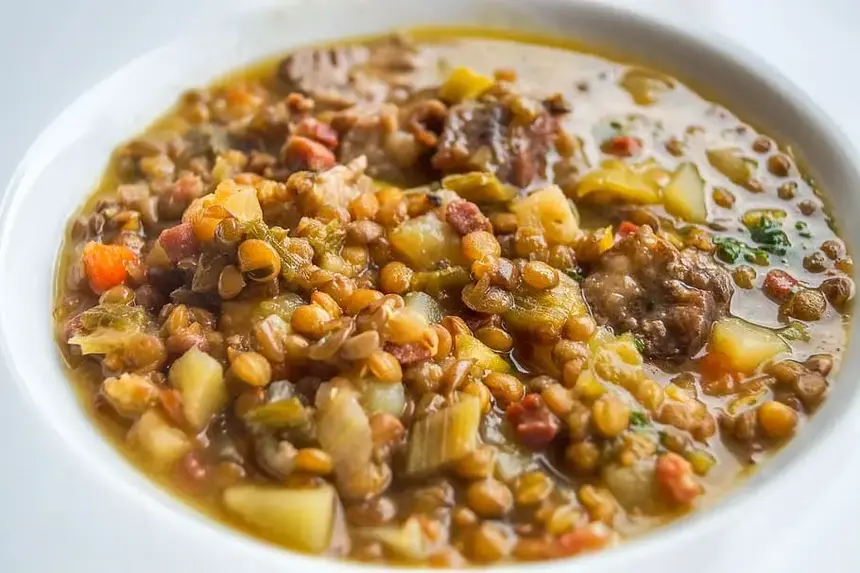 Ribollita is one of the most popular winter dishes in Tuscany; is a soup that contains different types of cabbage, beans, onions and carrots: a perfect mix to face the cold season. It is a dish that should be served very hot.
Also, as the main ingredient is black cabbage, which grows in winter, this is a typically winter dish. It is therefore a simple peasant soup with basic but at the same time nutritious and genuine ingredients.
Also, in this recipe, as well as for the pappa al pomodoro, the main ingredient is stale bread. This dish was eaten the day after it had been cooked, heated in a pot with extra virgin olive oil and then boiled again, which differentiates it from a simple bread soup.
Panzanella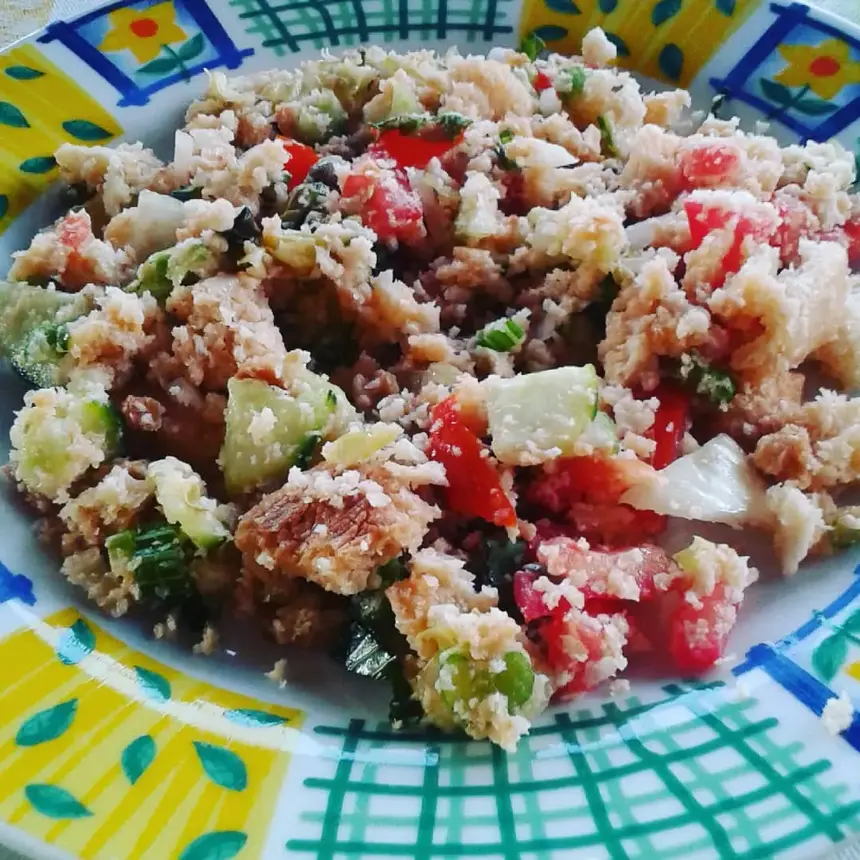 Panzanella is a single dish of the Tuscan tradition made with stale bread, red onion and basil, all seasoned with oil, vinegar and salt. This dish was mentioned as early as the 14th century, testifying to its antiquity.
For this recipe you have to leave the bread to soak in water for about ten minutes, then squeeze it and add the other ingredients; in addition to those already mentioned, it can include variations, such as tomatoes and cucumbers and more, based on the chef's choices. The dish should be served cold, which is why it is one of the typical dishes of the Tuscan summer.
Panigacci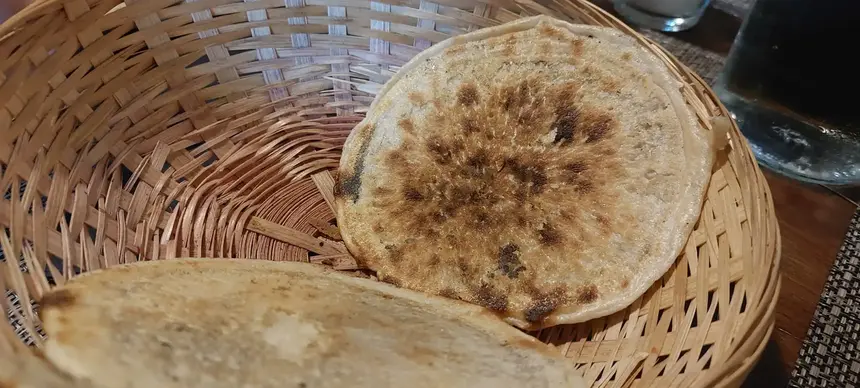 Panigacci are discs of unleavened bread prepared on red-hot terracotta dishes. The batter to be placed on the terracotta plate is made of flour, water and salt and the consistency is softer or drier depending on the cooking method preferred.
The preparation of panigacci is a real tradition and an occasion for families to gather around a table with a lit fire. The first thing to do is to make hot the terracotta dishes on a grill placed on the fire; then you take an earthenware plate, put the batter and cover it with another plate to form a pile. In this way the panigacci are cooked on both sides and removed according to the desired doneness. They can be accompanied by cheeses, stracchino, sauces and cold cuts.
Castagnaccio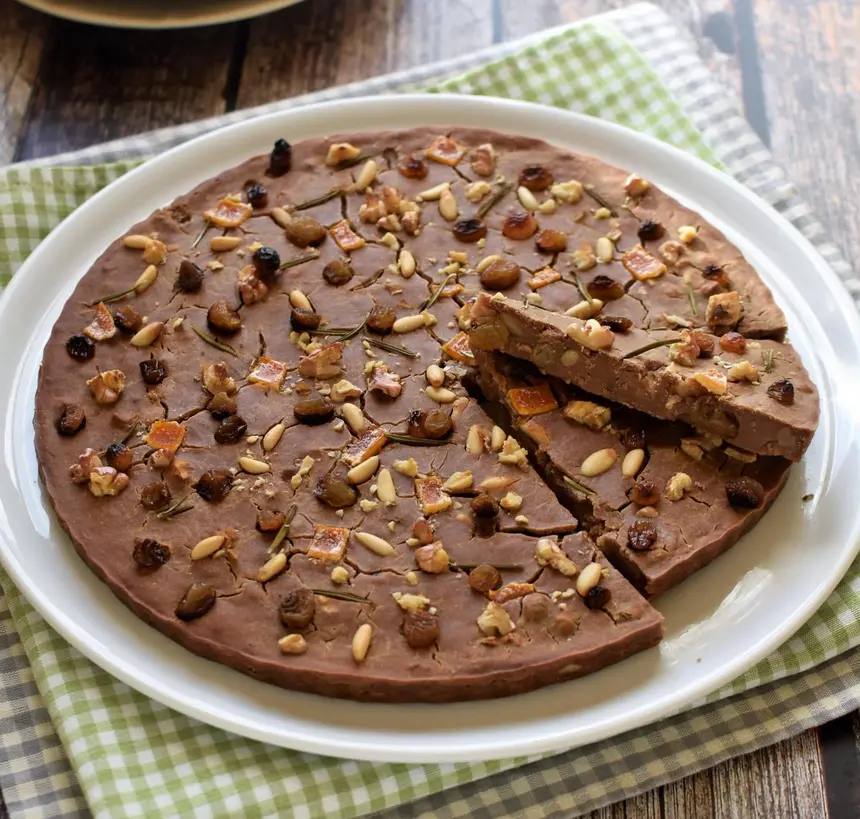 Castagnaccio is one of the most typical desserts of Tuscany, made mainly of chestnut flour, which is why this dish is particularly suitable in autumn when new flour is produced.
The dessert is enriched with other ingredients: raisins, pine nuts, walnuts, and rosemary, but the best-known version is the one with candied orange peel, rosemary, and pine nuts.
Like most traditional dishes, castagnaccio was born as a poor recipe when farmers had to make do with the ingredients available, in this case, chestnut flour. It can be accompanied by a little fresh ricotta.
Bistecca alla fiorentina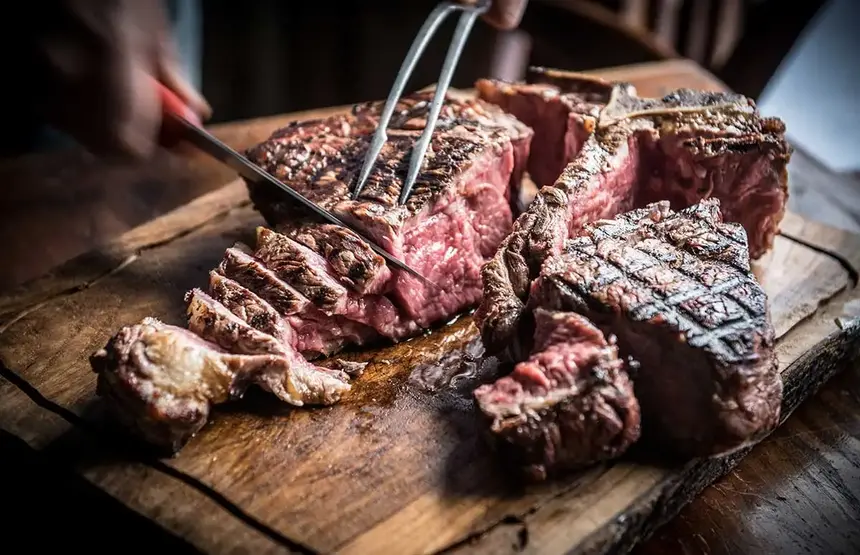 The Florentine steak is undoubtedly the queen of Tuscan cuisine. Since she's been famous, saying her full name is unnecessary; order a "Fiorentina," and everyone will know what you're talking about.
There are two fundamental characteristics of a good Florentine steak: an excellent cut of meat and rare cooking.
The preparation is very simple: just put the steak on the grill over a flameless embers without piercing the meat and turning it only once, salting the cooked part first on one side and then on the other one. It takes about five minutes per side, then it can be served with a sprinkling of ground black pepper and, if desired, a little squeezed lemon.
Lardo di Colonnata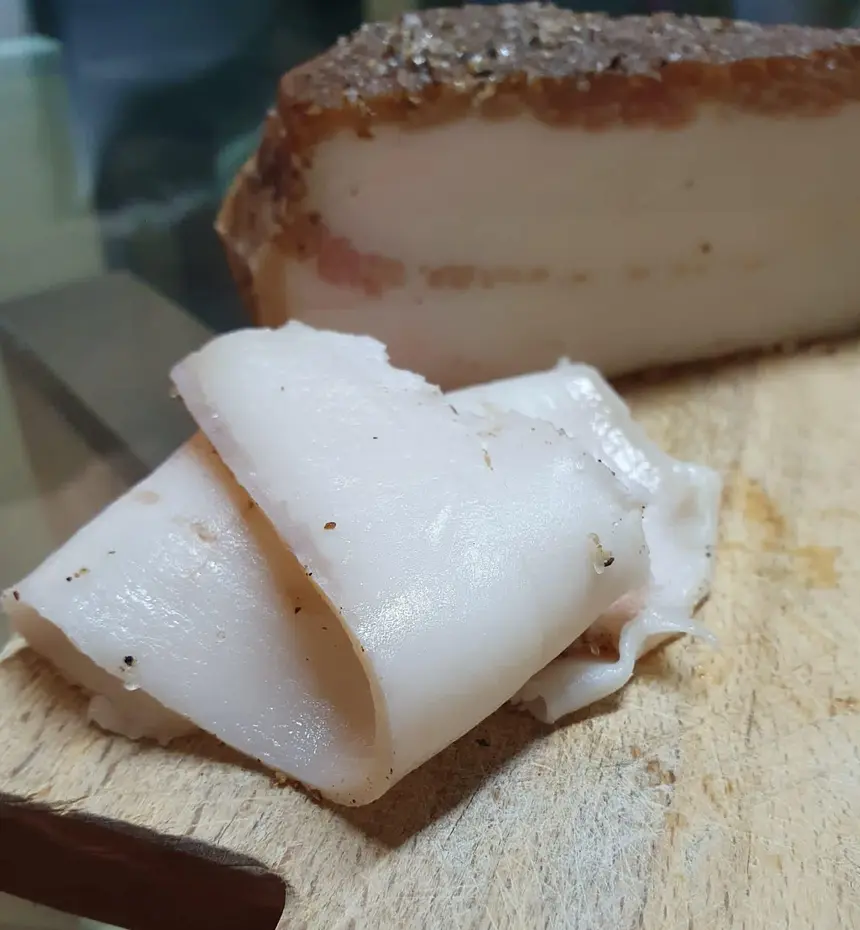 The little town of Colonnata, in the mountains of the Apuan Alps a few kilometers away from Carrara, is the homeland of the most famous Tuscan lard. It is a protected geographical indication (PGI) cured meat produced with seasoned pork lard in Carrara marble basins.
The recipe calls for the lard to be placed in marble basins rubbed with garlic and for the lard to be alternated with pepper, cinnamon, cloves, coriander, sage, and rosemary.
The seasoning is carried out for a few months (between 6 and 10), after which it is ready to be served in thin slices with a little bread or in some preparations, including vegetables or legumes.
Pici all'aglione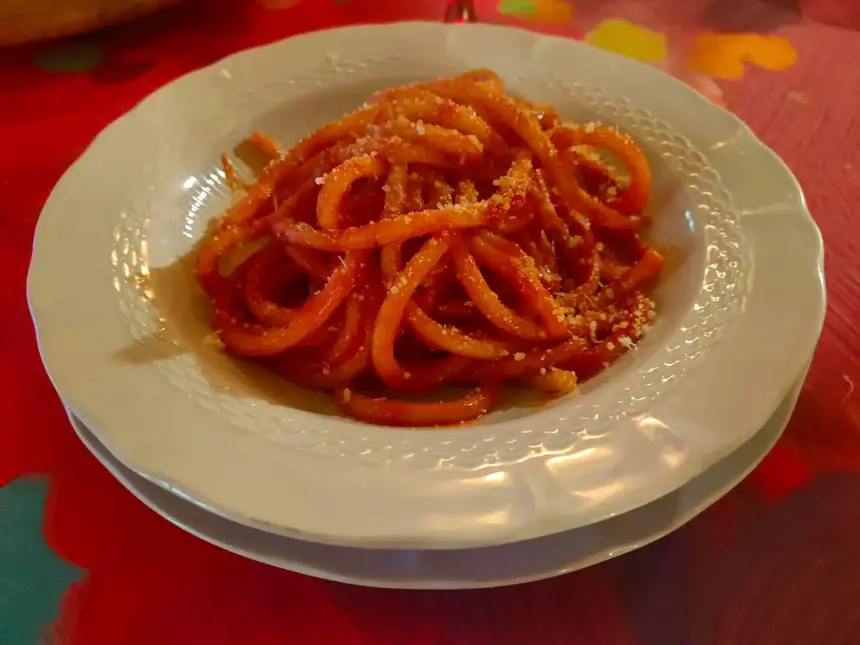 Another typical Tuscan dish is pici all'aglione. The pici are a fresh pasta that is rolled up on itself taking the form of large and long spaghetti, which are then seasoned with the classic wild boar sauce. But it is the garlic that characterizes this dish. It is a type of garlic that was being lost, but which has fortunately been revived by local farmers. The aglione from Val di Chiana has very large cloves and a decidedly more gentle flavor than the classic garlic.
Caciucco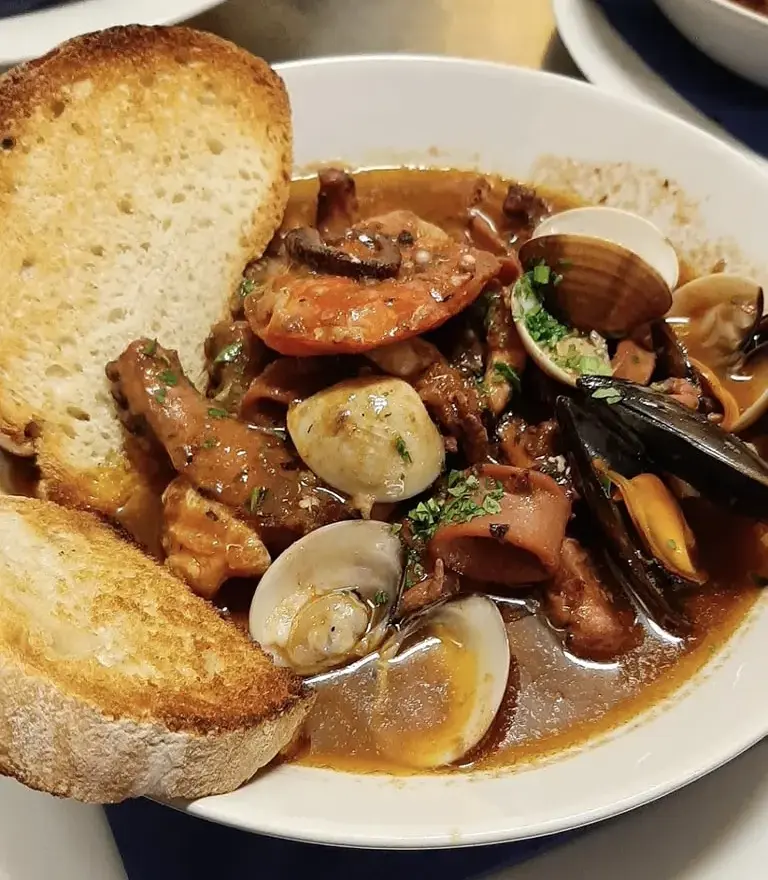 Cacciucco is a fish-based dish typical of Tuscan seafood cuisine; there are some variations, but the main ones are that of Livorno and that of Viareggio. It is a poor fish soup, crustaceans and molluscs, usually octopuses, cuttlefish, cicadas, scorpion fish, not very easy to cook because the fish are cooked in the same pan but at different times. The fish is then served on toasted bread with garlic and the tomato sauce is also added. Cacciucco is best enjoyed with a glass of red wine.
Torta co' bischeri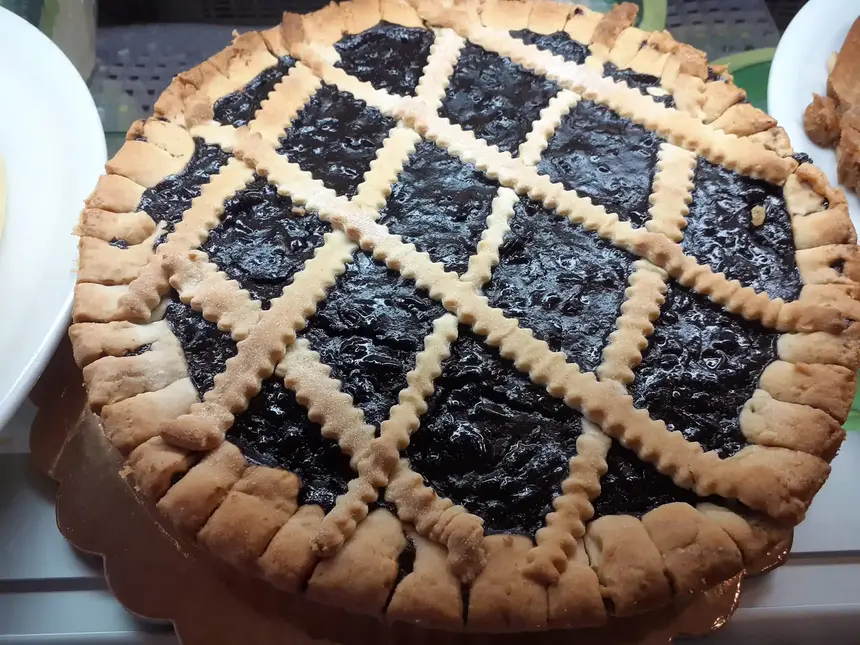 Torta co' bischeri is a recipe originally from Pisa consisting of a shortcrust pastry and a very rich filling based on chocolate, boiled rice, raisins, eggs, pine nuts, candied fruit, nutmeg and liqueur. The shape is round. The "bischeri" are the shortcrust pastry decorations folded on the cake's outer edge.
The cake was prepared for the pilgrims who flocked every year to venerate the SS. Crucifix of the Miracle which is located inside the Church of San Michele Arcangelo in Pontasserchio, near Pisa. Today it can be enjoyed in the Pisa area and surrounding areas throughout the year, but especially around April 28, the date on which pilgrims came to Pontasserchio.
Lampredotto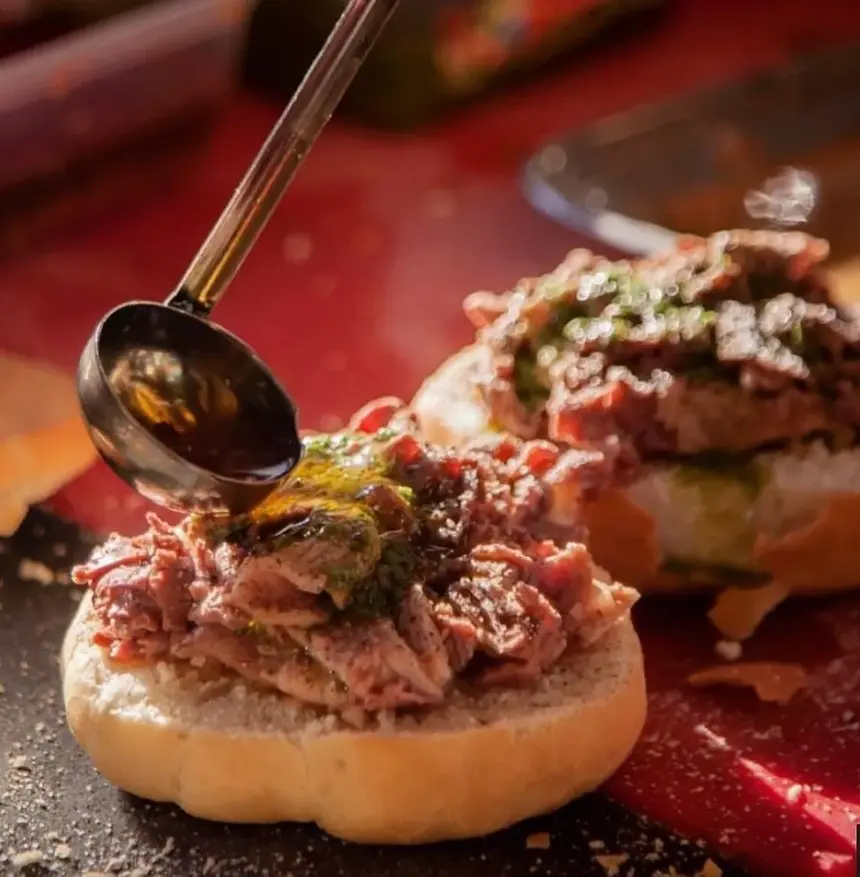 Lampredotto, one of the four stomachs of cattle, is certainly the king of Florentine sandwiches. It is still part of the Florentine culture thanks to the presence in the city of various kiosks of "lampredottoi", that is the sellers of lampredotto.
This is a food for strong stomachs because it has a strong flavor, and not everyone likes it. It is cooked for a long time in water together with other ingredients (tomato, onion, parsley, and celery) and can be eaten in a sandwich together with green sauce or as normal boiled meat.
Crostini Neri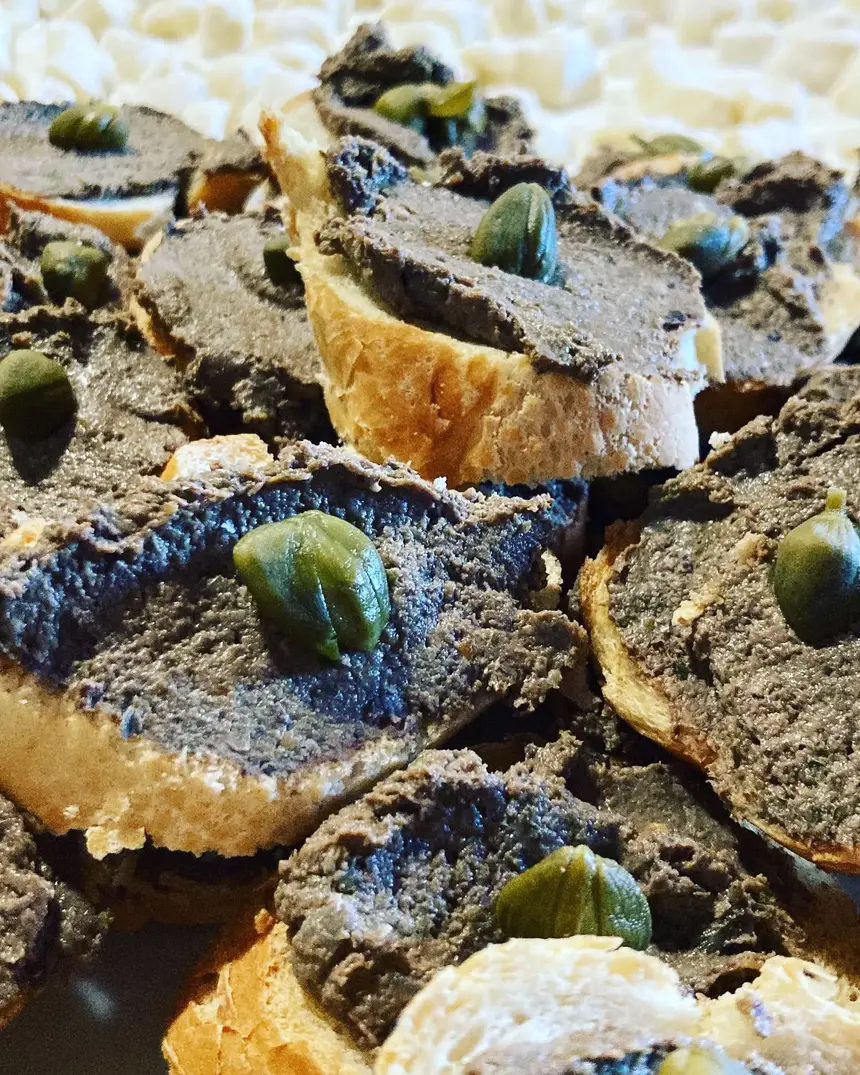 It is toasted bread on which a delicious chicken liver pate is spread. Black croutons are the symbol of festive days, when in the past the whole chicken was eaten and nothing was thrown away, not even the innards. The livers are prepared with onion, celery, carrot and aromatic herbs. An anchovy fillet and a knob of butter are then added to enhance its creaminess.
Panforte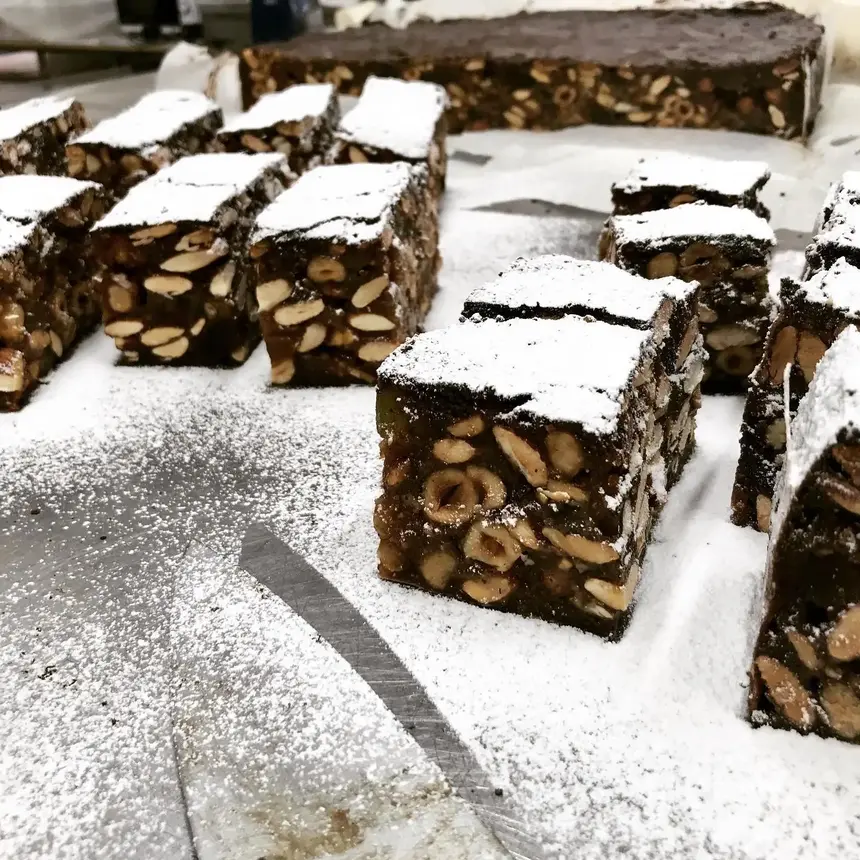 Among the typical Tuscan desserts there is panforte, a spicy dessert made with dried fruit that cannot be missing from the festive table. Among its ingredients are cinnamon, nutmeg, cloves and cocoa.
Cantucci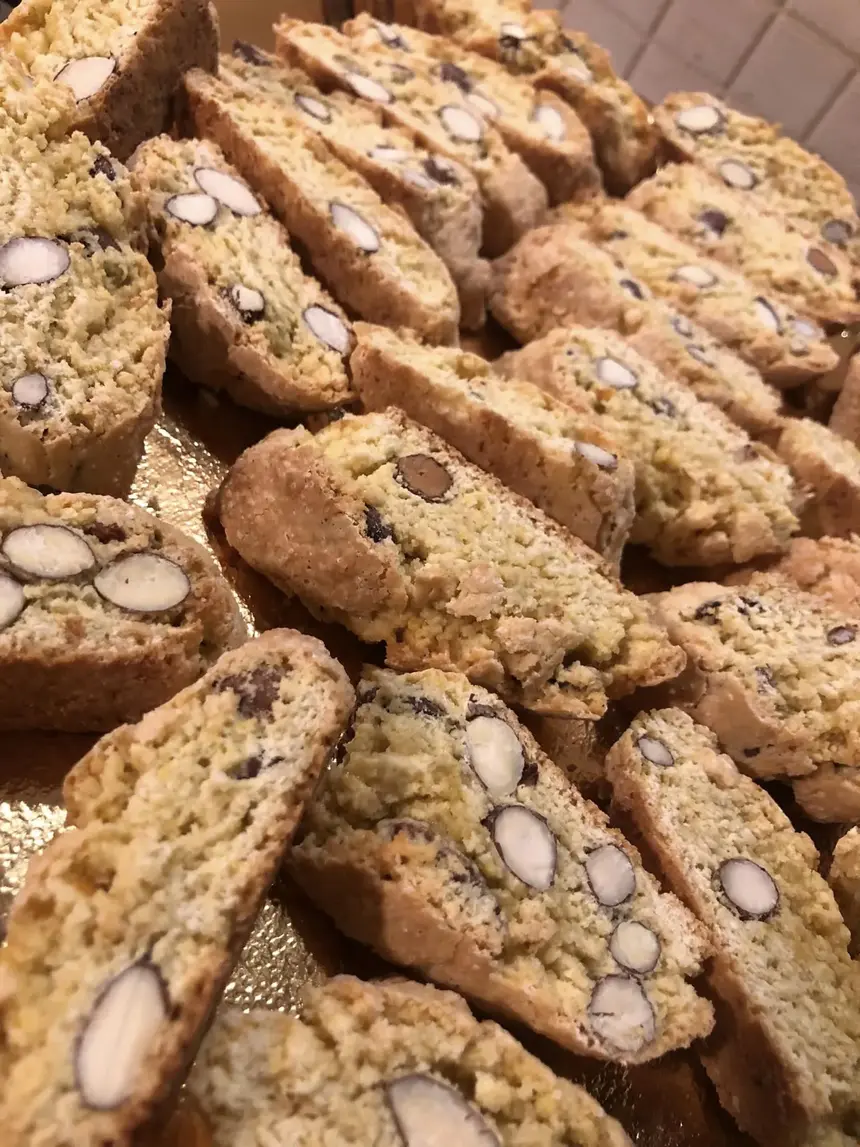 This dessert dates back to the 16th century. These are dry almond biscuits, which are obtained by cutting the still warm loaves of dough into slices and then re-baking them for a few minutes, where the biscuits will take on a rustic and slightly golden appearance. Fragrant and perfumed, cantucci are usually accompanied by Vin Santo and at the end of the meal this combination can even replace the dessert of a dinner.
---